Toronto ComiCon 2016
Toronto ComiCon is officially underway. Taking place inside of the Metro Toronto Convention Centre, the event is a three-day pop culture celebration. Toronto ComiCon allows content creators and fans from all across the globe to come together and share their passion for comic books, science-fiction, fantasy, horror, video games and anime.
Featuring over 25,000 fans, 400 exhibitors, 15,000 square feet of shopping, and numerous panels and guest appearances, the prospect of taking in all the sights can be staggering. I'll be maintaining a weekend journal, pointing out notable events, and having dialogues with exhibitors and attendees.
Saturday, March 19 Can't Miss Events
11:00 am: Innerspace Presents: The Cast of Killjoys
For those not in the know, Killjoys is the Syfy channel's new action-packed series about a trio of interplanetary bounty hunters. Hopefully, Killjoy's cast will spill a few secrets about the series rapidly approaching second season.
1:00 pm: Cosplay Panel: Special Effect Makeup
"In this panel, the ladies from geekxgirls.com will be focusing on Make-up and Special Effects Make-up techniques used in Cosplay. Tips on how to make prosthetics, how to apply Make-up effectively and related product reviews. The literal do's and don'ts of all things Make-up. Hosted by Roxy Lee, Gina G and Lady Di Cosplay."
What better way to kick off the afternoon than by gaining some cosplay insights from some ladies at the forefront of the craft?
2:00 pm: Live Improv Show: In A Galaxy Far Far Away
"A Galaxy Far, Far Away includes familiar favorites from one of the best loved movie series of all times, with the fresh originality of unscripted comedy. Each show is a completely unique, standalone episode, in which original characters face a new set of intergalactic discoveries and dangers within the Star Wars universe."
Let me get this straight. An unscripted comedy riffing on the beloved Star Wars tale? Count me in!
5:00 pm: Special Presentation of New Series "Slasher"
"Join the cast and creators of SLASHER for a panel discussion and exclusive sneak peek of Shaftesbury's new 8-part horror series, premiering April 1 on Super Channel in Canada."
After seeing what Scream and Scream Queens brought to the table in 2015, I'm intrigued by what the TV slasher genre has to offer. I'm excited to see Slasher's contributions to the genre (aside from the Most Spot On Title Ever).
6:00 pm: Comics Panel: Q&A with Rob Liefeld
Rob Liefeld is the creator Deadpool, the character who just last month reinvigorated the comic book movie genre. Liefeld was a major contributor to Marvel Comics run during the early 90's, with notable contributions to The New Mutants and X-Force. Liefeld is also a founding member of Image Comics.
View From The Floor
One of the best parts of Toronto Comicon is the palpable sense of excitement in the air. The event truly is a celebration, and even while early arrivals begin lining up in anticipation of ComiCon's kick-off, a welcoming camaraderie begins spreading amongst attendees.
In front of the washrooms, a couple of Deadpool cosplayers cross paths, stop, and exchange tips on costume accessories (namely sword sheaths and gun holsters).  In line just a few spots ahead of me, a woman asks a couple if they can hold her spot while she takes a selfie in front of The Ghostbusters famous ride, Ecto-1. A jovial couple of Storm Troopers slowly work the crowd, stopping for photo ops with anyone that dares make eye-contact; fitting considering that the lineup into Toronto ComiCon feels like the Mos Eisley Cantina.
The line finally begins to move and the crowd's vibe becomes electric. Weeks of rabid anticipation all boils down to walking through one final corridor. What lays on the other side does not disappoint. After entering ComiCon's main hall, I understand how Alice felt as she stepped through the looking glass.
ComiCon's scope is staggering, like an airplane hangar furnished by a feverish pack-rat. The main hall is lined from wall to wall with exhibitor kiosks, transforming the giant room into an elaborate labyrinth; picture The Overlook Hotel's hedge maze, but swap out shrubbery for men with goatees selling geek-chic memorabilia.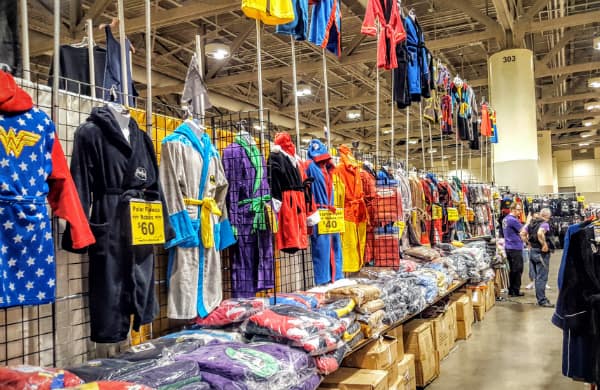 Running around the edges of the room is Artist Alley, a place where professional writers, pencilers, and inkers set up shop, sell their merch, and shoot the breeze. Some of Artist Alley's talent take on the personality of carnival barkers, making frantic attempts to catch my attention over the drone of the crowd. On my current perimeter sweep, I have no intention of buying, I'm only gauging the lay of the land. I accidently make eye contact with an artist, and his sales pitch pulls into his booth's orbit like a tractor beam. I hum and haw, throwing an array of noncommitals in his direction. With the speed of a jungle cat he breaks contact with me and is already pitching another potential shopper.
I step back into the river of humanity flowing between kiosks, drifting amongst the crowds currents before a familiar face catches my eye. Off to the side, comfortably manning a booth all by his lonesome sits William Stout. Stout is a visionary artist with a remarkable career. He has contributed to more than 30 feature films, and his talents have been commissioned for projects with Michael Jackson, The Muppets, and Guillermo del Toro to name a few.
Almost on cue, an ecstatic fan flocks over to Stout. The man starts speaking at a thousand words a minute, and Stout sits back, engaging him in some pleasant film industry conversation. Stout never tries to sell any of his wares, yet the fan can't pull his wallet out fast enough. At the end of the encounter, the young man walked away with a signed piece of art from one of his idols, but more importantly, he got to share a moment, yakking about the movie business with an industry legend. That's the beauty of Toronto ComiCon.
I've seen my share of Cons and amidst the show's chaos, even I have to stop, sit down, and do a mental reboot. No one has ever conquered a Con without a plan of action. I draw my smartphone in my left hand and begin snapping photos of kiosks with the precision of an old-west gunslinger. With my right hand, I collect business cards from the most eye-catching booths. Before I know it I'm racking up meta-data faster than the NSA. After the better part of an hour, I have a feel for the venue. I start lining up the order in which I'll tackle the day when I return tomorrow. As a Con veteran, I know better than to wear myself out on the first day.
I" be back tomorrow, highlighting more can't miss events, cool booths, and original cosplay.