With new seasons of existing shows to get me through the year, this list was a hard one to devise.
10. FOX's Napoleon Dynamite
Chat Box - Go ahead, make my day and ask me questions about movies and TV shows...

Following the 2004 film Napoleon Dynamite the series follows the adventures of Dynamite and his family and friends. With Simpsons/Parks and Rec producer Mike Scully as executive producer, the franchise has been successfully modernised and molded for the TV realm.
The original cast is back as their characters and there are some new faces too. Unfortunately with Dynamite being constantly being compared to Fox's other animated shows like The Simpsons and Family Guy, the show saw cancellation right after the first season.
9. ABC's Last Resort
Along with 666 Park Avenue, ABC unfortunately cancelled Last Resort this year. A stimulating, new drama with a highly fascinating concept, Last Resort is about the renegade crew of a U.S. navy missile submarine.
With impressive special effects and remarkable submarine interior shots, Last Resort was probably the most impressive pilot to air this Autumn. Andre Braugher's commanding performance as Chaplin drove the pilot, alongside breath-taking shots of missiles flying out of the water. The most engaging thing about Last Resort is the fact that there is no differentiation between real and fake and most importantly the audience aren't continuing to watch for this reason.
An urge to watch the second episode is the biggest compliment any pilot can receive, but unfortunately Last Resort failed the uphill battle to climb and ABC didn't renew.
8. HBO's Veep
Much like In The Thick of It, Veep is another sitcom from Armando Iannucci, driven by political satire. All of the characters are narcissistic overgrown adolescents employed in the political field.
It's one of those fast-paced, dense comedies you will watch twice just to make you catch everything.
7. CBS' Elementary
An interesting new take on the Watson-Holmes dynamic and television's second Sherlock Holmes series on the air after BBC's Sherlock, it was inevitable Elementary would receive mixed reviews.
With Sherlock fans causing uproar, the only comparison between the two is the modern setting. Jonny Lee Miller provides entertainment through his performance as a tatted up, fresh out of rehabilitation Holmes.
Whether Elementary is good or bad it should be allowed to rise or fall on its own merits.
6. ABC's Don't Trust the B—- in Apartment 23
Before you judge me this show is a lot better than everyone thinks. If you can get past the title it is actually a refreshing new sitcom depicting a world of unpaid internships and uninspiring coffee-shop jobs and shows the lengths of what people will do to survive.
The sitcom follows June as she moves to New York City to pursue her dream job. When she finds out it no longer exists she ends up living with con-artist/party-girl menace of the show's title, Chloe. When her attempts at scamming June backfire, an unlikely friendship forms and Chloe takes her under her wing.
With a range of characters from a pervy neighbour to a stalker ex-roommate and James Van Der Beek (being a pretty good sport) as himself, Don't Trust the B- is a fun, new comedy that engages its audience through the dynamic and antics of the conniving protagonist and her sidekick that is just as messed up in her own way.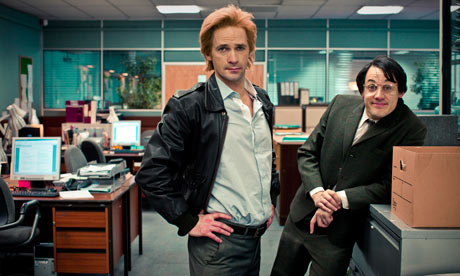 5. E4's Cardinal Burns
Cardinal Burns made the list because there isn't enough sketch shows out there with decent newcomers, apart from of course The Morgana Show.
Cardinal Burns is a bizarre and awkward but stylishly shot sketch show starring creators Seb Cardinal and Dustin Demri-Burns. Many of the sketches focus on the odd characters such as a spoken-word poet and a sleazy office flirt and his socially inadequate protégée. It also features a hilarious, well-observed spoof of MTV's The Hills and every other "reality show".
This fresh, amusing, new sketch show will return for a second season.
4. BBC 3's Bad Education
Bad Education is a promising, new British sitcom starring Jack Whitehall (he is one of the writers too) as young teacher Alfie Wickers – "the worst teacher ever to grace the British education system". With a number of contemporary social references and a stand up cast such as Green Wing's Michelle Gomez and Mathew Horne, Bad Education is refreshing in a number of ways.
The believable characters such as the immature students of Abbey Grove work well as a device that highlights the stupidity of the teaching staff perfectly. Horne then anchors this, brilliantly as the ridiculous head teacher who is desperate to be 'hip'.
Despite the pressure, Whitehall delivered with a promising debut and it shall return for a second season.
3. Sky's Moone Boy
As the second series produced from Sky1's Little Crackers shorts, Moone Boy is an Irish sitcom based on Chris O'Dowd's memories growing up in a small town in Ireland.
The sitcom follows cute, little Martin Moone (newcomer David Rawle) and his imaginary friend (O'Dowd), and how they deal with his hormonal sisters and life growing up in Boyle. This is a sweet little comedy about childhood challenges, with clever visual gags accompanied by charming wit. David Rawle needs to be praised for his amazing breakthrough performance as Martin.
With the writing much sharper than Sky's previous comedies such as Mount Pleasant, Moone Boy has already been announced for a second season and I can't wait to see the heartwarming duo back on the screen.
2. HBO's Girls
Created by and starring Lena Dunham and produced by comedy genius Judd Apatow, Girls is a brilliant, fresh new 'dramedy' that works as a window into a particular generation.
This bold comedy depicts the struggles of a close group of twenty-somethings living in New York. Filled with awkward sex scenes and trivial blow-out fights it is encouraging for women to have these kind of characters to relate to. Women on television are often 'quirky' or occasionally upset, but they are never usually deeply flawed.
Girls questions a lot of 'conventional' thinking that the industry has fed us over the last six years and for that I applaud it.
1. FX's American Horror Story: Asylum
If you watched the first season of American Horror Story, you can expect the same kind of madness from the second season. If you didn't watch it, that's not a problem because for the second season the writers have started fresh with a new, eerie, sinister setting and completely new characters (despite same actors) and that is why it has made this list.
With an entirely different 'American Horror', the second season of AHS is set primarily in 1964 at an insane asylum that goes by the name of Briarcliff Manor. With more focused storylines and fresh new cast Asylum is driven by a 'crazy person of the week' format.
Jessica Lange is remarkable as always but what is great about this season is how it gives the other returning cast members the opportunity to shine.
Already renewed for a third season, it will be interesting to see where they go next.
– Tara Costello
Chat Box - Go ahead, make my day and ask me questions about movies and TV shows...