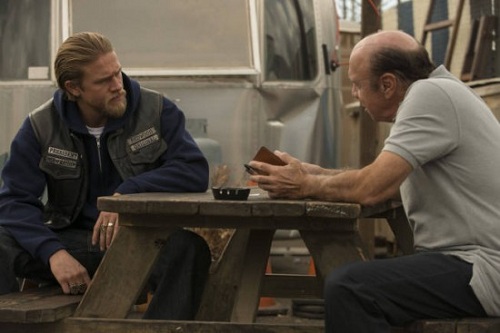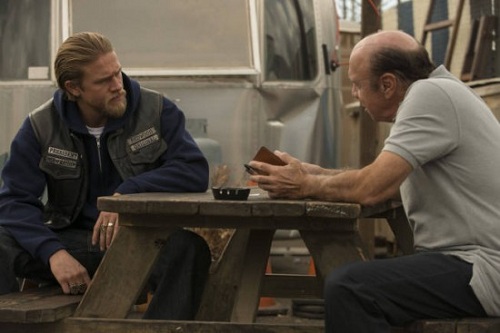 Sons of Anarchy Season 5, Episode 13: "J'ai Obtenu Cette"
Written by Kurt Sutter
Directed by Kurt Sutter
Airs Tuesdays at 10pm (ET) on FX
Much like this season presented strong episodes next to the ones that fell short, SoA's season five finale goes out with a little bit of mixed feelings. We're left with a smart yet lonesome Jax, a disappointed Bobby Elvis, a more than shaken up Tig, Clay and Tara both in handcuffs, and Gemma getting it together and regaining the upper hand. Season five's finale saw some great twists, yet once again it couldn't withstand the temptation to rush developments a little too fast. But let's take this step by step.
Instead of finding his pot of gold somewhere over the rainbow, Clay gets shipped off to prison, at the top of the hit list of Pope's right hand, August Marks (Billy Brown). But for some reason it seems more than unlikely that Clay will actually be offed by one of Pope's men, since a man driven by the deepest urge for vengeance is Sutter's all-time favorite character and who fits that profile better than Clay, who on his path of remorse got left hanging by everyone he still relied on (not that he doesn't deserve every bit of what's coming his way). And with Jax moving his SAMCRO brothers around like they are pawns in a board game, Clay might have more than one current member of the MC on his side. But all of this is fuel for future drama- let's have a moment of silence for Harold Perrineau who made for one excellent villain as Damon Pope and whose cold-heartedness will surely be missed. Let's dial back a bit and see how we got here.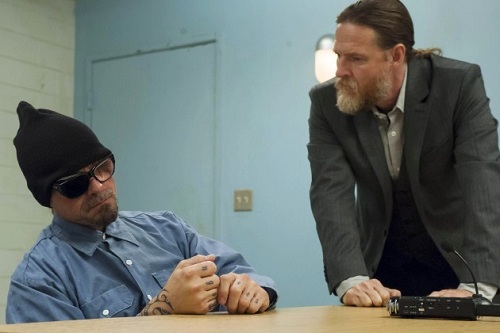 The main plot goal of this season's finale essentially is the revenge of Opie's death and Gemma once again tying Jax close to her – at least momentarily – and the club. It doesn't come as the biggest surprise that Jax doesn't forget that it was Pope who ultimately ordered Op's death. However, Sutter had him playing with a closed hand this season, making good with Pope, true to the idea of keep your enemies closer, laying his cards open only in the very last minute. So he delivers Tig to Pope, in what sure is a convincing performance, only to shortly after kill off Pope's men, hand Clay's gun – which he obviously got from Juice – to a shaken up Tig who gets to revenge his daughter by putting a bullet in Pope's head. With the gun containing Clay's fingerprints and Gemma swearing that Clay wasn't with her, Jax has his master set up of Clay. So along with having Pope killed, mastermind Jax has figured out a way to keep his hands clean and use Pope's life insurance to his own advantage to get rid of Clay in the process – which has yet to happen and considering Clay's track record of saving his neck is just not a likely scenario. However smart this plan of Jax's is, Bobby has a point when he tells Jax how he could have been different. It's a truly sad moment when Bobby cuts off his VP patch and walks out. This is a character development we haven't seen before, so we'll see how Bobby does at walking away from the broken pieces of SAMCRO next season.
Like son, like mother; Jax isn't the only one with a masterplan on his hands. Since Otto bit off his tongue in order not to be able to testify (a move that makes you wonder why he made it out for her to be a possible accessory to murder in the first place…) it seems for a minute as if Tara gets her chance to get out, but Gemma is not about to let that happen. In order to keep "her boys" close – including the grown up one – Gemma does what Otto didn't, incriminating Tara and handing her over to the police, to then take her place backing her man/son, Jax. It's a transition that reminds us why the show gets weak when it pushes its development faster than the characters can blink; Gemma turns from the wreck she was this season into the manipulating puppet-master she was at Clay's side in what feels like five minutes. Jax sitting back and watching his wife get taken into custody by the police, while his mother lays her protective hand on his shoulder, without even an attempt of intervention… Of course Tara's whole plan of moving the boys up to Oregon and pushing Jax to come along if he truly loves them was a bit of forceful move, but was it really strong enough to tear their union this quickly and, most of all, drive him back to his mother's arms after she nearly killed his sons? Now that's pushing it more than a little, but let's not jump the gun- season six will have to show us how that one ultimately plays out.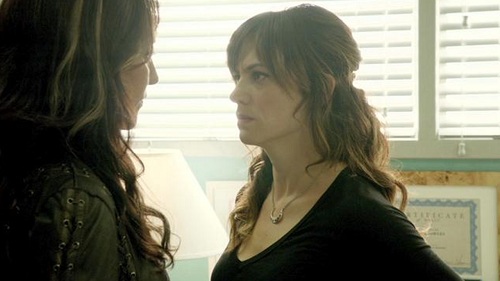 On the upside, Nero survives, which ensures some great character moments for season six, along with Marshal Toric who will surely be responsible for some of the more disturbing action in the future. But what are your thoughts about this outcome? Is the "j'ai obtenue cette" reference to Op's final words "I got this" really enough of a tribute to the greatness of that character? What do you predict for the future of SAMCRO? How long will Tara remain in jail? And what is worth mentioning about season five's finale that I simply missed in my quick run through? Anything worth biting your tongue off for?
Merle Fischer