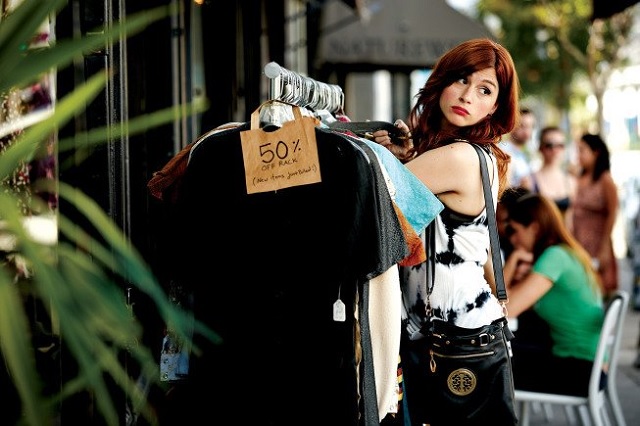 When it debuted in early 2014 on FX, You're the Worst unfortunately got lumped together with all the other shows about people in relationships that were in production or released around that time. You're the Worst was a lower-key choice for the network: a small-scale character comedy that had none of the splashy, dramatic flare of other flagship shows. This tonal difference between the network and You're the Worst was maybe why it was overlooked by a lot of television viewers, but it's also a reason it got to flourish creatively and comically in its first season. Low network expectations and low ratings sometimes create an alchemic space to do whatever comes to mind and because of that space, You're the Worst was like nothing else on TV last year.
You're the Worst focuses on Jimmy, a struggling writer (Chris Geere), and Gretchen, a PR agent (Aya Cash), who meet in the pilot as guests at a wedding. Jimmy is there to mess with the bride, his ex Becca (Janet Varney), one last time before she moves on, while Gretchen is there to support her best friend Lindsay (Kether Donohue), who is the sister of the bride. The pilot makes it very clear that Gretchen and Jimmy are far from perfect: Gretchen steals a wedding gift out of boredom and Jimmy gets piss-drunk and heckles the wedding party, but the episode also shows their humanity in their encounter with one another. Gretchen and Jimmy meet entirely by chance, but spend a silly, surprisingly meaningful night together and You're the Worst continues to unfold their relationship as the season progresses. The show is invested in telling a story about two deeply flawed people who make a connection at a wedding, who fumble their way into the first real, adult relationship either of them have had.
You're the Worst is a small show: apart from Gretchen and Jimmy, the show only has two other main characters, Gretchen's best friend Lindsay and Edgar (Desmin Borges), Jimmy's drug dealer-turned-roommate who is also a war Veteran struggling with PTSD. Other characters cycle in and out of the first season: there's the brash, insightful rapper that Gretchen represents in her work, there's Lindsay's muted husband who can never seem to get it right, there's an especially angry ex of Jimmy's who owns a bookstore and refuses to display his novel, and many more characters who color and populate the show's Los Angeles world.
You're the Worst is as much a show about two people figuring out their relationship as it is a sharp skewering of Los Angeles culture. There are actors who want to capitalize on Edgar's very real experiences as a Veteran for a movie role, hipster brunch locales, a rapper's struggle with authenticity, Gretchen's country club parents, and Jimmy's difficulty at writing a second novel. All of the microcosms of Los Angeles are lovingly and specifically portrayed in You're the Worst. Jimmy and Gretchen's relationship is no different. There's a lot of reality in the way Jimmy and Gretchen figure out what they mean to one another, as they go from a one-night stand to an exclusive, committed relationship. They deal with jealous exes, mixed messages, fear of vulnerability, messy apartments, and community tables. Both Gretchen and Jimmy are terrified of real, human emotions and yet they can't stop expressing them around one another, and both slowly realize they're better together than they are apart. The show's emotional honesty is on full display as it tells Gretchen and Jimmy's story.
Aya Cash and Chris Geere as Gretchen and Jimmy make You're the Worst the show it is, led by creator Stephen Falk's strong writing and vision. Gretchen is prickly and quick-witted and Cash is equally adept at rattling off amazing one-liners as she is the more emotional material, her expressive face capturing and enhancing the dialogue. Jimmy is narcissistic and brutally honest, and yet isn't just another TV caricature of a writer due to Geere's portrayal and Jimmy's deep well of insecurity. Together, Cash and Geere have a natural back and forth with a rhythm all its own and scenes between them as they negotiate their relationship are full of energy and excitement. Both actors have had roles in other shows as guest actors, as well as main roles in period pieces and broad network comedies, but You're the Worst seems tailor-made for their talents.
You're the Worst made a quiet debut on FX in 2014 and with its creative storytelling, comedically deft cast, and commitment to deeply flawed, deeply human characters, it carved out a place for itself in the television landscape. Far from the formulaic relationships portrayed on other shows, You're the Worst expertly blends comedic and dramatic moments to bring a much-needed sense of reality to romance on television.
[wpchatai]