With it being Western month here at Sound on Sight, it only felt right to talk about Nick Cave's contribution to the world of cinema. Best known for his work as front man of the Bad Seeds; Nick Cave is also an author, composer, occasional film actor and a screenwriter with an fascination for full-on violence.
With lyrics obsessing on such themes as death, violence and love it's only natural Cave has written screenplays as in his own words it is "the most effective way of dealing with that particular subject".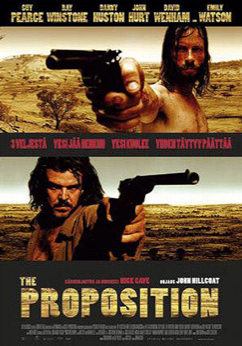 The Proposition
Directed by: John Hillcoat
Written by: Nick Cave
2005, Australia/United Kingdom
Set in the Australian outback in the 1880s, The Proposition is a bloody and stylish Aussie western.
The film has a simple but extremely well executed plot. Intent on taming Australia, British lawman Captain Stanley (Ray Winstone) captures two of the four infamous Burns brothers, Charlie (Guy Pearce) and Mike. Their gang is held responsible for a chain of horrific events including raping a pregnant woman and murdering the whole Hopkins family. With the eldest brother and the ringleader mastermind still on the loose, Captain Stanley is left no choice but to proposition Charlie. He gives him nine days to kill his older brother, or else they'll execute his younger brother.
Rich with heat, fear, violence, and intensely uncompromising lead performances, The Proposition makes for a fantastic cinematic experience. After a calm title sequence, there is a complete juxtaposition when the film opens up with a fast-paced gunfight packed with elements that Western fans love. Immediately after, we see the captured Burns brothers with a stern Captain Stanley sitting opposite them asking "Do I need to introduce myself?", with a somewhat confident reply it's clear to see tension is high and things aren't going to run smoothly.
When Winstone utters the words "I wish to present you with a proposition" there is a beautifully constructed sequence that follows consisting shots of the characters in action, breathtaking landscapes with an intense voiceover accompanying it.
We see Charlie arrive at the scene of the crime; there is a shot of two graves in sync with Captain Stanley stating, "What happened at the Hopkins place was unforgivable" complete with the stunning soundtrack provided by Nick Cave and Warren Ellis, the tone for the rest of the film is set. The harshness of the outback and the suffering of humanity are captured so well through imagery and this hauntingly beautiful soundtrack. Bleak feels like too weak of a word to describe it.
Like every good Western film, The Proposition is truly gripping throughout. Cave's attempt at taking the origins of the western genre and placing them in an Australian outback is more than successful. Much like his songwriting there is a certain flow to his script and a sense that tragedy is inevitable. Pearce, in particular depicts the internal struggle of a man very well. The moral of the film, if you like, is chaos. Nothing is certain and sometimes the good guys lose. The film is a strong, emotionally charged piece of cinema.
The violence works in a way that connects the audience with the feelings and thoughts of the characters and conveys the mood of the era perfectly. The soundtrack is rich with strong poetry, a medium that director John Hillcoat and Nick Cave bonded over. Together the two of them do violence well and it should be noted this wasn't their first or last collaboration together.
When Ghosts… of the Civil Dead surfaced, it was clear that this was going to be an ongoing partnership and their most recent collaboration is last year's gangster film Lawless. Based on novel "The Wettest County in the World", the screenplay for Lawless is similar to The Proposition as it is ripe with intense dialogue and full-on violence. Both are brutal explorations of masculinity and power. Focusing on the determination of men in an unfair, cruel world, Lawless is arguably a transposed Western. As Forrest says: "it's not the violence that sets a man apart, it's the distance he's prepared to go."
When it comes to Nick Cave's writing it's not a matter of if violence will happen, it's when.
Tara Costello
[wpchatai]