I regret to announce that Canadian writer and artist Darwyn Cooke has passed away from cancer early this morning at age 54 according to a statement from his family. The native of Nova Scotia was one of the most influential superhero and pulp cartoonists of the 21st century and won 13 Eisner Awards for his work on titles, like Batman/The Spirit, DC: The New Frontier, and his graphic novel adaptations of Richard Stark's Parker novels for IDW. His most recent Eisner was in 2015 for Best Cover Artist as he did 23 variant covers for various DC Comics titles in December 2014. Cooke was a supremely gifted storyteller, who could draw everything from the best version of The Spirit since Will Eisner to film noir infused yarns like his Richard Stark's Parker graphic novel and Golden Age superheroes in Before Watchmen: Minutemen and DC: The New Frontier. He brought eras long past to a new generation through his brilliant and lively line work and minimalist, yet occasionally poignant writing, and it always seemed like the superheroes he drew had a smile on their faces.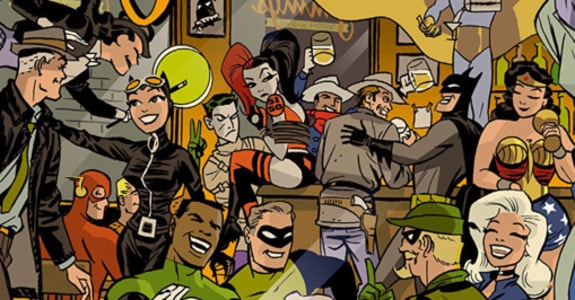 Before he wrote and drew comics, Darwyn Cooke worked in the art and design world as well as animation where he worked with Bruce Timm and did storyboards for the legendary Batman: The Animated Series, arguably the most iconic take on the Caped Crusader. He also worked on Superman: The Animated Series, directed episodes of Men in Black: The Series, and penned "Task Force X", an excellent episode of Justice League Unlimited that featured the Suicide Squad. Cooke also dipped into the cyberpunk genre with the hard rocking, symbolism filled opening credits for Batman Beyond, a cartoon set in the dystopian future of Gotham City where Terry McGinnis is Batman, and returned to this universe to do a Batman Beyond short in honor of Batman's 75th anniversary. However, Cooke's greatest contribution to animation has to be his co-writing and art directing the adaptation of his own DC: New Frontier comic as he deftly translated his gorgeous character designs from comics to animation while capturing the optimism of the Silver Age comics of the 1960s coming out of the Red Scare and congressional hearings of the 1950s.
Unfortunately, I didn't get a chance to meet Mr. Cooke, but his comics and art has had a huge effect on me. His 2002 reboot of Catwoman with Ed Brubaker (Captain America, The Fade Out) is one of my particular favorites of his work as he combined the detective and superhero genres while examining Selina's feelings and emotional reasons for deciding to put on the mantle of Catwoman again. She wasn't just a jewel thief any more, but a protector of those that society would like to forget as she investigates the murder of sex workers in Gotham City in the "Anodyne" arc. Cooke depicted this darker subject matter carefully and with empathy showing Selina's sadness as she sees corrupt Gotham City cops beat a sex worker in the street, or as Batman tells her that he knows she is a good person. But he also showed the character at her most happy and acrobatic as she leaps across the rooftops of Gotham with a big, toothy smile. Cooke was truly the master of drawing superheroes at their most joyful and iconic, and this can be seen in his interiors and covers.
Darwyn Cooke could also balance the shadows of Gotham City, The Spirit's Central City, or Parker's New York with light and life, in his general DC Universe work and stories in the anthology series Spider-Man's Tangled Web. His Wonder Woman was an ambassador of peace and love, a warrior who looked like a pinup girl while easily blocking bullets with her Amazon bracelets. His Hal Jordan was a wide eyed, cocky pilot, who was a fanboy of real life pilots like Chuck Yeager growing up, and ended up thrust into a world of aliens and imagination beyond his wildest dreams. And Cooke's Flash was so fast and sure of himself that he stopped Captain Cold before the villain even had time to complete a sentence.
His 2014 DC Comics variant covers showed these godlike heroes at their most human and personal. They also gave Darwyn Cooke the chance to work on versions of characters that weren't around when he did his first wave of DC work in the early 2000s. Cooke's Grayson cover shows the sidekick turned super spy finding a last minute escape while his Superman/Wonder Woman and Aquaman capture the most tender of romances as Mera and Arthur share a sea spray kiss, and Clark and Diana relax in a shady grove with planets above them hinting at his Kryptonian heritage. There's the Teen Titans in their old George Perez costumes playing in a band together, Batgirl in her Cameron Stewart and Babs Tarr get-up vrooming through Burnside on her purple motorcycle, and Supergirl with the sadly forgotten Legion of Superpets. Cooke even gives Batman a moment of rest in his Detective Comics cover with Alfred draping a cover over the snoozing Dark Knight after a long time of patrolling and fighting for justice. In a single image, Darwyn Cooke reminded me of why I fell in love with these iconic characters in the first place. His reveling in the superhero and pulp genres along with the ability to convey human emotions as well as subtle storytelling beats via cartooning is what made him such a great artist.
Darwyn Cooke's impact on the medium of comics will never be forgotten as he brought the heroes of Golden Age and Silver Age to the children of the Internet Age, and my thoughts and those of the rest of the Pop Optiq comics team are with his family and friends. The best way to remember him is to support, marvel at, enjoy, and, most of all, smile at the comics and films he made, and much of his work from his DC stories to his Parker graphic novels is easily available on Comixology.
[wpchatai]