While many may still be catching up on some of the great television from 2014, programming in 2015 is starting earlier than ever. Gone are the days of months-long hiatuses and January and Februarys full of repeats. This year looks to be just as jam-packed as last year, with interesting television coming from any number of sources. Here are Chief TV Editor Kate Kulzick and Managing TV Editor Deepayan Sengupta's picks for new premieres to keep an eye out for in the coming weeks.

Galavant
Created by Dan Fogelman
Airs Sundays at 8pm and 8:30pm (ET) on ABC
Premieres Jan. 4th, 2015
Musicals have been a genre rarely explored on television, and fairy tales even less so. Thus, the idea of a new show in either category is an intriguing one and a show that combines the two, as Galavant does, is an exciting prospect. With a four-week run (eight half-hour episodes), Galavant promises to be a refreshingly original show, and the promise of some trope subversion with regards to fairytales only adds to the idea. The series' use of original musical numbers fills a currently empty niche in television and if nothing else, the show promises to be entertaining.
Marking the return of The Neighbors creator Dan Fogelman to television, Galavant also has a promising cast to go with its intriguing premise. The Neighbors' Joshua Sasse takes centre stage this time around, with Psych's Timothy Omundson playing the main antagonist. Omundson has shown an ability to be both hilarious and menacing in his career and how he plays such a role in a musical itself shows promise. The show also gives Luke Youngblood, who has managed to take a one-word character on Community and turn him into a memorable part of the show, a meatier role to work with. The presence of these individuals, as well as Vinnie Jones, who has been entertaining in prior supporting roles as well, only adds to the show's promise, and how all these factors come together will be worth watching when the show makes its premiere. [Deepayan Sengupta]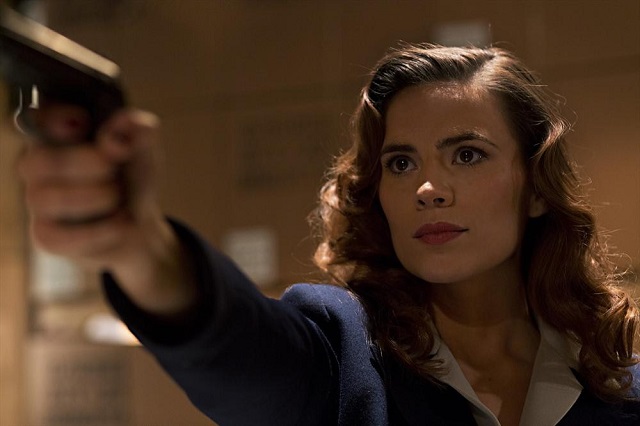 Agent Carter
Created by Christopher Markus and Stephen McFeely
Airs Tuesdays at 9pm (ET) on ABC
Premieres Jan. 6th, 2015 at 8pm with a special two-hour episode
Marvel's success on the big screen over the years has led to many memorable supporting characters, including Captain America's Peggy Carter, superbly played by Hayley Atwell. While the time jump at the end of the movie seemed to signal the end of the character, her popularity has led to the creation of Agent Carter, the newest television offering from Marvel. The show comes with a leg up on most other midseason offerings, as Atwell has already acquitted herself well in the role before, ensuring that she will be a delight to watch. However she's not the only draw; the potential of watching a spy series set in the aftermath of World War II, with a female lead, has an appeal of its own.
While the titular character and premise are strong draws, they're not the show's only draws, as the supporting cast is intriguing on its own. With Dominic Cooper reprising his role as Howard Stark, the series also features a number of new characters who will be played by performers such as Kyle Bornheimer, James Frain, James Urbaniak, Enver Gjokaj, and Lyndsy Fonseca. These are all performers who have put in strong supporting turns in numerous television projects over the years, from Brooklyn Nine-Nine to Extant, so seeing how they work with each other, and in a period setting, is promising. In addition, the variety of these performers' backgrounds also raises an intriguing question of what kind of show Agent Carter might be. [Deepayan Sengupta]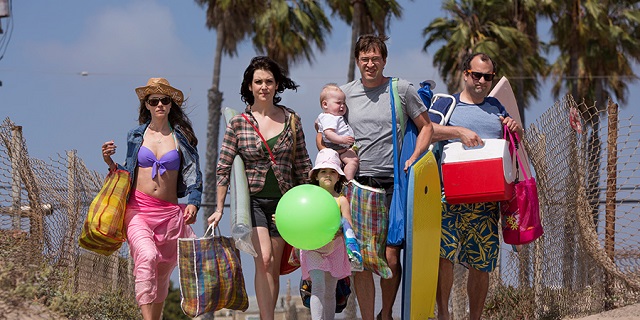 Togetherness
Created by Mark and Jay Duplass
Airs Sundays at 9:30pm (ET) on HBO
Premieres Jan. 11th, 2015
While HBO is known primarily for its hour-long dramas, such as Game of Thrones and The Leftovers, the channel has also built a strong stable of half-hour shows, including Girls and Veep. The latest entry in this group is Togetherness, a show notable not only because it is on HBO, but because it marks the migration of the Duplass brothers to the small screen. While both Mark and Jay Duplass have appeared as performers in numerous shows, Togetherness is the first time they will be bringing their skills behind the camera to TV. As filmmakers (Baghead, Jeff, Who Lives at Home), the duo have garnered a reputation for character-driven stories, which makes their foray into television an exciting prospect.
Focusing on four adults who live together (one married couple and two friends), the show has assembled a strong group of performers for the lead roles. Mark Duplass, who has displayed considerable skill in front of the camera, whether it was in shows such as The League or movies such as The One I Love, makes for a fine lead, even if he wasn't working with a character of his own creation. Melanie Lynskey has similarly been exemplary in numerous roles and after a number of supporting turns on television, the chance to see her work with a leading role, even if it is part of an ensemble, would put this show ahead of most. The third exciting aspect of the cast is Amanda Peet, who has conducted herself equally well in a wide range of TV shows and movies, from Studio 60 on the Sunset Strip to Syriana. How the performers play off of each other, and how the Duplass brothers work on television, makes this a show worth keeping an eye on. [Deepayan Sengupta]
Man Seeking Woman
Created by Simon Rich
Airs Wednesdays at 10:30pm (ET) on FXX
Premieres Jan. 14th, 2015
Based on creator Simon Rich's book of short stories, The Last Girlfriend on Earth, Man Seeking Woman stars Jay Baruchel (Undeclared, This Is The End) as Josh Greenberg, a late 20-something who reenters the dating world after getting dumped by his girlfriend Maggie (Maya Erskine). There to help him along the way are Josh's best friend Mike (Eric Andre) and his intimidating older sister Liz (Britt Lower). Josh has a harder time getting back to normal than most, however, as his life is continually interrupted by fantastical intrusions, from a blind date with a literal troll to the crushing news that his ex is now dating the worst person imaginable. These heavy doses of magical realism energize the series and provide its most entertaining sequences, making it feel fresh despite its familiar setup. With its likable cast and creative hook, Man Seeking Woman is a strong addition to FXX's budding rom-com-with-a-twist lineup and worth seeking out. [Kate Kulzick]
Fresh Off the Boat
Created by Eddie Huang
Airs Wednesdays at 8pm (ET) on ABC
Premieres Feb. 4th, 2015
Immigrant stories are rare in the television landscape, an unfortunate symptom of the wider lack of diversity amongst TV shows and the characters they portray. However, one new entrant into the under-represented group is set to come in the form of ABC's Fresh Off The Boat, which tells the story of a family of Taiwanese descent that moves from their home in Washington, DC to Florida in the 1990s. The show has the added benefit of being based on the real-life memoirs of chef Eddie Huang, adding an extra layer to the proceedings.
Alongside the appeal of telling a story rarely seen on television, Fresh Off The Boat also marks the exciting return of showrunner Nahnatchka Khan to the small screen. Formerly a writer on shows such as Malcolm In The Middle and American Dad!, Khan's last showrunning turn was the comedy Don't Trust The B in Apartment 23, which developed a strong following that lamented the show's cancellation following a number of questionable airing decisions. The other key draw of the series is the cast, which includes Veep and The Interview's Randall Park as the family patriarch, with supporting turns from performers such as Paul Scheer and Arden Myrin. How the cast works with each other, as well as how Khan's comedic sensibilities shape this adaptation, are both worth seeing and the possibilities of the show makes it worth getting excited about. [Deepayan Sengupta]
Better Call Saul
Created by Vince Gilligan and Peter Gould
Airs Mondays at 10pm (ET) on AMC
Two-day premiere Feb. 8th and 9th, 2015
Over the course of its run, AMC's Breaking Bad grew to be a critical and commercial juggernaut, with a rich tapestry of characters bolstered by strong performances complimenting the show's storytelling. One of the more memorable aspects of the show was criminal lawyer Saul Goodman, whose catchphrase "Better Call Saul" becomes the title of the spinoff centred on the character's exploits away from the events of Breaking Bad. Exploring the world of Vince Gilligan's show is an enticing proposition, and the opportunity to not only revisit it, but to see some of the events that shaped things as they were seen on Breaking Bad, is reason enough to look forward to this show.
The other key reason to look forward to the show is the lead. A veteran performer, Bob Odenkirk has proven himself time and time again in comedic roles, dramatic ones, and everything in between, whether it's in Mr. Show with Bob and David, Entourage, How I Met Your Mother, or Fargo. A lead role for Odenkirk is well-earned at this point and the fact that he has previously played this character, and proven his adeptness at it, only serves to sweeten the pot. The additional presence of performers such as Jonathan Banks (who also reprises his Breaking Bad role) and Michael McKean makes this show one to keep an eye on when it makes its premiere on AMC this year. [Deepayan Sengupta]
Check out Kate and Deepayan's picks for 2015's most exciting returning series
Chat Box - Go ahead, make my day and ask me questions about movies and TV shows...