Take a sigh of relief, the Oscars are finally upon us. How many months will we squeeze out of 2015 before pundits start incessantly chattering about Awards Season again?
With any luck, 2016 will not be as contentious and as close of a race for Best Picture as it was this year. It has created a lot of excitement and confidence that the winner will be a strong one, but it has also created a lot of controversy and bile and disappointment.
Chat Box - Go ahead, make my day and ask me questions about movies and TV shows...
My predictions for 2015 reflect the consensus of what will happen, not what should. But then with this year, anything can happen.
Best Picture
American Sniper
Birdman
Boyhood
The Imitation Game
The Grand Budapest Hotel
Selma
The Theory of Everything
Whiplash
After almost near sweeps of critic prizes and the dominant film on Best of the Year lists by a wide margin, Boyhood may very well lose the Oscar for Best Picture on Sunday night. Birdman has flown in and won the SAG, DGA, and PGA (the closest to Oscar voting with a preferential ballot) trifecta. And yet 2015 feels like the most competitive and unpredictable contest in years. Even if it doesn't have stats on its side, Boyhood still feels like it can and should win (it did beat Birdman for the BAFTA, or British Oscars). That's because in Oscar narrative terms, Boyhood as the critical darling isn't The Social Network or Pulp Fiction, and Birdman, despite quickly feeling like the more industry leaning, Oscar friendly title, is miles away from The King's Speech or Forrest Gump. Boyhood is thought provoking and inviting, and Birdman is challenging and polarizing, and both are immensely ambitious. You couldn't have two better movies duking it out for the top prize, and that doesn't even take into consideration that The Imitation Game, The Grand Budapest Hotel, or American Sniper could all ride waves of hype, acclaim, and box office appeal to a surprise victory that might not be so surprising. However 2015 shakes out, we'll have a new Oscar narrative to write for next year.
Best Actor
Steve Carell – Foxcatcher
Benedict Cumberbatch – The Imitation Game
Bradley Cooper – American Sniper
Michael Keaton – Birdman
Eddie Redmayne – The Theory of Everything
Michael Keaton's comeback is 100 percent a function of his brilliant performance in the Best Picture favorite. His story is, in its own way, the movie's story. Carell made a transformation, and Cooper is looking like an old favorite with nominations three years in a row, but along with Cumberbatch and Redmayne, all four will be here again. The time to recognize Keaton is now.
Dark Horse: Eddie Redmayne. While many have suspected Bradley Cooper could ride a wave of love for Chris Kyle and box office support to the Oscar stage, it's Redmayne who stole the SAG and BAFTA away from Keaton.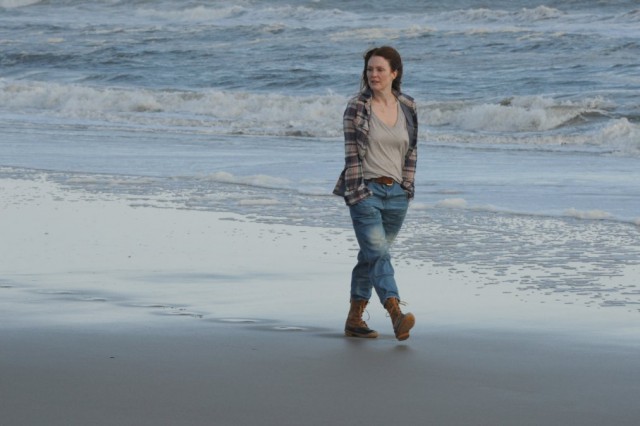 Best Actress
Marion Cotillard – Two Days, One Night
Felicity Jones – The Theory of Everything
Rosamund Pike – Gone Girl
Julianne Moore – Still Alice
Reese Witherspoon – Wild
We've been complaining about the state of this category for weeks now, but at the finish line you can't deny that this is a strong list of compelling female performances. If only the winner didn't continue the unfortunate trend that since 1998, every Best Actress prize except for Million Dollar Baby was the only major award the film received. In this case, only The Theory of Everything even has multiple nominations. Julianne Moore has been mostly undefeated into the home stretch here, and she holds a near record as one of the only living actresses with five nominations and no victory (Amy Adams also has five). Going up against two first-timers and two former winners, albeit in strong movies across the board, Moore's work is some of the best of her career and is destined to net her a first Oscar.
Best Supporting Actor
Robert Duvall – The Judge
Ethan Hawke – Boyhood
Edward Norton – Birdman
Mark Ruffalo – Foxcatcher
J.K. Simmons – Whiplash
Is J.K. Simmons not a complete slam dunk for an Oscar Sunday? He's won all the precursor prizes, and his performance is the most intense by a mile. But Ed Norton has been hitting the media circuit lately, and Ethan Hawke could make a stand if Boyhood is stronger than we're expecting. It's a long shot, but a Simmons loss would be quite the surprise.
Best Supporting Actress
Patricia Arquette – Boyhood
Laura Dern – Wild
Keira Knightley – The Imitation Game
Emma Stone – Birdman
Meryl Streep – Into the Woods
To defend Patricia Arquette's work in Boyhood once more, she's one of the film's only constants, and she provides the film's finale with one of its most heartfelt, cathartic moments. A win for her seems to say something about the need for more meaningful, meaty roles for women over 40. Stone will be here again, and Streep won't win a fourth Oscar in the Supporting category of all places.
Best Director
Richard Linklater – Boyhood
Alejandro Gonzalez Inarritu – Birdman
Bennett Miller – Foxcatcher
Wes Anderson – The Grand Budapest Hotel
Morten Tyldum – The Imitation Game
By far the biggest toss-up in the entire race behind Best Picture, many pundits are still predicting a split between Richard Linklater and Alejandro G. Inarritu as a way to recognize both films. How do you choose between the director with the incredible vision and foresight over 12 years or the one with the gall to make a personal statement movie in one unbroken take? Birdman won the DGA, while Boyhood won the BAFTA. I'm predicting the split, on the basis that from the Academy's perspective, Linklater's been the screenplay nominee turned director and deserves recognition in one of these major categories.
Best Original Screenplay
Boyhood
Birdman
Foxcatcher
The Grand Budapest Hotel
Nightcrawler
Wes Anderson seems like something of a perennial candidate in the original screenplay category. Three of his seven films before Grand Budapest were all nominated here, but he's never won. Now he's finally got a Best Picture contender to accompany his writing, and although Grand Budapest will hardly go home empty handed Sunday night, this is really the best place for the Academy to recognize it. That said, this is a formidable field, one in which the Academy could easily default to the other Best Picture nominees Boyhood or Birdman. But Grand Budapest picked up the WGA (where Birdman was ineligible), and it deserves every award it can get.
Best Adapted Screenplay
American Sniper
Inherent Vice
The Imitation Game
The Theory of Everything
Whiplash
Whiplash was the film this year that found itself the unlikely recipient of category fraud. Billed by the Academy as an Adapted Screenplay, but as Original by the WGA, Damien Chazelle's script now finds itself in the midst of a category it can win. Up against four other books, three of them true stories, one just happy to be here and none of them Gone Girl, Whiplash can easily snag a prize that could validate its long journey from Sundance 2014. And though it's hard to imagine The Imitation Game and The Theory of Everything going home empty handed, it's hard to bet otherwise.
Best Animated Feature
The Boxtrolls
Big Hero 6
How to Train Your Dragon 2
Song of the Sea
The Tale of the Princess Kaguya
With The Lego Movie absent, this remains a wide open field. Dreamworks has been campaigning heavily for a win after losing to Pixar with the original HTTYD, but Toy Story 3 is the only sequel to have won this award.
Dark Horses: Big Hero 6 or The Tale of the Princess Kaguya
Best Cinematography
Birdman
The Grand Budapest Hotel
Ida
Mr. Turner
Unbroken
There's no question you could make a case for Roger Deakins to finally win an Oscar, or for the gorgeous black and white Academy aspect ratio in Ida to make a surprise splash, or to honor the painterly colors and aesthetics in either The Grand Budapest Hotel or Mr. Turner, but you would end up losing that argument. Birdman, like Gravity before it, is the kind of cinematography that makes the case between traditional filmmaking and digital innovations of the future. Emmanuel "Chivo" Lubezki will win his second Oscar in two years, hands down.
Best Production Design
The Grand Budapest Hotel
The Imitation Game
Interstellar
Into the Woods
Mr. Turner
It's about time one of Wes Anderson's meticulously detailed movies got the respect it deserves from the Academy. The models and the intricacy on display in Grand Budapest are practically a part of the movie's fiber and narrative.
Best Costume Design
The Grand Budapest Hotel
Inherent Vice
Into the Woods
Maleficent
Mr. Turner
Wes Anderson is going to have a great night for the first few hours of the Oscar ceremony. Grand Budapest boasts a nine-time nominee and three-time Costume Design winner in Milena Canonero, and it has the look to scratch the Academy's period-piece itch in a way none of the others will.
Best Film Editing
American Sniper
Boyhood
The Grand Budapest Hotel
The Imitation Game
Whiplash
Best Film Editing in the Academy is typically mistaken for "most" film editing. So it's tempting to give a nod to the metronome-precise work in Whiplash or the traditional action movie punch of American Sniper, but let me ask something: how many years of footage did your editor put together for your movie? One? Maybe two? Yeah, Sandra Adair worked with 12. Boyhood wins.
Note: If Boyhood does not win this category, a perennial winner for Best Picture as well, Boyhood will face a seriously uphill battle in the Best Picture race.
Best Makeup and Hairstyling
Foxcatcher
The Grand Budapest Hotel
Guardians of the Galaxy
"You're looking so well, darling, you really are… they've done a marvelous job. I don't know what sort of cream they've put on you down at the morgue, but… I want some."
Best Visual Effects
Captain America: The Winter Soldier
Dawn of the Planet of the Apes
Guardians of the Galaxy
Interstellar
X-Men: Days of Future Past
Whereas the Academy could've looked to Birdman for its own dazzling visual effects in moments, this crop is a recognizable short list of 2014's biggest blockbusters. Do the superhero movies cancel themselves out and default to the Chris Nolan space epic? I think so.
Dark Horses: Apes or Guardians
Best Music (Original Score)
The Grand Budapest Hotel (Alexandre Desplat)
The Imitation Game (Alexandre Desplat)
Interstellar (Hans Zimmer)
Mr. Turner (Gary Yershon)
The Theory of Everything (Jóhann Jóhannsson)
Compared to veterans like Hans Zimmer and John Williams, Alexandre Desplat is still a new kid on the block, despite a formidable eight Oscar nominations and no win. Is this his year, with two nominations to his name? I believe so for the delightful charm and whimsy in his Grand Budapest score.
Dark Horse: The Theory of Everything
Best Music (Original Song)
"Everything Is Awesome," The Lego Movie
"Glory," Selma
"Grateful," Beyond the Lights
"I'm Not Gonna Miss You," Glen Campbell: I'll Be Me
"Lost Stars," Begin Again
More likely, it's "Glory", from a movie the Academy likely enjoyed a lot more than their nominations are letting on. But I refuse to not pick The Lego Movie here.
Best Sound Mixing
American Sniper
Birdman
Interstellar
Unbroken
Whiplash
Best Sound Editing
American Sniper
Birdman
The Hobbit: The Battle of the Five Armies
Interstellar
Unbroken
Best Foreign Language Film
Tangerines
Ida
Leviathan
Wild Tales
Timbuktu
Best Documentary
Citizenfour
Finding Vivian Maier
Last Days in Vietnam
The Salt of the Earth
Virunga
Best Documentary Short Subject
Crisis Hotline: Veterans Press 1
Joanna
Our Curse
The Reaper (La Parka)
White Earth
Best Short Film — Animated
The Bigger Picture
The Dam Keeper
Feast
Me and My Moulton
A Single Life
Best Short Film — Live Action
Aya
Boogaloo and Graham
Butter Lamp (La Lampe au Beurre de Yak)
Parvaneh
The Phone Call
For more about the short film Butter Lamp, check out my interview with Chinese director Hu Wei.