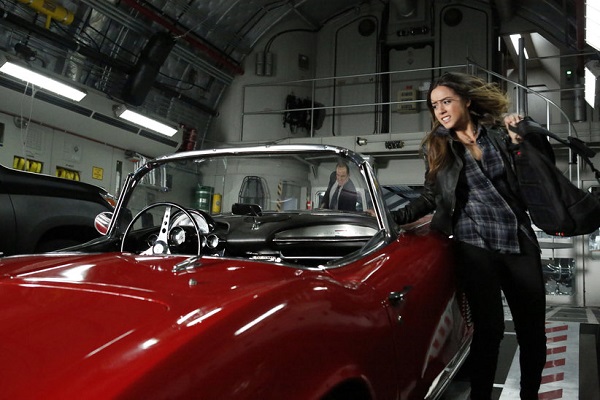 Agents of SHIELD, Season 1, Episode 20, "Nothing Personal"
Written by Paul Zbyszewski and DJ Doyle
Directed by Billy Gierhart
Airs Tuesdays at 8pm EST on ABC
"Nothing Personal" opens with Maria Hill taking an evening stroll and chatting on her phone with Pepper Potts, but May is waiting around the corner for her with questions about Nick Fury and the T.A.H.I.T.I. project. Meanwhile, Coulson is back at Fury's secret base with Triplett, Fitz, and Simmons, and they are trying to figure out why Skye and Ward left the base, taking their plane with them. Thanks to a bit of cleverness from Skye, they uncover Ward's secret, but Fitz is unable to accept that Ward is a Hydra agent. Unfortunately, they have very little time to process these revelations as Colonel Glenn Talbot (Adrian Pasdar) has found their base and brought Maria Hill and a team of Special Forces along with him. As Coulson tries to convince Hill to help them, Skye is traveling with Ward back to where it all began for her, in a small diner where she met Mike Peterson for the first time.
Chat Box - Go ahead, make my day and ask me questions about movies and TV shows...

The episode's title "Nothing Personal" is appropriate, since no one except for Mike Peterson, a.k.a. Deathlok, is keeping their emotions out of their missions. May wouldn't put in the time and effort to track down the truth about the T.A.H.I.T.I. project if she didn't want to earn back Coulson's trust. If she didn't care, she would leave the base, and Coulson's team would never hear from her again. Hill wouldn't put her deal with Talbot on the line if she didn't care about Coulson and his team. Ward doesn't want to torture Skye for information because he has feelings for her, and when Deathlok forces Skye to either save Ward's life or keep her secrets, she chooses Ward.
One of the best developments since Ward's secret has come to light is Fitz's disillusionment. Up until "Nothing Personal", Fitz has provided comic relief with his better half Simmons, but the fall-out from Ward is giving actor Iain De Caestecker the chance to show another side of Fitz. Also, Triplett is slipping into Ward's spot on the team almost seamlessly, bringing the muscle and a great sense of humor. The scene where Triplett devours a bag of chips and then offers his second bag to Fitz and Simmons is subtle and hilarious.
The only minor complaint I have with "Nothing Personal" is Colonel Glenn Talbot. So far, he is a straight-forward villain and not very interesting. Part of the problem is the script, but Adrian Pasdar could do more to add color and life to the character. Talbot and Coulson are both men sworn to do their duty, Talbot to the United States government and Coulson to SHIELD, and I wish their interactions would have brought out that shared value or drawn a sharper contrast. This minor misstep is easily forgiven, however, considering that the episode ends with Coulson and Skye escaping from Deathlok in Lola and May returning with the answer to Coulson's T.A.H.I.T.I. questions. "Nothing Personal" is another excellent episode with a final twist in the T.A.H.I.T.I. story that I did not see coming.
On a last note, I hope to see more of Maria Hill now that How I Met Your Mother is officially done. More Lola is also greatly appreciated.
Chat Box - Go ahead, make my day and ask me questions about movies and TV shows...