Talking about versatility, Sir Anthony Hopkins is one of the actors who ace this. May it be a hero or a villain, the Oscar-winning actor can deliver, and with over a hundred roles in movies, it's a tough task to pick just 10 of the best performances in his career. At any rate, here's a list of his best films to date.
1. Silence of the Lambs
Source: Amazon
Rotten Tomato Rating: 96%
In this movie, which is arguably the best Anthony Hopkins movie of all time, Hopkins plays the role of Dr. Hannibal Lecter, a former psychiatrist turned killer/cannibal who is now imprisoned for his crimes. The movie also stars Jodie Foster as a student at Quantico who is tasked with interviewing Dr. Lecter for his expertise on a new serial killer known only as Buffalo Bill.
Lecter agrees to assist Clarice only after she agrees to answer his questions about her childhood. The thriller soon becomes a race against time to see if Dr. Lecter will give Clarice something she can use before Buffalo Bill kills his current victim.
The movie is absolutely fantastic because it is the kind of on-the-edge-of-your-seat thrilling that makes you not even want to pause it to go to the bathroom, but it is also super creepy and chilling. Hopkins' role as Dr. Lecter is one of the best portrayals of a murderer. He is incredibly intelligent, very charming, and insists upon kindness and respect; he is the perfect wealthy, distinguished gentleman… who just happens to enjoy eating people. You may feel guilty about it, but you can't help but like the man.
2. King Lear
Source: Amazon
Rotten Tomato Rating: 89%
This movie, which premiered earlier this year, is a brilliant dramatization of the well-known Shakespeare play of the same name. In it, Hopkins plays the titular character, who divides his kingdom among his three daughters, Cordelia, Regan, and Goneril.
Tragically, however, he gives them each a portion of the kingdom he feels they have earned through their love for him, which means he gives nothing to Cordelia, who refused to flatter and placate him. After Regan and Goneril come into their power, they banish their father because they had never really cared for him at all.
This movie is an amazing version of this much-loved Shakespearian play. Hopkins' portrayal of the tragic King Lear is moving, powerful, and heart-wrenching. Because it is a Shakespeare play, it also has a subplot, of course, but it, too, is incredibly well done and interesting. The whole movie will have your emotions in turmoil before the end.
3. The Dresser
Source: Amazon
Rotten Tomato Rating: 100%
This movie, which is set during the end of WWII, is centered around an aging actor, always referred to as 'Sir,' whose health is failing him. Sir is a stage actor, and he has an upcoming performance of King Lear to get through; however, his wife insists that he should cancel it because of his health.
Everyone seems to agree with the exception of Sir's openly gay and very outspoken personal assistant or 'dresser.' The dresser insists that "the show much go on!" And it does…
It would seem that Hopkins was just born to play the role of King Lear, even if he is playing a role within a role in this particular movie. It is a great movie that explores personal relationships and the dynamics of those relationships.
Hopkins' portrayal of Sir is a poignant one because it reminds us of what will eventually happen to us all if we are lucky enough to live so long. Furthermore, Sir Ian McKellen in the role of Norman is a performance that no one should miss.
4. Thor: Ragnarok
Source: Amazon
Rotten Tomato Rating: 92%
The third installment in the Thor franchise, this one opens with Thor imprisoned by the fire giant, Surtur. After his escape, Thor returns to Asgard to find Loki on the throne, disguised as Odin, and Heimdall missing.
The real action of the movie comes after Odin's death, which releases his daughter Hela from her prison, now free to enter the Nine Realms again. Thor and Loki must join together to fight Hela, played by Cate Blanchett, the sister they never knew they had.
In typical Thor fashion, this movie has a lot of humor and a lot of action. It is, as far as we know, the last time we will see Hopkins' Odin in these films, and his goodbye is both heartbreaking and cathartic.
Blanchett's Hela is ruthless, powerful, and utterly amazing to watch, and Tom Hiddleston's Loki is always a fan-favorite. It is a great movie to watch alone or with the family, and it works well as part of the franchise or as a stand-alone film.
5. Amistad
Source: Amazon
Rotten Tomato Rating: 77%
Based on the true and horrifying history of America's slave trade, this movie follows the journey of Cinque, who was brought to America on the slave ship Amistad. While en route, Cinque leads a mutiny and the slaves take over the ship; however, once the ship is discovered, the entire crew is arrested as runaway slaves.
They are set to be tried and executed for the murder of their captors until a young defense lawyer, played by Matthew McConaughey, takes their case and argues that they were free men acting to defend their lives.
This movie will make you ugly cry, but it is an absolute must-see for… well, anyone. This is one of the most open, honest, and horrifying looks into America's dark history ever portrayed on television or in the movies. McConaughey's role as Roger Sherman Baldwin is impassioned and idealistic.
Hopkins, as John Quincy Adams, is entirely believable and candid. However, it is Djimon Hounsou as Cinque who really steals the show. His portrayal of the courageous Cinque will leave you in tears, but it will also have you on your feet, screaming for justice.
6. Shadowlands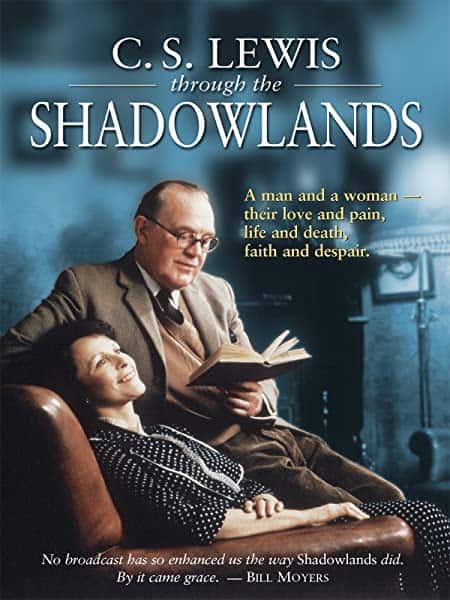 Source: Amazon
Rotten Tomato Rating: 97%
This story centers around C.S. Lewis – known to his friends as 'Jack' – and brilliant, outspoken, and a little wild for her time, American poet Joy Gresham. Joy writes to Jack and tells him how much she and her son admire him and asks if they can meet. They do, and they become great friends, even though they are so different.
Eventually, Joy divorces her husband and asks Jack to marry her so that she does not have to leave England. Though Jack is a devout Christian, he does this for Joy, but in a civil ceremony so that he doesn't feel like it is as much of a sin. The remainder of the movie focuses on their developing relationship.
It is a great movie because it has such a great cast. Everyone in the movie feels like the real deal. Hopkins is C.S. Lewis, a devout Christian and amazing writer. Debra Winger is Joy Gresham. They really delved into their characters, and they do such a wonderful job portraying them. Furthermore, the storyline is great. Watching Jack trying to reconcile his Christian beliefs with how much he likes the loud and rowdy Joy is truly entertaining. This is definitely a movie to make you feel.
7. Hannibal
Source: Amazon
Rotten Tomato Rating: 39%
This is the second installment in the Hannibal Lecter movies based on Thomas Harris' books; it is the sequel to Silence of the Lambs. In this movie, Dr. Lecter has escaped prison and is back to being his wealthy, gentlemanly, cannibalistic self in Italy.
His fascination with Clarice Starling has not abated, however, and he continues to send her messages and do things to entice her to come to him. Clarice vows to catch him and bring him back to prison; she will go after him, but will she bring him back?
Although not highly rated on Rotten Tomatoes, this movie is, in my opinion, another great Anthony Hopkins movie. Despite the change in casting for Agent Starling, who is played by Julianne Moore in this movie, the chemistry between Lecter and Starling is still fascinating to watch.
The whole movie, from beginning to end, is a bit of a twisted, disturbing love affair. That the movie is a thriller and not a love story is definitely not in question, but because it is impossible not to truly like Dr. Lecter, it is equally impossible not to see his fascination with Starling is a type of courtship. It will keep you riveted from the opening credits.
8. Beowulf
Source: Amazon
Rotten Tomato Rating: 71%
Based on the classic ode of the same name, this animated movie tells the story of Beowulf, the hero of the Geats. Known for his heroic deeds and seemingly impossible victories, he is sought out by the King of the Danes, King Hrothgar, to kill a monster that comes to his mead hall at night and kills his men. Beowulf travels to the land of the Danes, slays the monster, and then must contend with the monster's mother.
Though often overlooked when people are talking about Anthony Hopkins' best movies, Beowulf definitely deserves a spot on the list. It was co-written by Neil Gaiman, who happens to be one of the greatest writers of our time, and the animation was very advanced for 2007. It also boasts an A-list cast, with Angelina Jolie, Robin Wright, and Crispin Glover joining Hopkins.
9. Hitchcock
Source: Amazon
Rotten Tomato Rating: 61%
This movie examines the lives and relationships of Alfred Hitchcock and his wife, Alma Reville, during a stressful period in their lives when Hitchcock decided to turn the book Psycho into a film against all evidence that it would be successful. Spoiler alert: It isn't all sunshine and roses in this particular movie.
The movie stars Hopkins as Alfred Hitchcock and the incredibly talented Helen Mirren as his wife, Alma. The two phenomenal actors are even more phenomenal working together, and the tension and chemistry between them are almost palpable.
Despite his amazing portrayals of Dr. Hannibal Lecter and King Lear, taking on the roles of real people from history seems to be the area in which Hopkins shines brightest. He plays Hitchcock so well that you forget you are watching a movie and feel more like you're looking in on your friends' private marital dramas.
10. The Elephant Man
Source: Amazon
Rotten Tomato Rating: 91%
This movie tells the story of John Merrick, also known as "The Elephant Man" for his severely deformed appearance. While traveling with a traveling freak show carnival, Merrick is found by Dr. Frederick Treves (played by Hopkins), who attempts to introduce Merrick into London society.
This, of course, has its own challenges and downfalls, and even though Merrick is now living a safer, more gentle life, it is unsure whether or not he is being any less exploited by the good doctor than he was during his time in the freak show.
This movie is just a great movie all around. John Hurt is spectacular as the Elephant Man, and Hopkins does a great job portraying both sides of Dr. Treves – the side that genuinely wants to help Merrick and the side that is hoping to become famous off of him. This is a movie that definitely earns its spot on all of those "100 Movies to Watch Before You Die" lists.
Actual Top Ten Anthony Hopkins' Movies on Rotten Tomatoes Based on Score:
The Dresser – 100%
Shadowlands – 97%
Spartacus – 96%
The Silence of the Lambs – 96%
The Remains of the Day – 95%
Howards End – 94%
The Lion in Winter – 92%
Thor: Ragnarok – 92%
The Elephant Man – 91%
King Lear – 89%