Ranking the best Brie Larson movies is a bit of a challenge, as everything the future star of Captain Marvel touches seems to turn to gold. In her short film career, she has earned numerous accolades, including an Oscar, and has starred in many critically acclaimed movies. Either way, as illustrious as her filmography is, the below list is a representation of her 10 best films.
1. Room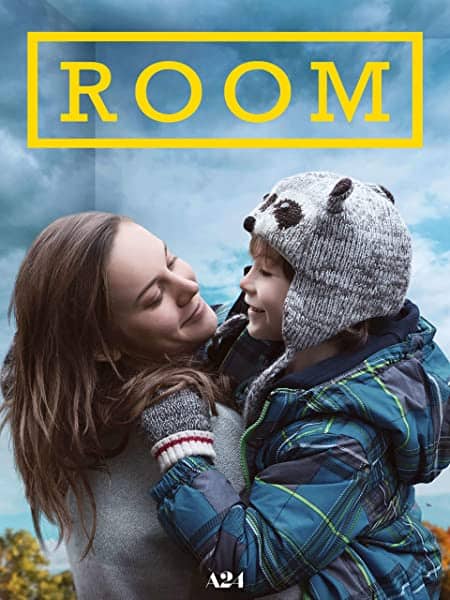 Source: Amazon
Rotten Tomato Rating: 93%
Summary: Room is a film like no other. Both emotional and suspenseful and with a story rich with fresh ideas and chilling realizations, at its core, this is a movie about the love between mother and son. Being held against her will and raped, Ma, played by Brie Larson, gives birth to a son.
She is forced to raise the boy she never wanted in captivity, before they eventually escape and Jack experiences the outside world for the first time. Through the trying experiences, the film showcases how even in difficult family situations and in new, uncharted worlds, a mother and child have an inseparable bond.
Why it is Great: This movie is great on many levels. Beginning with the story, this is one of the most unique films ever made. Under a different direction, this adaptation from the best-selling novel could have turned into a movie that made viewers uncomfortable for all the wrong reasons. However, the discomfort here is full of heart, even if it's a bit perverse. The acting is also incredible, with Brie Larson bringing home the Best Actress Oscar in her breakout role. The result is a must-see movie that will leave you talking and thinking for many years to come.
2. Short Term 12
Source: Amazon
Rotten Tomato Rating: 98%
Summary: This movie was adapted from a short film called I Am Not a Hipster by the same director, Destin Daniel Cretton. It revolves around a woman in her 20s working at a home for risk teenagers and how she deals with the curveballs that life throws her way. Grace, played by Brie Larson in the starring role, is a woman who dedicates her life to helping kids who received the short end of the stick from life.
Her own life wasn't easy either, and she is still dealing with the hangover of some of her past failings. Grace forges a strong connection with a newcomer in the group home that she sees herself in, and this allows her to make peace with the life she has left behind.
Why it is Great: This is a great film because it was built on modest expectations and was able to aim widespread critical appeal. Larson is the standout of this film, which allowed her to catapult from a series of supporting roles into a serious career as the leading lady. This is also an emotionally heavy film, touching on many of the struggles that young people face as they try to make their way in the adult world.
3. Scott Pilgrim vs. the World
Source: Amazon
Rotten Tomato Rating: 81%
Summary: This unique film based on the unique comics of the same name by Bryan Lee O'Malley, places Scott Pilgrim, played by Michael Cera, against in duels to the death against the seven exes of the girl of his dreams.
The 22-year-old bassist for the Sex Bom-omb band immediately falls in love with Ramona Flowers. This love comes with consequences, though, as he must challenge those who loved her before in order to come away with the prize. Brie Lawson plays Envy Adams in one of her early supporting roles that earned her on-screen recognition.
Why it is Great: There is no other film like Scott Pilgrim vs. the World. Everything about it is unique, from the story to the way the story unfolds, and the cinematography that looms heavily throughout the entire adventure. It is a highly comedic film, of course, but it also has a serious artistic drive, and the wackiness makes it feel as though you are reading a comic the entire time.
4. Trainwreck
Source: Amazon
Rotten Tomato Rating: 85%
Summary: This Amy Schumer written comedy also places her in the leading role as a girl who grow up with the notion that monogamy is not possible in human nature. She uses this as her life motto and lives her life on her terms. That is until she falls in love with Aaron Conners, played by Bill Hader), and things start to unwind.
Why it is Great: This is a unique comedy film that places the female in the role that would have been played by a man only a few years ago. Schumer's piece that was directed by comedy legend Judd Apatow is also full of comedic pieces to surround the leading actress with hysterical parts all around the film. Brie Larson plays the role of Kim, one of Amy's closest friends, in a comedic role very different from the work that earned her dramatic acclaim.
5. The Spectacular Now
Source: Amazon
Rotten Tomato Rating: 92%
Summary: Written by Michael Weber of 500 Days of Summer fame, and directed by James Ponsoldt, this 2013 comedy and drama tells the story of teens as they deal with love and growing into adults.
It tells the story of Sutter Keely, played by Miles Teller, a current senior in high school and the prince charming of his community, falling in love with the good Aimee Finicky, played by Shailene Woodley. The overall theme in this film is how ideas change as people get older and that the final years of the high school mark the transition into the real world with unexpected results.
Why it is Great: This is a charming film that is also high on laughter. It is great because of the message and its heart, but also because of the wonderful acting by both the leading and supporting actors. Brie Larson has a standout supporting role as Cassidy. She is backed by veteran actress Jenner Jason Leigh and Mary Elizabeth Winstead.
6. 21 Jump Street
Source: Amazon
Rotten Tomato Rating: 85%
Summary: Jonah Hill and Channing Tatum start in this comedy as Schmidt and Jenko, a pair of recent graduates from police academy who are asked to go undercover at a local high school. Remade from a popular television program, this movie loosely adapts the source material whilst upping the comedic antics to the next level. Brie Larson plays the role of Molly Tracey and shines in her comedic chops.
Why it is Great: This film is hysterical and well-directed, cast, and acted throughout. Hill and Tatum have amazing chemistry, but they also play well off of the supporting cast of Ice Cube, Rob Riggle, and Brie Larson, among others.
7. Don Jon
Source: Amazon
Rotten Tomato Rating: 80%
Summary: Written and directed by the acclaimed actor Joseph Gordon-Levitt, Don Jon, tells the story of Jon Martello, a handsome man with old-school sensibilities. "Don" is added to Jon's name because he has the capability of securing time with any female he so chooses.
But Jon actually prefers sitting alone and watching pornography instead of living with, and loving, the various filings that come into his life. This all changes when he meets the good Barbara Sugarman (played by Scarlett Johansson), who learned romance from watching old movies. They test the validity of these films by going through the ups and downs of love in an attempt to make Jon the Prince Charming he should be.
Why it is Great: This is a surprisingly funny and charming film directed by the movie's lead actor. Beyond the strong message of love and how the media influences what we think love really means, there is a strong sense of belonging in this film.
This is helped by the movie's amazing supporting cast, including Tony Danza, as Jon's father, and Julianne Moore. Brie Larson joins the cast as Monica Martello, Jon's sister, in this retelling of the classic "boy meets girl" narrative that also deals with addiction and obsessive personalities.
8. Kong: Skull Island
Source: Amazon
Rotten Tomato Rating: 76%
Summary: King Kong movies are a staple of Hollywood, going back to the early days of black and white cinema. As such, it becomes difficult to find a unique spin on the story of the massive gorilla. Fortunately, Kong: Skull Island does just that.
Although it is a B-movie at its core, the movie also serves as a Vietnam War history piece. In the movie, a team of explorers decides to embark on an adventure to a mysterious and uncharted island. They had no idea that they were stumbling onto the playground of the infamous King Kong.
Why it is Great: This movie is a fantastic retelling of the classic story that is reborn with every generation. Beyond the thrills and adventure found within, this movie has some powerful acting at every role.
Tom Hiddleston takes the leading role as James Conrad, and he is supported by Brie Larson in the role of Mason Weaver. Samuel L. Jackson, John C. Reilly, and John Goodman also make appearances, meaning some of the best Hollywood has to offer make their way onto the screen.
9. Greenberg
Source: Amazon
Rotten Tomato Rating: 75%
Summary: This comedic drama starring veteran Ben Stiller finds him playing a New Yorker who moves to Los Angeles to set his life in order. He ends up housesitting for his brother and then beginning a relationship with his brother's assistant.
Why it is Great: In one of Brie Larson's earliest roles, she plays Sara, Greenberg's niece. She shines in her limited screen time. Her character sparks an epiphany in Stiller's character's mind by placing him into a drug-filled house party that allows everything to click as to what is truly important in his life.
10. Rampart
Source: Amazon
Rotten Tomato Rating: 74%
Summary: This drama about crooked Officer Dave Brown shows Woody Harrelson take the helm. Although he is constantly questioned for his unorthodox tactics, Brown never really faces rebuttal until a video is released that shows him striking a suspect. Brie Larson has a small role, as Helen, but puts forth a powerful performance.
Why it is Great: Larson's role places her as Brown's daughter, Helen, who works hard to put her father's motives and lifestyle into question. In short, Larson is acting as the viewer, someone screaming at the self-destructive police officer to get his life in order and begin walking on the straight path before it is too late.