40. Night Moves
Since 2006, Kelly Reichardt has found a way to reach inside of the hearts of her audiences, plucking out strings one by one with desolate re-imaginations of the American Pacific Northwest, seen through the eyes of people not so different than ourselves. With Meek's Cutoff, she departed from her typical genre and moved in to the Old West, but you could still see her stark realism, perfectly imagined on-screen. Now, Reichardt has shifted gears again, this time to present day (still in the Pacific Northwest), following three environmental activists as they plan to blow up a dam. But this time Reichardt has eschewed all sense of dry, dirty characterization for a much more flowing story where the characters emerge from their settings more fully. It's still methodical, but somewhere in between the planning and heist itself, Reichardt's star Jesse Eisenberg finds notes we haven't seen from him since The Social Network, diving into an emotional core than feels altogether genuine. Supported by an equally brilliant Dakota Fanning and, to a lesser (but still interesting) extent, the unsettling Peter Sarsgaard, Eisenberg helps Reichardt deliver one of the more stunning shifts in genre from an already established filmmaker in recent memory, without fully forgetting what made her films so successful in the first place. The film feels like something from another era – a pseudo-noir that's more like a 1970s Lumet or Frankenheimer detective film. – Joshua Gaul
39. Starred Up
David Mackenzie's Starred Up unravels the complex emotional incompetence and stubbornness behind the actions of prisoners. Packaged in blood-soaked spectacle, the film dissects the prolonged impact of confinement and the poor choices of hardened felons who strain to have avenues besides violence to effectively communicate their frustrations. The content stuns with its ferociousness but in no way makes excuses for the crimes that they've committed or the acts they've perpetrated in order to find a favorable place in the pecking order of prison. Jack O'Connell plays Eric, a juvenile delinquent making an uneasy transition into the adult prison system.
Winding up in the same prison as his estranged father Neville (Ben Mendelsohn), the story cleverly veers Eric away from any kind of heartwarming reunion. The hopelessness of indefinite incarceration compounds with bitter feelings to successfully turn the tension into a palpable gauntlet of spontaneous brutality. This creates a terrifically claustrophobic atmosphere where O'Connell's virulent fury and Mendelsohn's rage (that is visibly tempered only by age) boil into toxic situation after toxic situation. Impulsiveness impressively reigns over every scene as the duo jumps at almost every chance to destroy each other or anyone who dares to cross them. Empathetic therapist Oliver (Rupert Friend) attempts to curtail the needless savagery by making Eric and Neville examine themselves.
The brilliance of the script by Jonathan Asser comes from how the veracity of the confrontations don't magically resolve grudges or mend broken relationships. Instead, they spawn a thoughtful examination of how the ill effects of violence can reverberate through generations. The characters possess a twisted dignity behind their desperation and unwillingness to positively change that is as admirable as it is sick. The movie's rough subjects disrupt the notion of what constitutes affection and the plot is smartly aimed away from any notion of conventional atonement for misdeeds. An unflinching portrait of primal rage and survival, Starred Up is hard to absorb but a memorable ride into the unexpected. – Lane Scarberry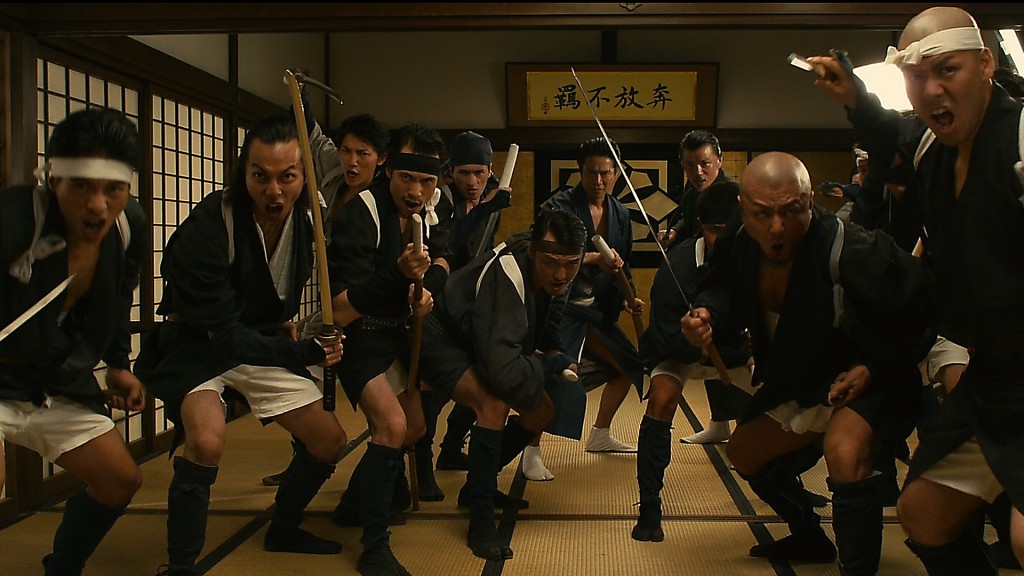 38. Why Don't You Play in Hell?
This outrageous action opus from writer-director Sion Sono will have you believe in the movie gods. Why Don't You Play In Hell? feels like a tribute to his earliest days as a director – it is a self-evaluation as well as a look at the medium itself, executed with the sophistication that could only come with years of experience. Based on a script the director wrote 17 years ago, Why Don't You Play in Hell? finds Sono returning to that same rebellious brand of filmmaking, and youthful enthusiasm from his earlier career. It is a grand artistic vision, and a movie with such raw ambition and spirit, inspired by an imagination that spent thousands of hours absorbing samurai flicks and pulp paperbacks. This love letter to the art of cinema utilizes every trick in Sono's formidable arsenal. Why Don't You Play In Hell? is eye-popping, wild, unruly, and blessed with a few extended sequences worth watching over and over. Sono's trademarks are in full display here – the film is punctuated with such high-octane, imaginative camera work and an exhilarating soundtrack that makes it almost impossible to resist, and the epic and completely preposterous final set-piece sees it easily earn the title of bloodiest film of the year, and rivals anything that the auteur has previously made.
Why Don't You Play in Hell? is a throwback to a time when movies were made for the love of the art. Along with a riff on how digital filmmaking has overtaken 35mm film stock, the picture functions as a satirical jab at the Japanese entertainment industry and organized crime. Sono also takes time to comment on how cinema continuously inspires, reshapes, and affects our society. But he isn't trying to send a heavy-handed message here. The last shot of this movie in particular reveals this very truth. He simply set out to enjoy the visceral pleasures of filmmaking. In the final battle, the 35mm cameras temporarily protect the yakuza-now-actors from the harsh realities of their ongoing deadly feud. Ultimately, they are fully aware they might all die before it ends, but everybody is prepared to die for the love of cinema. – Ricky D
37. Cold in July
Adapted from Joe R. Lansdale's novel of the same name, this year's sleeper hit Cold in July, directed by Jim Mickle, is as witty and deranged as they come. Set in 1989 East Texas, Michael C. Hall plays Richard Dane, a small town family man on the brink of unravelling. After killing an intruder one night, Dane's sole mission of protecting his home turns into a fixation with the obscure and violent underworld of crime. The film works skillfully with its unpredictability and outstanding individual performances. A simplistic revenge tale turns gritty in this dark thriller that provocatively twists and turns its way to a bloody end. Cold in July is Southern Gothic pulp fiction at its greatest, and a must see. – Trish Ferris
36. The Tale of the Princess Kaguya
Last year, Studio Ghibli released The Wind Rises, which to many was Hayao Miyazaki making an Isao Takahata film, complete with naturalistic setting and surreal flights of fancy. This time around, Takahata returned the favour by doing his version of a Miyazaki film. The result, The Tale of the Princess Kaguya, is a watercolour fable every bit as visually stunning and emotionally devastating as anything the director (or the studio, for that matter) has put out. This adaptation of a 10th century folk tale is rendered entirely in textured analogue strokes, all charcoals, pencils and watercolours. Every frame bustles with life and expression, even when the characters are still. It's a stunning example of what animation is capable of achieving. And for all its formal elegance, it's no thematic slouch; there's a solid through-line about the great divide between a person's happiness and someone else's idea of it, and the friction that can cause. Lots of stuff about male entitlement and the ways in which women subvert it, too. But most of all, it's a riveting piece of melodrama about roads untraveled and opportunities missed. The fact that this is in all likelihood Takahata's last hurrah gives the whole film some added poignancy. After all, the only thing harder than saying goodbye is knowing exactly when and why you have to do it. – Derek Godin
35. Actress
There's an in-the-moment sense of discovery and fragility in nearly every frame of Robert Greene's intimate and suffocating documentary Actress, a disorienting and piercing odyssey into the perils of motherhood and the hunger to reclaim success in the acting world. The film's complicated subject is Brandy Burre (a regular on the third and fourth seasons of HBO's The Wire), whose intended comeback would be sufficient enough for any standard doc, but the beauty of Actress is how it sets its sights far higher. A natural blending of the lyrical and the mundane aims to heighten the time we spend with Brandy, as she bares more than what we would expect. Still, Greene's thematic gambit is simultaneously rich and mysterious, constantly poking and jabbing at the many faces of performance – both real and fictionalized, viewed through a particular subjective space that the director carves out for Brandy. Perhaps the most refreshing aspect of Actress, in the end, is how much of a true collaboration it is between filmmaker and subject. Brandy stands as Greene's creative equal: an emotionally charged, complicated, and melancholic spirit who lives through intersecting roles (don't we all?) in order to find her own peace of mind. Exhilarating and unnerving in equal measure, Actress is that rare film, fiction or non-fiction, that could be said to capture life in its purest form. – Ty Landis
34. Stray Dogs
Tsai Ming-Liang has built a reputation for himself as one of the foremost artists of contemporary cinema. His work is often lauded for its challenging ideas, careful pacing, and incredible compositional sense. His newest feature film, Stray Dogs, is about an alcoholic father and his two children struggling to survive in Taipei. Blending stark realism with elements of fantasy and absurdity, there is little doubt that this is one of the most unique films of the year, offering a singular vision of the world. Ming-Liang stands above many of his contemporaries working with long takes and elliptical storylines through the strength of his compositions. There is a lot of power in the way he places his camera, almost confrontationally, to forcefully engage the viewer with subjects who often face the lens directly. There is an intimacy here that challenges traditional concepts of cinematic realism by allowing the characters to break the fourth wall, if only through the power of their gaze. The levity in which Ming-Liang is able to present his characters is the essential ingredient that allows this film to transcend the egoism of aggrandized and patience-testing cinema. The detailing of a little girl's cabbage friend in particular, standing out as an essential detail that lends personality and charm to the proceedings. The emotional power of this work is not universal, and in its specific appeal its champions will scream its praise from the rooftops. This is not a means of questioning Ming-Liang's integrity as an artist but perhaps reflecting on larger questions that plague and haunt film criticism in the contemporary era. – Justine Smith
33. Force Majeure
The most talked about arthouse movie of the year came to us from Sweden's Ruben Östlund, who is fascinated by the way a crowd reacts in the moment when something goes awry. The catalyst in Force Majeure is a frightening yet harmless avalanche: a traumatic experience for a well-to-do family on vacation, whom in the aftermath of the snow's clearing are left questioning father Tomas' (Johannes Bah Kuhnke) split-second actions when trouble struck paradise. What does it mean when a husband and dad, in the face of emergency, prioritizes saving himself? Shaken by the catastrophe-that-wasn't, the seemingly perfect foursome descend a slippery slope of ambiguity over the course of their ski getaway — that is until video evidence, by the eye of the omniscient iPhone, comes into play. Director Östlund studied YouTube clips of marvelous events gone wrong, and applies a similar observer's point of view to pose questions about men's traditional role of protector, and the ways in which moral code and animal instinct go head-to-head in these spur-of-the-moment impulses. Whilst an intensive family drama with its fair share of darkness looming on the horizon — particularly thanks to a recurring Vivaldi excerpt that can transform the refuge of the chalet's interior into a set piece from The Shining — Force Majeure is likewise a comedy. (Watch out for a surprising and hilarious piece of drone footage). Östlund claims he and his team set out for the production of the film with two main objectives: to construct the greatest avalanche scene in cinema history, and to raise divorce rates in modern society. Despite these lofty ambitions, I'm partial to say that Force Majeure succeeded in one way or another. It is truly a force to be reckoned with. – Oliver Skinner
32. Dear White People
After making a powerful debut at Sundance, it was by fortuitous coincidence that Justin Simien's first feature Dear White People, a biting satire set on a fictional Ivy League campus, landed in theaters just as the national dialogue surrounding race, discrimination and prejudice was reaching a boiling point. Following a trio of African-American students doing their best to navigate the tacit cultural norms of the liberal arts ecosystem, Simien's complex multi-protagonist narrative artfully picks apart the myth of post-racial society and its self-delusional flaws better than all of this year's thinkpieces put together. The film reaches its climax at a blackface party held by a fraternity, which, as appallingly backwards as it sounds, happens all too frequently at real college campuses. Simien's script is barbed with sharp one-liners that are sure to make viewers cringe as they laugh, because many of us have heard, said, or thought about saying such comments. And while he isn't the first writer to throw it back in the audience's face, he digs deeper than just toeing the line between political correctness and incorrectness for broad comedic purpose, making Dear White People more about the search for identity than settling for racial allegory. Taut, timely and thought-provoking, the film not only captures the zeitgeist but heralds the talent of director Simien. – Misa Shikuma
31. Foxcatcher
Movies based on true stories often provide some of the more riveting and thought-provoking cinematic experiences; one of most literal examples of "art imitating life". The searing drama Foxcatcher is a dark and psychological exploration of three men, whose individual problems will result in painful consequences. Foxcatcher tells the painfully true story of John Eleuthere du Pont (an intense and almost barely recognizable Steve Carell), who takes Olympic gold medal wrestling champion Mark Schultz (Channing Tatum) under his wing, training him in the hopes of winning the gold in the next Olympics. This is a turning point in Steve Carell's career. Sure, he's delved into more serious fare with films like Little Miss Sunshine and Dan in Real Life, but Foxcatcher is no dramedy. This is a full-on drama with many of the scenes stirring up discomfort and, in some cases, horror. Director Bennett Miller (Moneyball, Capote) has dug deep into the obscure history of true American crime with Foxcatcher, and it is a film that sheds light on a twisted story that is not only true but extremely unnerving. Each shot of the foggy Foxcatcher property, as well shots of du Pont himself, sitting in silence, all stir up strong emotions and moments of tension. Foxcatcher is a triumph on almost every level, from Carell's haunting performance to the reiteration of a tragic true story. The film may take a few viewings to sink in and get fully absorbed, but once it does you'll be glad it did. – Randall Unger
30. Stranger by the Lake
Though Stranger by the Lake premiered at last year's Cannes Film Festival (and appeared on Sound On Sight's best of 2013 list), it finally reached North American audiences in January of this year. Alain Guiraudie's stunning noir-tinged thriller is set entirely against the backdrop of a secluded lake known to locals as a popular gay cruising spot. A tale of murder complicated by intense sexual obsession (garnering equal parts praise and criticism for its frank depiction of unsimulated gay sex), it accomplishes the rare feat of subtly guiding the way we pay attention to details as we watch. The film's deceptively simple geography is mapped out as much aurally (and orally) as visually. By the time of the pulse-pounding climax, Guiraudie has masterfully taken hold of all of our senses in an ever-tightening claustrophobic grip. It is Hitchcock by way of Bresson. – Mallory Andrews
29. Mommy
Fresh and abrasive, Mommy is perhaps Xavier Dolan's most cohesive film. Hailed as 'L'enfant terrible du cinema quebecois', Dolan has never been afraid of risk. Audacious and ambitious, Mommy is set in Longueuil where a young mother cares for her obsessive son, Steve. Blurring the boundaries of comfort and skirting taboo, their relationship veers on destructive, erotic and extremely toxic. Using a 1:1 aspect ratio (inspired by the shape of CDs and records, as for Dolan music and image have equal weight in terms of composition), the film transcends expectations of traditional narrative filmmaking by avoiding linear storytelling, breaking the fourth wall, and shifting subjectivities regularly. Still a relatively young filmmaker (he only turned 25 in April 2014), the film's bombast feels suited to the instability of the characters and reflective of the ambition and excesses of youth. The film strives as an exercise in mood and style, embracing the intensity of the present with brief forays into a dark past and an unpromising future. Rarely has a film been able to capture the sensation of loss of control so effortlessly, the film itself seeming to quiver with uncertainty, threatening to explode into flames at any moment.
– Justine Smith
28. The Raid 2
In 2011, the surprise sleeper hit that was The Raid took the international film festival circuit by storm. It was the perfect example of lightning in a bottle: a Welsh writer-director with an Indonesian cast and crew operating on a million dollar budget within one location, spurred by a high concept plot and front-lined by a martial arts star in the making. Somehow both a throwback to classic 90s hardcore action and also a game-changing first step into a new era, its no-nonsense technical approach and heavily condensed shots of adrenaline wowed critics and audiences alike, opening up MMA and a largely untapped cinematic frontier to all corners. Naturally, the announcement of a sequel had to be treated with a pinch of salt. The original was a unique beast. A follow-up resembled an attempt to recreate the formula for maximum gain.
How wrong such predictions were, as Gareth Evans ditched the 'trapped in a skyscraper' format and instead opted to make the crime thriller epic he'd long coveted, remolding his ambitious Berandal script to fit the toned frame of Iko Uwais's hero, Rama, and filling it with callbacks to his previous high octane opus. Thus The Raid 2 hit cinemas this year, following a rule of sequel-making long preached but rarely adhered to; this was a different beast, bigger and bolder yet original and organic. Like Rama, it was recognisable yet also different, wearing the same face but evolved and advanced. Simplicity and brevity was replaced by complexity and layers hinted at the first time around. The fighting is back, brasher and more brutal than ever, but surrounded by a sweat-and-grime-drenched atmosphere as thick as syrup. You can feel the sleaze on your skin and the crack of your knuckles as Rama infiltrates the Jakarta underworld in search of the corrupt influence and unjust hand of the law at its heart. Unthinkably, The Raid 2 is Level 2, both for us and our amiable, newly ambiguous protagonist. The apartment block seems like basic training by comparison.
It is truly a marvel of fil-making and absolute solid, undeniable proof that in journeyman Gareth Evans cinema has found a truly special talent. Threading together a vast plot, relatively massive running time (more than an hour longer than the original), numerous backward link,s and a new array of colorful villains as deserving of cult status as Mad Dog or Tama, The Raid 2 is one part fisticuffs acid trip and one part pulsating film noir, aided by Uwais's acting upgrade and an intricately conceived narrative. You come for the duels and mass brawls but are seduced by the story. The violence (bloodier than ever) is dressing for the drama. A straightforward action outing draws us into the world of the crime epic. What we are seeing is truly a rare feat; a director making the film he always dreamed of, and fulfilling our own fantasies in the process. It is a truly perfect, transcendent action thriller. Every bit as good, and perhaps better, than the original. – Scott Patterson
27. We Are the Best!
Though punk rock is, at this point in 1982, almost dead, that doesn't stop three young Swedish adolescents from embodying its anarchic spirit. Lukas Moodyson's playful film We Are the Best! takes that kind of anarchy and transforms it into a sense of empowerment for the young girls Bobo (Mira Barkhammar), Klara (Mira Grosin), and Hedvig (Liv LeMoyne), all the while allowing their various growing pains to feel authentic and impactful. Based on the graphic novel Never Goodnight by the director's wife, Coco Moodysson, this jaunty, beguiling film is empathetic towards its leads and never pandering. It's a coming of age film that jovially eschews those genre conventions and is able to live within its own little bubble, examining the little ways that these girls, and anyone else their age for that matter, want to make a mark. Though punk is, by nature, rough around the edges, it's this film's sweetness which makes it easy to fall in love with. – Kyle Turner
26. Citizenfour
There can be a certain wariness among filmgoers of works (both fictional and documentary) that deal with events that have happened recently or are still unfolding. Many subjects could certainly use a cooling off period during which they ought to be studied, analyzed, and understood as best as possible. Every year, there are, of course, notable exceptions. This year, that film is Laura Poitras' Citizenfour, a work that feels so now that if it was made even six months later it would have to be a completely different film. If any subject requires the opposite of a cooling off period, it is Citizenfour. It's a film that begs its viewer not to cool off. Instead it attempts to fuel within its audience an outrage big enough that it will burn even after the film is over. Not only is this the most important film of the year, it is also the scariest. It's hard to imagine a more terrifying fade to black than we get in this film. Besides its subject matter, Citizenfour is also an incredibly well crafted documentary. It plays like a great mystery thriller. It's never condescending and appreciates that its audience is smart enough to draw its own conclusions. It's also a fascinating character study of Edward Snowden. Many already see him as a hero, but here we also see him as a human, a nerd, a concerned citizen, and a myriad of other things. The only thing he isn't, as he keeps saying, is a martyr. It is tempting to see the events surrounding Snowden as our generation's Watergate, but Citizenfour makes the case that it is so much more. We don't even know how this will end. The only thing we do know is that this film is only the beginning. – Laura Holtebrinck
25. The Double
There's nothing of late quite like Richard Ayoade's The Double, a bittersweet, quizzically grim puzzle box of a film that taps into the heart of our bureaucratic messes and statistically-bound, faceless lives. Jesse Eisenberg and Mia Wasikowska's performances elevate what could have otherwise been an cold arthouse exercise into something surprisingly poignant. It's a pity Ayoade struggles to do the same; he is at times, more enamoured with his Gilliam-lite set and riffing off identity than he is in James' story. – Vivienne Mah
24. Nymphomaniac
Lars von Trier's Nymphomaniac has been split into two films and that is a tragedy. As many reviews showed from viewing the films separately, the effect of the film is lessened by separating the deeply comic first half from the dreadfully disturbing second. So if you are going to watch Nymphomaniac, make sure that you watch the full film.
Joe (Charlotte Gainsbourg) is a self-described nymphomaniac who is detailing her life to Stellan Skarsgård, and at first it is very uncomfortable. The jokes are there pretty much from the start, but it takes a while for them to lull you into being comfortable, at which point the film takes an incredibly dark turn. It's cringeworthy because what you were just laughing at becomes visually scarring. And when you walk out of the theatre, those images are never going away. This film sticks with you; one moment you'll remember the fantastically funny scene with Uma Thurman, and the next the most violent and jarring scene where Charlotte Gainsbourg psychologically breaks a man down. Nyphomaniac is not a film to watch lightly, but it is a film that cinephiles need to see.
– Mynt Marsellus
23. Dawn of the Planet of the Apes
Hollywood's most improbable franchise put out its best installment since the original series of films this year. The Apes movies have always been cynical allegorical tales about the pervasive evils that human kind is capable of. With Dawn of the Planet of the Apes, viewers got the most unbridled look at what life in the ape society is like for the first time, in large part thanks to the revelatory motion capture performances of Andy Serkis as Caesar and Toby Kobbell as Koba, which expertly walk the line between gimmicky and nuanced. Sure, we may be watching as the remains of human civilization in San Francisco try to find peaceful existence with the ape culture that lives in the forest (a conflict that is broad enough to have shades of the war on the Gaza Strip and the various civil wars that are ripping apart the Middle East and parts of Africa), but we are really watching a slow march to a dark inevitably. Caesar and Koba's relationship and tragic falling out carries the movie from its prequel primordial soup to a place of assuredness that earns its spot in the continuity of the original films. The scene in Dawn in which Caesar declares Koba to no longer be an ape is among the most emotionally brutal of the year, a real feat for what is ostensibly a money-making tentpole release for a major studio. – J.J. Perkins
22. Two Days, One Night
Along with Anthony Chen's excellent Ilo Ilo, Jean-Pierre and Luc Dardenne's Two Days, One Night shows an international interest in the economic depression for films in 2014. Unlike previous works of the Dardenne brothers, Two Days, One Night features a veteran star actress in Marion Cotillard, who gives one of the best performances of her career as Sandra, a woman recovering from a nervous breakdown who is facing job termination. The conceit of Two Days, One Night is not unlike a fable, probing into issues of morality from several different and well-defined perspectives. To retain her job and salary, Sandra must convince the majority of her coworkers that they should relinquish their bonuses. The characters who appear throughout the film show viewers that the world can be dangerous for those who hope and are willing to make sacrifices for others, but they do so in a way that is never cynical—everyone here feels real to a large degree. Two Days, One Night is surprisingly difficult to watch at times as Sandra constantly questions whether or not her efforts are worth anything to anyone but herself. Regardless of what the outcome is, the ultimate success of the film is how difficult it makes it for the viewer to firmly decide how he or she might act or think under the same circumstances. Many of the greatest works of art inspire an active conversation between the art and those who are receiving it. The Dardenne brothers have made a career out of challenging their viewers to look inward and see the self as multifaceted—sometimes beautiful, sometimes horrific. In that regard, Two Days, One Night might be their masterpiece. – Sean Colletti
21. Obvious Child
Obvious Child premiered at the 2014 Sundance Film Festival and is the debut feature film of School of Visual Arts graduate Gillian Robespierre. Starring SNL alumnae Jenny Slate in a breakout role as stand-up comedian Donna, writer-director Robespierre takes the typical quarter-life crisis narrative and blends it with a touch of whimsical comedy laced with maturity.
Taking a different angle to the plot device of an unwanted pregnancy, the script doesn't hide Donna's confusion and hesitation about the idea of abortion. In addition, her frank performances during her stand-up comedy sessions dotted throughout the film show more heart than sass, showing that the underlying issue is not covered up by laughs and awkwardness. Its natural wit, charm and sensitivity to the subject of unwanted pregnancy makes Obvious Child one of the most natural romantic comedies in years, standing out among recent features in the same genre. – Katie Wong
20. Listen Up Philip
There were perhaps very few memorable characters in 2014 more intellectually, eloquently and morally vile than Jason Schwartzman's silver-tongued Philip Lewis Friedman, the multifactorial author-scholar-megalomaniac-narcissist who just loves — absolutely loves — to demean everyone who gets in his way or have had the misfortune of knowing him. He is as much a labored construction of himself as he is a character right out the pages of what Philip Roth would put to exacting words. Alex Ross Perry's latest, Listen Up Philip (who's not much of a listener), is among this year's strongest character studies of the art of arrogance, the elegance of self-absorption, and unadulterated braggadocio.
His hair combed to one side, beard covering his entire chin (the look of an artist's devotion to his profession), Philip's vanities are seen more in his demeanor and words — the output thereof doing the rest, whether in the form of finely delivered barbs or blistering backhanded compliments — than his messy looks. Yet there is perfection and infallibility in the way he personifies the stride of his sense of self. Certainly, it is hard to watch this guy, though in the best, groaning way possible, if only because of Schwartzman's knife-edged performance, who wields an assassin's knife of verbosity rather than one of verbal abuse.
Philip, aimlessly waiting for the publication of his second novel, Obidant, leads a life set on upstaging everyone in his midst, including his girlfriend, Ashley (played with gentility by Elisabeth Moss), a dented victim of Philip's pushiness. Screenwriter Perry's microscopic camera puts as much attention on Moss as it does on Schwartzman, bringing a clear divide between cause (him) and effect (her). On his mental journey to a supposedly different version of himself, Philip seeks the advice of a literary idol, Ike Zimmerman (played with sharp-tongued grouchiness by Jonathan Pryce).
Zimmerman becomes a mirroring image of Philip — a modern reversal of Ebenezer Scrooge — as if Ghost of Christmas Yet to Come had dropped him a visit, through circumstance opening up a tear illustrating where Philip is headed. Except, in this unadorned story, in which Zimmerman offers Philip a place of more solitude and creative refuge, wrong morals, slanted disposition,s and maladjusted inclinations are less atoned for than merely validated. – Fiman Jafari
19. Blue Ruin
There's a very small but noteworthy group of filmmakers/films that you get when you break the history of film down to the category of 'Independent American Revenge Debut Films'. You've got the Coen Brothers with Blood Simple, as well as Jeff Nichols with Shotgun Stories. Now we can add Jeremy Saulnier and Blue Ruin to that group. (Sidenote: Blue Ruin is technically not Saulnier's first feature, but we're going to pretend it is in the same way we pretend that The Sixth Sense was M. Night Shyamalan's first film.) What makes Blue Ruin such a standout is that in many ways it serves as an antithesis to the revenge genre conventions. Where every other revenge film spends its runtime building to the revenge taking place, this film completes that in the first 15 minutes. This opens up the film to a whole new world of possibilities that Saulnier tactfully navigates. He sees that there's something far more interesting in not what drives a man to revenge, but what happens afterwards. Star Macon Blair is the perfect vessel for Saulnier's deconstruction here. Even with a gnarly unkempt at the start of the film, he just simply looks non-threatening. He manifests that sort of unassuming demeanor physically throughout the film, constantly fumbling in his attempts to enact violence and protect those close to him. The film isn't necessarily anti-revenge, as Saulnier skillfully seems to understand why his characters resort to violent acts without endorsing it; it's a post-revenge film. Now that the act of vengeance has been completed, what happens next? This film seems to suggest that violence will cyclically only beget more violence. Just as we now look upon Blood Simple and Shotgun Stories as classic works of American independent filmmaking, I'm confident we'll look upon Blue Ruin in the same fashion for years to come. – Dylan Griffin
18. Edge of Tomorrow
American director Doug Liman's career trajectory has been one blessed with great success and marred by disappointing results. Whatever the quality of his projects, be it 2002's celebrated The Bourne Identity, 2008's maligned Jumper, or 2005's tepidly received Mr. & Mrs. Smith, Liman is a man who attaches himself to projects glowing with potential and intrigue. This includes his latest endeavor, sci-fi action tentpole Edge of Tomorrow, inspired by an ill-known Japanese novel titled All You Need is Kill. In it, Major William Cage (Tom Cruise) is a significant American Army liaison with other international forces as the world tries to repel a strange alien takeover. Surprisingly enough, Cruise does not start off as a hero figure but rather a comical wimp, terrified and ill-suited for combat, an attitude which shockingly lands in a battle zone at the behest of Brendan Gleeson's spiteful General Brigham. Once in combat, Cage finds himself unexpectedly caught in a time loop, the escape from which may only come with the help of war hero Sergeant Rita Vrataski (Emily Blunt).
Say what one will about how Liman's films usually turn out, the director always goes full throttle with his projects, Edge of Tomorrow being no exception. Expertly crafted, gifted with cutting edge visual effects, and handsomely casted, Edge of Tomorrow is thankfully one of the director's better efforts, likely his very best. Starting with the aforementioned surprise about the nature of Tom Cruise's character, the film goes from there to develop an action-packed film where the characters, while still somewhat simply drawn, feel as though they actually matter, a testament to both the writing and the performances. Cruise and Blunt end up being a great pairing as they try to figure a way out of the time-traveling predicament they find themselves in, all the while devising a plan to thwart the alien invasion. Blunt is the badass and Cruise is the weakling who needs to grow a pair of brass balls. In addition to refreshing character development and superb action set-pieces, the script is not afraid to inject genuine humour into the mix, providing Cruise and a lively Bill Paxton with some hilarious lines that fit their respective roles. Amidst sequels, prequels and reboots, Edge of Tomorrow is an original take on science-fiction that satisfies by being both intelligently made and entertaining on superficial levels. – Edgar Chaput
17. Ida
Paweł Pawlikowski's Ida tells a deceptively simple story. The eponymous character (Agata Trzebuchowska), an orphan and novice nun, visits her only living relative, an aunt named Wanda (Agata Kulesza), a week before taking her vows. It is during this reunion that Ida learns about her previously obscure family history: she is Jewish and her parents were murdered during World War II. Before returning to the convent, a stunned Ida wishes to visit her parents' graves. What began as an innocuous get-together transforms into a painful confrontation with the past.
At 80 minutes, Ida has no time to waste in exploring its characters and developing its story. Thankfully, Pawlikowski makes every moment count. The film carries an immense weight, loaded down with profound subtext concerning grief and identity. Furthermore, though viewers are only privy to one weekend in the lives of Ida and Wanda, both characters feel incredibly well-rounded. Such an achievement is due in large part to the skills of the two lead actresses. Trzebuchowska successfully belies her slight, elfish frame by instilling a resoluteness into her character. Even more impressive is Kulesza, who projects sultriness and sarcasm while still conveying Wanda's grief-stricken spirit. Both women achieve a depth of character that is unseen in many other films. In fact, there are several aspects of Ida that reach exceptional levels of depth, some of which include Pawlikowski's understated screenplay and direction. Ida manages to delicately tell a story while simultaneously gob-smacking the audience with pain and honesty. It is one of the most emotionally captivating films of the year. – Jacob Carter
16. Enemy
Denis Villeneuve's Enemy continues the tradition of the cinematic doppelgänger. Steeped in sepia and allegorical arachnids, Enemy is a thriller first, but it's also horror film, tryst-drama, and portrait of conflicted masculinity. Jake Gyllenahaal, whose own performance in 2014's Nightcrawler may well overshadow his two-hander work here, is both faces of a twin: charming and cocky, and timid and burdened. Villeneuve's film is enigmatic through and through and Toronto has never looked more dystopic. Enemy gets under the skin and burrows deep.
– Neal Dhand
[wpchatai]