Our staff decided to group together and come up with a list of the best films in the 007, James Bond franchise. With Spectre rolling out this weekend, we decided to republish the article. Let us know which is your favourite, and be sure to check out our review of Spectre here.
#1: From Russia With Love
Directed by Terence Young
Written by Richard Maibaum and Johanna Harwood
1963, UK
50 years later, and with twenty three "official" entries, From Russia With Love represents the very best of the Bond franchise. Skyfall is the closest to be considered, at best – almost equal to what was achieved in '64 – but From Russia With Love is still unparalleled. Although it is the second in the series, and although it feels like no Bond film that followed, it is the film that solidifies all the Bond elements into a formula – a template that carries on, even today.
SPECTRE's Persian-stroking nemesis/mastermind Ernest Blofeld makes his first appearance and so does Desmond Llewelyn's gadget-friendly Q (starting a run that continued until his death in 1999). Screenwriters Richard Maibaum and Johanna Harwood return, as does director and editor Terence Young and Peter Hunt. John Barry supplies the fine score by utilizing Monte Norman's theme, and Sean Connery stars in his second of six 007 films. These elements, and contributors all push the movie closer to the recognizable "Bond formula", more so than its predecessor, Dr No… (read the full review) – Ricky D
#2: Skyfall
Directed by Sam Mendes
Written by John Logan, Neal Purvis and Robert Wade
U.K./U.S.A., 2012
Time and time again the legendary James Bond film franchise has learned to adapt and survive. Survival of the fittest, if you will. Whether the reasons for concern were changes in the actor playing the part, the loss of a producer, turbulent waters for the studio's finances, changes in screenwriters or the lack of anymore Ian Fleming material upon which new adventures can be penned, the series has always quickly learned to get back on its feet to thrill and amuse audiences the world over. Even within the films themselves, the plots have almost always reflected new geo-political paradigms, as well as cultural morays and trends in pop culture. James Bond is always recognizable, and yet he can adapt if need be. Now, 50 years after the release of the first official film, Dr. No, Skyfall is unleashed unto the world, a film that simultaneously pays tribut to the franchise, the character of Bond, creates a bold, original story and helps remind audiences that there is always a place for 007 at the theater… (read the full review) – Edgar Chaput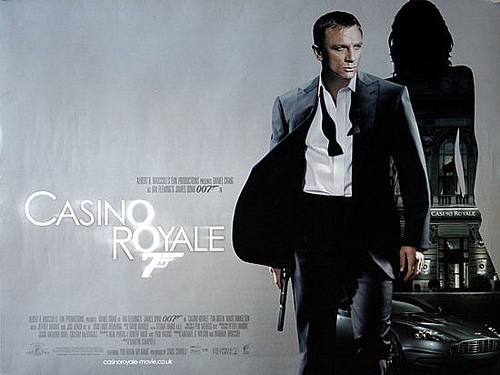 #3: Casino Royale
Directed by Martin Campbell
Written by Neal Purvis and Robert Wade & Paul Haggis
United Kingdom, USA, Czech Republic, and Germany, 2006
I suppose that's one of the best aspects of Casino Royale: it toes the line between reality and overwrought silliness, maintaining that balance throughout. The way Campbell and screenwriters Neal Purvis and Robert Wade (who have been around the series since GoldenEye, surprisingly) & Paul Haggis build tension is exemplary for a simple reason: we all know James Bond is going to survive. Hell, in the ads for Skyfall, we see 007 being shot and apparently killed, but no one among us actually thinks he's dead for good. He's James Bond, for God's sake. James Bond doesn't die. With that knowledge always present, any tension is a welcome breath of fresh air, because how can you create suspense surrounding a character who will make it through any situation he's presented with? Campbell, Purvis, Wade, and Haggis get it right because it's not about if Bond will make it out alive, it's how. How can he revive himself with only seconds to spare after he's given a drink laced with poison? Through the system installed in his brand-new car, of course! …Except the wires aren't hooked up correctly, so down goes Bond. He's saved by his love interest, Vesper Lynd, quickly enough; still, Casino Royale pushes Bond to his breaking point often, raising the stakes each time… (read the full review) – Josh Spiegel
#4: Goldeneye
Directed by Martin Campbell
Written by Jeffrey Caine and Bruce Feirsein
UK / USA
What makes Goldeneye really stand out though is the motivations of it's villain and double agent Alec Trevelyan. His goals reach beyond the machinations of your stock Bond villain bent on world or territorial domination or consumption- when it comes down to it, all Trevelyan really cares about is getting his pound of flesh from Bond and England. The fact that he hijacks a Russian nuclear satellite to send the U.K. back into the Dark Ages by firing off an EMP feels like an after thought when compared to a blood feud he wants to settle going back to atrocities committed against his family by Britain at the outset of the Cold War. The fact that the story brings in this sense of world history and bookends the Cold War in this grisly way helps keep the plot moving along nicely and brings an emotional complexity and entanglement to all the major players involved. Indeed, Goldeneye is not only a terrific exercise in blockbuster filmmaking including some incredible action sequences and performances which even inspired and spawned a classic blockbuster multiplayer gaming experience on the Nintendo 64 but stood as a testament to the fact that sometimes you can really teach a new dog new tricks… (read the full review) – Gregory Ashman
#5- Dr. No
Directed by Terence Young
Written by Richard Maibaum & Johanna Harwood
1962, UK
Author Ian Fleming had been seeking out a movie deal for nearly a decade until the rights for his novels were finally bought by producers Harry Saltzman and Albert R. Broccoli. Little did they know they would change the landscape of spy-action cinema forever with the release of Dr. No.
Dr. No was the first James Bond novel turned into a film, though it was the sixth novel in the book series The film was adapted by Wolf Mankowitz (who went uncredited by request, fearing the film would bomb), Johanna Harwood (the first and only women screenwriter of the franchise), Berkeley Mather, and long time contributor Richard Maibaum. Arguably Dr. No is one of the closest cinematic interpretations of any Bond novel in tone and plot. The changes they made were mostly cosmetic save for some minor plot details such as the filmmakers' decision to eliminate the Cold War elements of the books by making the titular villain a fictional terrorist and the head of an organization called SPECTRE.
Dr. No is fairly stripped down compared to all future entries; a surprisingly modest spy yarn, notable mainly for its cold nature. Bond comes across more like a detective than he does in any other entry. While the film includes a killer tarantula, one underwhelming car chase, some flame throwers, a few gumshoes and plenty of mayhem and drivel, Dr. No features very little action. And for what was supposed to be an action film, Terence Young (who would go on to helm three entries in total) directs with a tongue-in-cheek style, an approach that set the groundwork for the future of the franchise…. (read the full review) – Ricky D
#6- Thunderball
Directed by Terence Young
Written by John Hopkins and Richard Maibaum
1965, UK
Being a relative novice to the James Bond canon, I have never grown accustomed to the many colorful details that have leaked from the Bond films into popular culture. Thunderball, as I discovered, is the home to many of the Bond clichés, as they've more or less become. It is, from what I can understand, the mold that which every Bond film is created.
There are the clever puns delivered with a wink, daring escapes using proto-gadgets that bend the boundaries of belief, the beautiful women, seemingly hypnotized by the smooth debonair Bond, and of course, the cartoonish villain and his cartoonish plot to conquer, or destroy the world.
These are all ear marks of every Bond film, past, present, and future. And though there were films that used these ideas before, and even Bond films that used the same formula, Thunderball feels like the first Bond film that was completely aware of this precedent, and relished every moment… (read the full review) – James Merolla
#7: Goldfinger
Directed by Guy Hamilton
Screenplay by Richard Maibaum and Paul Dehn
UK / 1964
Even if you had never seen this film, just as with Ursula Andress rising from the waves like a bikini-clad version of Botticelli's Venus in Dr No, you'd recognize the iconic image. The girl, the bed, the gold paint. The sight of gilded Shirley Eaton spread out on the sheets is so evocative that – like Ursula – it was subjected to an ironic nod in a later Bond film. If Halle Berry wore the updated bikini in Die Another Day, instead of gold Gemma Arterton did sheet-duty wearing nothing but a coat of oil for Quantum of Solace.
Gold was the symbol of wealth in 1964, but in today's world of global warming and fuel station queues, hydrocarbons have taken its place in the cultural lexicon. And Goldfinger is a very old fashioned film – right from the overblown title song (Shirley Bassey chewing the vocals like only a Cardiff girl can), through to Oddjob with his killer bowler and Pussy Galore in skintight leather – the third Bond film is as dated as a High School cheerleader… (read the full review) – Cath Murphy
#8: On Her Majesty's Secret Service
Written by Richard Maibaum
Directed by Peter Hunt
UK, 1969
To call On Her Majesty's Secret Service underappreciated is to call the sky blue. Only in the years since the release of Daniel Craig's introduction to the series, Casino Royale, has OHMSS begun to be reappraised as a realistic, character-driven approach to the Bond series. Its failure at the box office compared to the Connery entries that preceded it led to the producers, Albert "Cubby" Broccoli and Harry Salzman, returning to the Goldfinger formula of larger than life villains, iconic henchmen, ludicrously elaborate take-over-the-world schemes, and a generally heightened sense to the proceedings, all of which are noticeably absent from OHMSS.
Sean Connery had a rough experience during filming of 1967′s You Only Live Twice. The media scrutiny, long filming periods, and promotional duties caused him to leave the role that had made his career. The producing team drew up a list of names including future Bond Timothy Dalton, who was twenty-four at the time and felt he lacked the maturity for the role. Eventually they discovered Australian model George Lazenby, who was given a contract for one film with options for more down the line. However, Lazenby never felt comfortable with the role and declined to pick up his option once filming concluded, thus making OHMSS an unusual, odd entry for many fans as Lazenby's sole Bond outing… (read the full review) – Gabe Busco
#9: Licence to Kill
Directed by John Glen
Screenplay by Michael G. Wilson and Richard Maibaum
UK, 1989
With the release of Skyfall this month, critics have cited the major departures from the Bond formula taken by that film. They credit Daniel Craig for bringing a modern edge to a character that had become ridiculous in the Brosnan years. It's easy to forget that similar claims were made about Timothy Dalton back in the late '80s. The classically trained actor brought grace to the role with his first appearance in 1987's The Living Daylights. That film retained the look and feeling of the Roger Moore films while starting the shift towards a more realistic hero. The change became a lot more dramatic in Dalton's second outing two years later. Licence to Kill pared down the excesses of the typical Bond film and crafted a more personal tale of revenge. While the lead character still performs daring feats and outsmarts a ruthless villain, his motive isn't to save the world. He may take down a drug dealer's operations, but the true reasons have little to do with stopping illegal activities. – Dan Heaton
This article is part of our 007 marathon. You can find all the entries by clicking here.
[wpchatai]