20: The Raid: Redemption – The entire film
How does one choose their favourite scene from this high-speed, virtually nonstop adrenaline-packed martial arts pic? Could it be the sequence in which a refrigerator is used to destroy an entire floor of an apartment complex; or perhaps the final showdown between two brothers and the the chief henchmen? Or maybe it could be the sequence in which a machete pierces back n forth through a thin wall – and let us not forget the repeated wall-head-bashing leading to a semi-decapitation. The Raid: Redemption is basically a 101 minute highlight reel for actors Iko Uwais, Yayan Ruhian and Joe Taslim.
19: The Avengers – Hulk vs. Thor
Perhaps the most unexpected gag found in Whedon's The Avengers, is a brief moment in after teaming up to fight the villains, Hulk takes no issue in sucker punching Thor, proving that even the big green machine has a sense of humour. It is these comedic beats that helps The Avengers stand apart from most generic superhero movies of late.
18: 21 Jump Street – Fuck Science
21 Jump Street may be the biggest surprise of 2012. This buddy-cop-action-comedy offers two memorable highlights. The first scene comes when Schmidt and Jenko are left with no choice but to swallow the HSM drug, leading to some triply-animated like sequences and culminating with Channing Tatum screaming "Fuck you, science!" He and Jonah Hill find a welcome freedom in their comedy routine, making fun of their expected personas while partnering nicely in some back-and-forth comedy. It's all about chemistry folks, and these two have it.
[vsw id="Gi1U4CeSNK4″ source="youtube" width="640″ height="400″ autoplay="no"]
17: Laurence Anyways – The Brunch Sequence
If there is any reason to see Laurence Anyways, it is simply for the superb performances from Melvil Poupaud and Suzanne Clement, who share such incredible onscreen chemistry, they alone justify sticking through the long running time. In perhaps the pic's best scene, Clement shines in a powerful, hysterical outburst when a small town waitress pokes her nose where it doesn't belong. It is moments like these that inform us Dolan may be far from making a masterpiece, but is very much capable.
16: Beasts of Southern Wild – Alligator Bomb
In order to save "the bathtub" from the water flooding into the area, a group of adults attempt to blow up the levee using a stuffed alligator packed with explosives. This is just one of many great scenes in Beasts of Southern Wild, a film that is equal parts – social realism, fairytale, coming-of-age and a eco-themed cautionary tale.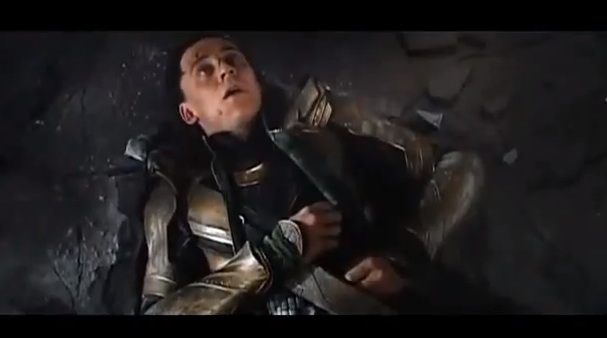 15: The Avengers – Hulk smashes Loki
How often have we gone to the movies and had to sit through a scene in which a film's villain delivers their useless monologue of why and how he or she feels that they will conquer the world and so on. Thankfully the Hulk also shares in our fatigue with this tired old cliche (or at least Joss Whedon), and cuts Loki midway though his "World Domination Speech" to toss him around like a pinata.
****
[vsw id="2uaPZdhxnek" source="youtube" width="640″ height="400″ autoplay="no"]
14: Killer Joe – KFC Rape
Killer Joe marks an unshakeable return for William Friedkin, the legendary director of The French Connection, To Live And Die In L.A. and The Exorcist. This vigorous mix of sex, violence and family values gone wrong is a roller-coaster ride, designed for those who like their Southern neo-noir thrillers sprinkled with a heavy dose of black humour and an irresistibly bold dose of crazy. Take for instance the most shocking scene: Killer Joe's KFC-flavored rape.
13: Holy Motors – Motion-capture sequence
An earlier sequence sees Oscar performing motion-capture scenes in a special effects studio. Wearing a fitted black jumpsuit, he dances in a darkened studio with only the sensors on his bodysuit capturing the light. After various backward somersaults and acrobatic leaps, an erotic dance takes place as Oscar is accompanied by a tall, busty, platinum blonde. It's a visually startling scene, akin to something out of a virtual sexual fantasy.
12: Berberian Sound Studio – The Equestrian Vortex
Set entirely in the offices of a sleazy Italian film company in the 1970s, a British sound technician, played to perfection by Toby Jones, travels to Italy to work on the sound effects for a gruesome blood-soaked giallo film called The Equestrian Vortex. Berberian Sound Studio actually opens with the credit sequence for that film, the movie within a movie. The opening montage is quite astonishing and the best credit sequence of the year. (Watch the clip here)
11: The Master – Jail Time
Much of The Master is about the dynamic between Freddie and Lancaster. In the end, Freddie represents a failure of The Master's "process". The jail cell sequence represents the pinnacle of their scenes together and the frustration of both men. Both men are arrested and encaged in neighbouring cells. Freddie loses complete control and Dodd sees all the progress made by his protégé completely disappear. It is a tour-de force performance by both actors – a scene which is both hilarious and frightening at the same time.
[button align="left" color="red" caption="PREVIOUS" link="http://www.popoptiq.com/best-movie-moments-of-2012/"]
[button align="right" color="red" caption="NEXT" link="http://www.popoptiq.com/best-movie-moments-of-2012-part-four/"]