10. (tie) The Thick of It
Is there a better tonic for election-year hype than an Armando Iannucci series? The apparently-final series of the show that made Iannucci's name, The Thick Of It, upped the ante on its pitch-black style, stripping nearly all of its characters of any remaining semblances of humanity and daring us to laugh as it does so. What other television comedy could get away with a penultimate episode that spends a full hour on a set of realistically rendered government inquiry hearings and not lose a step? As we say goodbye to Malcolm Tucker (the brilliant Peter Capaldi) and the rest, it's clear that Iannucci has crafted one of the most consistently great political satires in television history. (S.H.)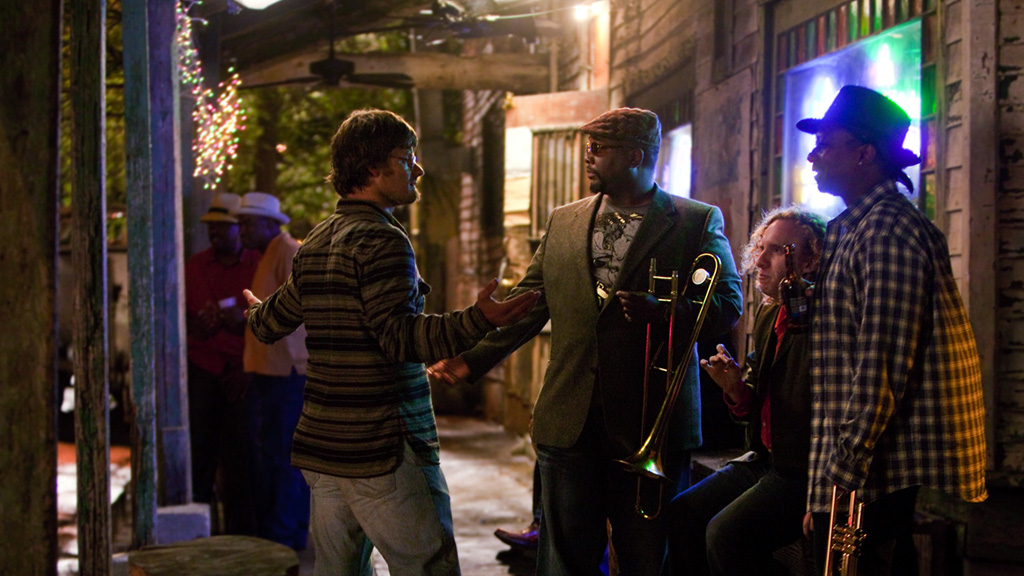 10. (tie) Treme
Treme hit creative highs this season by tightening its focus and interconnecting the many characters' stories in a way creators David Simon and Eric Overmyer seemed to avoid previously. The direct paralleling of Annie and Janette's journeys are one example, but thematic connections abounded this year, perhaps most directly in the newfound friendship of LaDonna and Albert, giving audiences the gift of several wonderful scenes between the always fantastic Khandi Alexander and Clarke Peters. Throw in the many show-stopping musical numbers featured this season, including a few lines from Fats Domino, several Mardi Gras Indian performances, and series staples John Boutte and Kermit Ruffins, to name a very few, and this was affecting, inspirational television at its best. (K.K.)
8. (tie) Sherlock
Though it only had three episodes, Sherlock left quite an impression on viewers this season. Hewing more closely to Sir Arthur Conan Doyle's source material than in season one, showrunner Steven Moffat successfully adapted three of Doyle's most prized Holmes stories, A Scandal in Bohemia, The Hound of the Baskervilles, and The Falls of Reichenbach, bringing fresh perspective to the classic characters and scenarios. Benedict Cumberbatch and Martin Freeman continue their definitive takes on Holmes and Watson and though fans may balk at the season's short run, there is something to be said for leaving the audience wanting more.
8. (tie) Game of Thrones
After season one's shocking final episodes (at least, to those unfamiliar with the source novels), Game of Thrones had some big shoes to fill. Westeros may be a land ruled by men, but this year, the show found success by focusing on the women, be it the always compelling Arya (Maisie Williams) and Sansa (Sophie Turner) or the new ladies on the scene, Brienne of Tarth (Gwendoline Christie) and Margaery Tyerll (Natalie Dormer), among many others. Peter Dinklage continued his fantastic work as Tyrion and Nikolaj Coster-Waldau brought new flair to Jaime Lannister, and though certain storylines flagged, particularly Daenerys', for the most part this season was full of incredible moments, stunning visuals, and fantastic performances. (K.K.)
7. Archer
Beautifully animated and full of frenetic, downright ridiculous storylines and gags, Archer has one of the highest joke-per-minute ratios on television and manages to do so while maintaining each character's distinct personality and voice. Though it lacked the personal stakes of Archer's season two cancer scare, it made up for this with an impressive guest cast and seemingly unending creativity. Humor is highly individual, but with episodes ranging from an action-packed love letter to Burt Reynolds to conflicts with Canadian terrorists, this was perhaps the single most reliably laugh-out-loud funny series of the year. (K.K.)
6. Parks and Recreation
Though season five hasn't been the most focused season of Parks and Recreation, the second half of season four, which aired this past spring, is more than enough to earn the show its place on this list. Centering on Leslie's election campaign, this stretch of episodes saw not only entertaining guest spots from Louis CK and Paul Rudd, but several of the series' best episodes, including "The Debate" and "Win, Lose, or Draw". The writers have transitioned the show well after the potential game-changing finale and continue to reliably bring a well-balanced mix of humor and character, keeping the viewers interested in the adventures of the entire Pawnee Parks Department. (K.K.)
5. Justified
Attempting to follow up 2011's fantastic Mags Bennett arc would be a challenge for any series, but Justified managed to do so with aplomb. There were plenty of compelling interactions between Timothy Olyphant's Raylan Givens and the ever-scheming Boyd Crowder (Walton Goggins), but the real success of the season was in the contrast of internal and external conflicts. By both building the world of Harlan County, Kentucky (introducing the wonderfully conceived Noble's Holler its boss, Mykelti Williamson's Ellstin Limehouse) and bringing in a force from outside (Neal McDonough's Detroit mobster Robert Quarles), Justified reaffirmed the show's identity as a story not only of a character, but a place and a way of life. (K.K.)
4. Girls
From the mind of Lena Dunham, twenty-something auteur and writer-director of Tiny Furniture, came Girls, a comedy that instantly became a favorite of many in its first season due to its honest approach to the current twenty-something city-dwelling female experience. Centering on four only occasionally likeable female friends, Girls prompted any number of editorials and discussions of Gen-Y sociology and economy, but the season is more notable for its strong performances, atypical relationships, and refreshing take on what had become an artifice-prone genre, the female hangout comedy. (K.K.)
3. Mad Men
After a hiatus of over a year, Mad Men came back in style with one of their strongest seasons, if not their absolute best. Episode after episode prompted "series best?" discussions, from the character-driven "Signal 30" to the inventive "Far Away Places" to the controversial "The Other Woman". Each of this fantastic main cast were given ample opportunity to shine with Jon Hamm in particular pairing raw vulnerability in Don's goodbye to Peggy with the jaded bitterness of Don's struggling marriage to Megan. From script, to acting, to set and costume design, to the ever stunning cinematography, this was a truly great season of television.
2: Breaking Bad
With only a final half-season left to go this summer, AMC's Breaking Bad has set a new standard for serialized, seriously cinematic television storytelling, charting Wlater White from "Mr. Chips to Scarface" as he gradually divests himself of any and all aspects of his own humanity. Even when plot specifics become a matter of debate, none can deny that the amazing lead performances, consistently original direction and cinematography, and even the always-novel music supervision make Breaking Bad essential viewing at the very least. (S.H.)
1: Louie
Louie will not be gracing our TV screens in 2013. After three straight seasons of writing, producing, directing, writing and starring in 13 half-hours, not to mention finding time for an additional stand-up special here and there (complete with a groundbreaking ticketing system), Louis CK has decided he might like a chance to catch a breath. Can you blame him? Louie's third season was its most ambitious yet, incorporating two- and three-parters, a ton of guest stars both expected (Maria Bamford, Sarah Silverman, Marc Maron) and completely unexpected (David Lynch, Jay Leno, and Garry Marshall – in the same arc!), bracing doses of magic realism, heartbreaking dramatic flourishes, and an honest-to-goodness trip to China. Notions of parenthood, loss, masculinity, romantic success and failure, and professional integrity percolated throughout. While it may not have been as consistently hilarious as Season 2, Louie continues to be the most exciting and innovative series around, not to mention its most insightful. (S.H.)
****
[button align="left" color="blue" caption="PREVIOUS" link="http://www.popoptiq.com/best-tv-shows-of-2012-2/"]
[wpchatai]