Box Office Sabermetrics is a weekly column that will attempt to apply the statistical analysis Sabermetrics, used in Baseball, to the box office results each weekend.
There are a few things of note going on in the top 10 this past weekend, first and foremost that Straight Outta Compton just made a ton of money. Like, nearly-twice-its-budget-just-domestically ton of money. It's set the new domestic box office record for an R-Rated opening in August. That's great for many reasons: a bright future for its young stars, F. Gary Gray is relevant again, and hopefully this will encourage more high-profile films about the rap and hip-hop community.
But looking down the list, something is amiss with the low receipts for The Man from U.N.C.L.E., which means that's two straight franchise starters that have bombed for star Armie Hammer. A very disconcerting question arises: Is Armie Hammer suffering from the Taylor Kitsch syndrome?
Here are the numbers below:
Straight Outta Compton $56.1 million
Mission: Impossible – Rogue Nation $17 million
The Man from U.N.C.L.E. $13.5 million
Fantastic Four $8 million
The Gift $6.5 million
Ant-Man $5.5 million
Vacation $5.3 million
Minions $5.2 million
Ricki and the Flash $4.5 million
Trainwreck $3.8 million
What is the Taylor Kitsch syndrome, you ask? Basically, Taylor Kitsch had finally broken ground in Hollywood after charming us all for five seasons on Friday Night Lights. He was set to be the next big thing, so he booked two big roles in two big Hollywood productions – John Carter and Battleship. Both films debuted to vitriolic reviews and pathetic box office. John Carter made just $30 million on its opening weekend against a $250 million budget. Its domestic total capped out at $73 million, and even though foreign intakes put the worldwide total at $284 million, nobody is going to call that a win. It's a shame, as the film is far better than critical and financial reactions would tell us, as Andrew Stanton proved he could create a fantastical film in live-action filmmaking. Battleship did similar numbers. $25 million opening against a $209 million budget. It capped out at $65 million domestically, and even though foreign markets pushed it to $303 million worldwide, the damage had already been done. Kitsch had gone from in-demand to pariah in a matter of months. He was a hot prospect that finally got called up to the big leagues as a leading man and went 0-2 with 2 strikeouts.
Based on the poor opening of just $13.5 million against a $75 million budget for The Man from U.N.C.L.E., it seems the box office demon that possessed Kitsch has reattached itself to Hammer. It's a real shame, because The Man from U.N.C.L.E. is a lot of fun and Hammer puts in good work as Ilya Kuryakin. Hammer had a similar narrative to Kitsch: after a breakout role(s) in The Social Network, Hollywood came calling. The results so far haven't been what either party has desired though, with The Man from U.N.C.L.E. the latest financial disappointment.
His last Hollywood picture as a leading man? The infamous bomb that was The Lone Ranger. The Lone Ranger opened to just $29 million against its bloated $215 million budget, and would cap out domestically at $89 million. Foreign intakes would put it at $260 worldwide, but there was nobody in the Disney boardroom that was pleased with that. That's also a shame, because the film, while flawed, is far better than the poisonous reviews and shameful box office would suggest. It's easy to pinpoint why The Lone Ranger didn't succeed: there was a general audience fatigue with Johnny Depp putting on pounds of makeup and acting silly, the role of Tonto was explicitly white-washed (Depp's claims of minimal Native American ancestry just weren't gonna cut it), and well-publicized production troubles shaped the narrative before the film had even gone to screens. Hammer was caught in the middle of circumstances outside of his control and paid the price for it.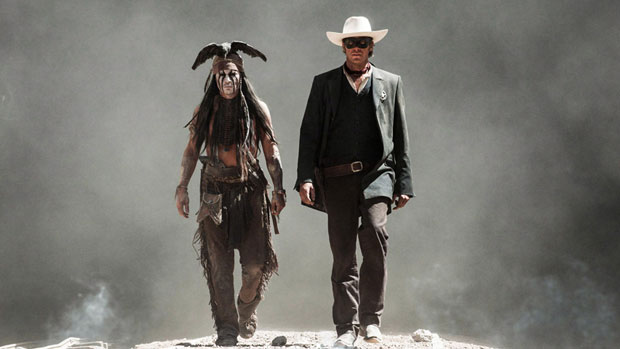 The reasons of the soft opening for The Man from U.N.C.L.E. are a bit harder to diagnose. For one thing, this is the fourth of five spy films opening this year (Kingsman: The Secret Service, Spy, Mission: Impossible – Rogue Nation, with Spectre to follow) and its possible that audiences have simply had their fill of the genre for now. Probably not helping was the decision to release the film just two weeks after Tom Cruise's juggernaut Rogue Nation stormed theaters. After the insane stuntwork that Cruise was pulling off, audiences had their spy itch scratched for the next few months. All in all, Hammer has gone 0-2 with two strikeouts in his big league debut as a leading man.
It's basically like this. Earlier this season, Chicago Cubs uber-prospect 3rd basemen Kris Bryant finally made his big league debut. Bryant was set to be the next all-time great Cubs player, but the organization was prolonging his debut in order to keep his contract for an extra year. I watched the guy play during spring training, and the stadium of drunk Cubs fans came alive when he came up to bat. I drafted the guy early in my fantasy league just in anticipation of what he could do. When he finally got called up in mid-April, big things were expected of him. He responded by going 0-4 with 3 strikeouts. It was as anti-climactic as it gets. That's pretty much what's going on with Kitsch and Hammer, though it should be noted that in Baseball your entire status doesn't hang on your first game, as Bryant has gone on to have a good season with a .264/.361/.809 line.
In Hollywood however, millions and millions of dollars are invested in those at-bats, so your entire reputation can go up in smoke over the course of three days. Looking at Hammer's upcoming projects, he's got a lot of supporting roles in intriguing projects, which is the best move for him right now. He's going to spend some time rebuilding his stock before making a more measured move at box office glory, and he can only hope audiences are more receptive to it when it happens.
[wpchatai]