With Brie Larson winning the Oscar this year for Best Actress, she's catapulted herself into the rarified air of A-List Hollywood. Her leading role in the forthcoming King Kong should help seal the deal, but it's Larson's ability to leave a significant impact even in small supporting roles that makes it an easy bet that she will likely be back for several more awards throughout her career.
Here, we celebrate her five best so far:
1. Room (2015)
Director: Lenny Abrahamson
Lenny Abrahamson, director of Room, shared in The Telegraph: "Brie has this very special quality, which is that she can go to these very dark and emotionally raw places, but she does it with such simplicity and grace. There's no showboating. There is just a truthfulness and an honesty about the performance." Nowhere is this quality on fuller display than this novel-adaptation of a mother and son imprisoned in a backyard garden shed in the suburbs. She plays Ma (her real name is Joy), who was abducted at 17 and had a child, Jack, conceived by rape at the hands of her captor. Because of her devotion to loving Jack, he's shielded from the horrors of their circumstances until he's old enough to do something about it. What makes her performance horrifically great is her ability to portray a human being's ability to normalize to the most heinous realities. One of the best examples on film of the power of parental love.
2. Short Term 12 (2013)
Director: Destin Daniel Cretton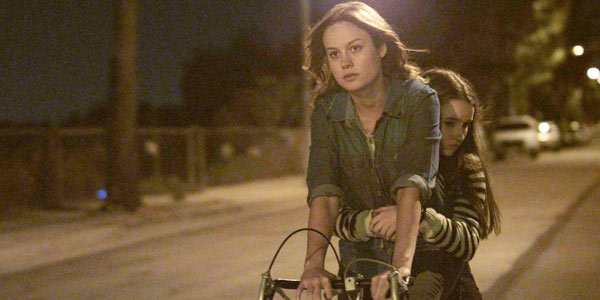 The title Short Term 12 refers to a group home for troubled teens. In her first lead role, Larson plays Grace, a manager of the house with her own troubled past. A new resident reminds Grace of herself at that age and splits open everything about her own horrific childhood that still haunts her. Short Term 12 feels like a documentary, and asks big things of its small cast. These are abused, neglected kids left in the care of counselors not much older than they are. Larson carries the film like a seasoned pro. She's tasked with portraying someone the audience trusts to keep these children emotionally and mentally together while she's completely falling apart at the seams, and to carry the full emotional impact of growing up under horrific circumstances in a way that feels relatable and grounded. Brie succeeds on a level that will keep this always as one of her best.
3. Trainwreck (2015)
Director: Judd Apatow
In Amy Schumer's giant hit, Larson plays Amy's younger sister, Kim. Because she's the level-headed youngster who's the stabilizing force in Amy's life, it's easy to mistake Kim as the older sister. She is the voice of serene reason in Amy's chaotic life but rarely strays into smug arrogance. She has a lot figured out but isn't into rubbing it in everyone's face. Even in her relatable imperfection, she's easy to love. Though Trainwreck has plenty of over-the-top humor, it's a substantial film taking on tough material. Larson's ability to embody complex material with a light touch is beautifully demonstrated here.
4. The United States of Tara (2009-11)
Creator: Diablo Cody
The best thing about Diablo Cody's TV series on multiple-personality disorder is watching the impact the illness has on the main character's family. Brie plays Kate, the artsy teenage daughter who has to navigate living with a parent who literally becomes other people who often have little regard for her kids. One thing that makes Larson such an important actress is her disinterest in portraying stereotypes. Kate is difficult to sum up in a few words because she's not a cardboard cut-out. She has the maturity of a kid used to being the parent, but the fragility of a teenage girl who desperately needs a stable mother. In a show that's short on nuance, Larson is the best reason to revisit it.
5. Scott Pilgrim Vs. the World (2010)
Director: Edgar Wright
Brie's career in music is put to great use here as Natalie "Envy" Adams. In this dazzling homage to the gaming world, Larson stars as Scott's (Michael Cera) ex-girlfriend, who heads up a rock band that hits it big. With an impressive voice and electric stage presence, Larson delivers as the young rock idol. She's a contemporary here of Karen O, Poe, and Garbage. While dropping jaws as a stunning bombshell, she brings a dash of self-aware humor to Envy that makes her charming and perfect for the unusual film. It wouldn't be a surprise to find another role as a gifted musician in her bright future.
[wpchatai]