Directed by David Lean
Starring Celia Johnson and Trevor Howard
UK, 86 min – 1945
"Do you know, I believe we should all behave quite differently if we lived in a warm, sunny climate all the time. We shouldn't be so withdrawn and shy and difficult."
****
Huddled in the corner of a tea shop on the train platform, Laura Jesson and Dr. Alec Harvey (Celia Johnson and Trevor Howard) hold hands. At first, they could be husband and wife – the wife going to the station to see off her husband on a long journey. When Laura's oblivious acquaintance makes herself comfortable at Laura and Alec's table, it becomes clear that they are not a couple at all. Laura and Alec are two people at the end of an affair.
David Lean's Brief Encounter is on the surface a tale about unrequited love, much like many other romantic films past and present (from Casablanca to My Best Friend's Wedding). What differentiates it from the others is the film's foray into Laura's thoughts. At the beginning, Laura's thoughts are heard in voice over, as her chatterbox friend talks ("I wish you'd stop talking. I wish you'd stop prying and trying to find things out"). Then Laura becomes the storyteller. When she thinks about telling her husband, Laura's thoughts tell the audience everything and the affair plays out from start to finish.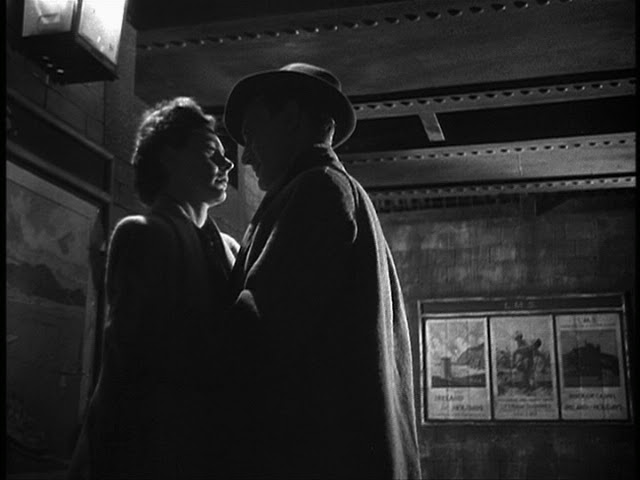 Laura's thoughts and storytelling are far from mere exposition. They give her an outlet in which to speak about her private life. Laura does not have people she can talk to about these more passionate thoughts. When distraught, there is nobody she can trust (she says at one point, "I wish I could trust you. I wish you were a wise, kind friend"). Thus Brief Encounter becomes more than a reaffirmation of family values. It brings to light the inner thoughts of the 'silent' housewife and allows Laura to share her thoughts, even if she is unaware of being heard.

[wpchatai]