Burnt
Written by Steven Knight
Directed by John Wells
USA, 2015
Much like its truculent hero, Burnt is difficult to tolerate at times. Nothing about director John Wells' redemptive tale about a burned-out chef is particularly noteworthy, but the pacing and performances keep things humming along nicely. Sure, it's packed with fast food self-realizations, but it's also an appetizing glimpse into the high-pressure world of fine cuisine. Ultimately, Burnt re-mixes the ingredients of a familiar recipe into an unapologetic crowd-pleaser.
While Jon Favreau's Chef gave the meat-and-potatoes crowd something to drool over in 2014, Burnt will have culinary snobs reaching for their Gold Cards this season. There are plenty of montages featuring beautiful food being prepared in ridiculously-elaborate ways. Mostly, John Wells (The Company Men, August: Osage County) takes us into the kitchen to watch the huge egos behind these tiny morsels.
Adam Jones (Bradley Cooper) was a cocky young chef who ruled the Paris dining scene with a bottle of booze in one hand and a drug syringe in the other. His maître d', Tony (Daniel Brühl), had the most refined palate in the city, and his complement of chefs, including Max (Riccardo Scamarcio), Michel (Omar Sy), and Reece (Matthew Rhys), were the gold standard for jealous restauranteurs all over Europe. Adam drove his team to greatness with his unquenchable appetite for perfection. But for Adam, perfection was never enough.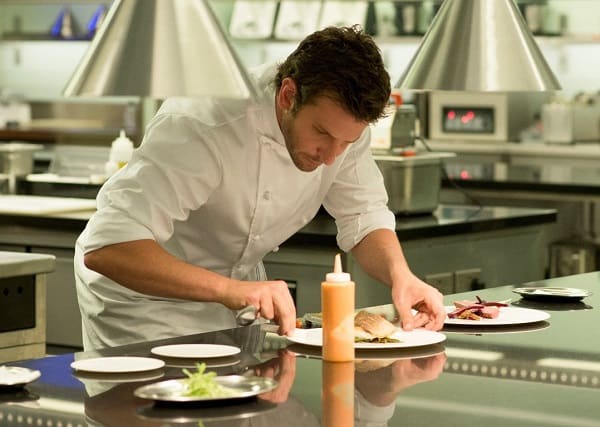 Now, a few years after his inevitable burnout, Adam is starting the long journey back to the top, this time in London. He quickly re-assembles his old crew and brings in a new protégé; a feisty single-mom named Helene (Sienna Miller). This time, Adam is after the coveted Michelin 3-star rating and the prestige that comes with it. He'll have to do it while still battling his own demons, fighting off the challenge of his former colleague Reece, and trying to keep a professional relationship with the scrumptious Helene.
Burnt is a cleverly-packaged vehicle for Bradley Cooper, and with the glaring exception of one misguided terrible scene, he's up to the challenge (a quick note to aspiring screenwriters: it's almost never a good idea to have your main character cram their head into a Ziploc bag). Cooper has the dramatic chops to move effortlessly between vulnerable and insufferable, while his boyish good looks make him a natural romantic lead. He has good chemistry with Miller, who holds her own in the testosterone-drenched kitchen.
The problem that limits Burnt is the inherently-challenging premise of the 'prickish genius.' Namely, why should we care about such an insufferable jerk, regardless of their particular talents? It's a good question, with Wells and screenwriter Steven Knight (Eastern Promises, Locke) finding a marginally-adequate solution. They simply gloss over Adam's personal life, choosing, instead, to direct all of his anger and douchebaggery into the kitchen. This succeeds in making Adam more likeable, but it also limits the dramatic possibilities. In fact, the film's one big dramatic moment (the aforementioned Ziploc fiasco) rings hilariously false because the filmmakers have repressed much of Adam's internal venom. The hostility is limited to the kitchen, while his interpersonal relationships remain surprisingly civilized. It's a Jekyll and Hyde dichotomy that keeps everything nice and safe for the audience.
Where Burnt succeeds is in the kitchen, and with some unexpected character dynamics. Perfection under pressure makes for plenty of entertaining comradery and carnage. When Adam eviscerates his cooks, daring them to eat their sub-standard creations, you feel the demands of this ultra-competitive world, even if you don't quite understand the hubbub. Of course, there are 10 reality television programs that can give you the same insight, but few feature actors of Cooper and Brühl's caliber (though nobody can drop an f-bomb like Gordon Ramsay).
The movie's poster may promise a love affair between Adam and Helene, but the ties that bind Adam and Tony together are far more fascinating. Their relationship crackles with the unspoken tension and history that Burnt needed to achieve its Oscar aspirations. Cooper and Brühl play off each other beautifully; one man needing the other's expertise, while the other secretly yearns for something more. We don't see this type of relationship between men in the movies, and it rings much truer than the easy clichés that keep Burnt so accessible and benign. It also perfectly complements the film's deeper themes, about a rugged individualist who must accept the imperfections of others in order to grow stronger.
Burnt is a worthwhile meal that looks gorgeous, but skimps on the portions. In culinary terms, it's a guilty pleasure that you can consume and forget. The performances by Cooper and Brühl are terrific, but the filmmakers undercut them by trying to keep their hero more palatable. It was a calculated risk that limits the drama, though it certainly makes for a more pleasant dining experience.

[wpchatai]