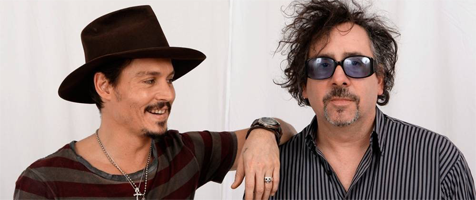 If there was an ever a cinematic partnership to have lasted the years, it is Tim Burton and Johnny Depp. Ever since Edward Scissorhands, these two seem to be each other's go-to guys for new films. With Dark Shadows being released this week, let's take a stroll down memory lane to see the hits (and misses) of the Burton/Depp bromance.
Edward Scissorhands (1990)
Burton took a huge gamble by casting Depp, a relatively unknown actor at the time whose credits included a grizzly end in Nightmare on Elm Street. It was a gamble that paid off handsomely – Depp became a huge star playing the charismatic and innocent titular character and Edward Scissorhands received critical acclaim. One of the very few original projects of his career, this touching tale is still one of the highlights in Burton's career.
Rating: HIT!
Ed Wood (1994)
The biopic of the 'worst film director of all time' allowed Depp to go into a more playful role, but the black-and-white film represented a drastic change of direction for Burton, which was sandwiched between the dark Batman Returns (1992) and garish Mars Attacks! (1996). Even though the takings were disappointing, the film received critical acclaim and Depp received praise for his portrayal as Wood, as well as a Best Actor Golden Globe nomination.
Rating: HIT!
Sleepy Hollow (1999)
With Depp as the quietly logical Ichabod Crane, this well-developed supernatural murder mystery is probably as good as Burton got before getting himself into big summers blockbusters. Depp is fabulous as Crane and the film is haunting and complex in all the right places. Burton's filmography in the last decade would have been better if he didn't stray too far from this offering.
Rating: HIT!
Charlie and the Chocolate Factory (2005)
After the lovely Big Fish (2003), Burton made this adaptation of Roald Dahl's classic tale and started an eight-year (and counting) continuous partnership between the director and Depp. You have Depp as a strange man with a woman's haircut and unnaturally white teeth, he looks almost miscast as the zany chocolate maker. Garish and creepy in places, it was hard to find anything interesting or fun in an otherwise unnecessary reworking.
Rating: MISS!
Corpse Bride (2005)
First venture into stop-motion animation for Burton, and he casts Depp as the awkward and somewhat noble male lead. With pale skin, large eyes and dark hair – right. The imaginative animation and ghoulish characters unfortunately doesn't save this predictable love story and Depp's wimpish Victor van Dort doesn't make much of an impact, in comparison to the titular bride.
Rating: MISS!
Sweeney Todd: The Demon Barber of Fleet Street (2007)
A Burton-esque musical with extra gore. Depp plays Todd; demented and hellbent on revenge. Following the huge success of the Pirates of the Caribbean sequels, Depp faced the challenge to mould himself into an established character. The result – his character is dark and twisted personified, who is unable to crack a smile. Vivid in colour, Burton was able to bring such a gruesome musical but it had nothing that could be called special.
Rating: HIT! (just about)
Alice in Wonderland (2010)
Burton tries to play it safe using another well-known story with Depp, Bonham Carter and Elfman, but this adaptation, like Charlie and the Chocolate Factory, is visually pretty but boring. Depp is unnecessarily OTT and his sensitive yet unpredictable nature makes him more of a romantic hero than an insane comrade, with his character seems to take focus from Mia Wasikowska's Alice in parts. In result, Alice in Wonderland is a practically unnecessary adaptation. Burton should known better.
Rating: MISS!
Dark Shadows (2012)
He may look like Max Schreck's lovechild but Depp's portrayal of Barnabas Collins in this dysfunctional family comedy is quirky to say the least. Trying to noble but coming off as comically awkward, his flawed hero has his moments. But Depp's performance isn't enough for Dark Shadows to revive Burton's cinematic career in the last ten years.
Rating: MISS!