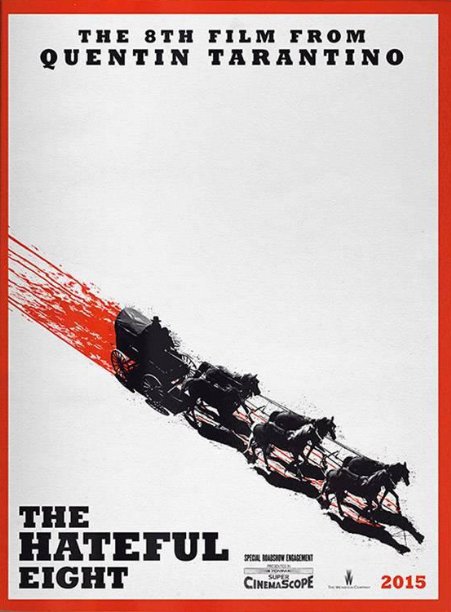 Quentin Tarantino's The Hateful Eight has been hotly anticipated ever since the director threatened he might never even make it. But when Django Unchained brought along such oddball and exhilarating casting choices as Leonardo DiCaprio, Jamie Foxx and Jonah Hill, it was anyone's guess who the director would work with next.
Now Deadline has exclusively confirmed that Channing Tatum and Damien Bichir have both joined a now finalized cast that includes Samuel L. Jackson, Kurt Russell, Jennifer Jason Leigh (among the first confirmed), Walton Goggins, Tim Roth, Michael Madsen and Bruce Dern (for those playing at home, that's nine names, not eight). Tarantino announced he was officially moving forward with the project back in July, and since then Jennifer Lawrence was among the rumored names of potential casting choices.
Not only are Tatum and Bichir first timers in a Tarantino film, they were also absent among The Hateful Eight live reading of the script that occurred back in April.
Deadline also has the plot details:
A stagecoach hurtles through the wintry Wyoming landscape. The passengers, bounty hunter John Ruth (Russell) and his fugitive Daisy Domergue (Leigh), race towards the town of Red Rock where Ruth, known in these parts as "The Hangman," will bring Domergue to justice. Along the road, they encounter two strangers: Major Marquis Warren (Jackson), a former Union soldier-turned-infamous bounty hunter, and Chris Mannix (Goggins), a Southern renegade who claims to be the town's new sheriff.

Losing their lead on the blizzard, Ruth, Domergue, Warren and Mannix seek refuge at Minnie's Haberdashery, a stagecoach stopover on a mountain pass. When they arrive at Minnie's, they are greeted not by the proprietor but by four unfamiliar faces: Bob (Bichir), who's taking care of Minnie's while she's visiting her mother, is holed up with Oswaldo Mobray (Roth), the hangman of Red Rock, cow-puncher Joe Gage (Madsen), and Confederate Gen. Sanford Smithers (Dern). As the storm overtakes the mountainside stopover, the eight travelers come to learn they may not make it to Red Rock after all.
The Hateful Eight marks Tarantino's eighth film, and news about it is coming in a busy calendar year for him, in which he was the Cannes Jury President, he announced he was producing a comic series based on Django Unchained and Zorro and in which he would be working on a Kill Bill re-release that included an extended animated sequence.
Tatum and Bichir are likewise highly busy, with Tatum undergoing filming for Magic Mike XXL, as well as preparing for the Coen Brothers' Hail, Caesar! and Bryan Singer's X-Men: Apocalypse. Bichir on the other hand is currently in the midst of starring in his own film Refugio.
Deadline reports that The Weinstein Company is aiming for a 2015 release following a shooting schedule set to start in several months.
[wpchatai]