Written by Tom Taylor and Marguerite Bennett
Art by Andy Smith, Trevor Scott, Marcus To, and Scott Hanna
Published by DC Comics
With the launch of a weekly series, Earth 2 marches onward with Tom Taylor at the helm alongside Earth 2: World's End co-writer, Marguerite Bennett. Sadly, this issue marks the departure of long term artist Nicola Scott, who is replaced by Andy Smith. His work is commendable, but isn't quite able to leave the Nicola Scott shaped hole in the series.
The main flaw of this issue is that it takes place after the events of World's End's first issue and likely a few more issues after that. This puts it in a very awkward place as it opens up with Power Girl and Huntress, who previously headlined World's Finest, already allied with Earth 2 heroes Lois Lane, Val Zod, and Thomas Wayne and make whatever unfolds in the upcoming issues of World's End anticlimactic.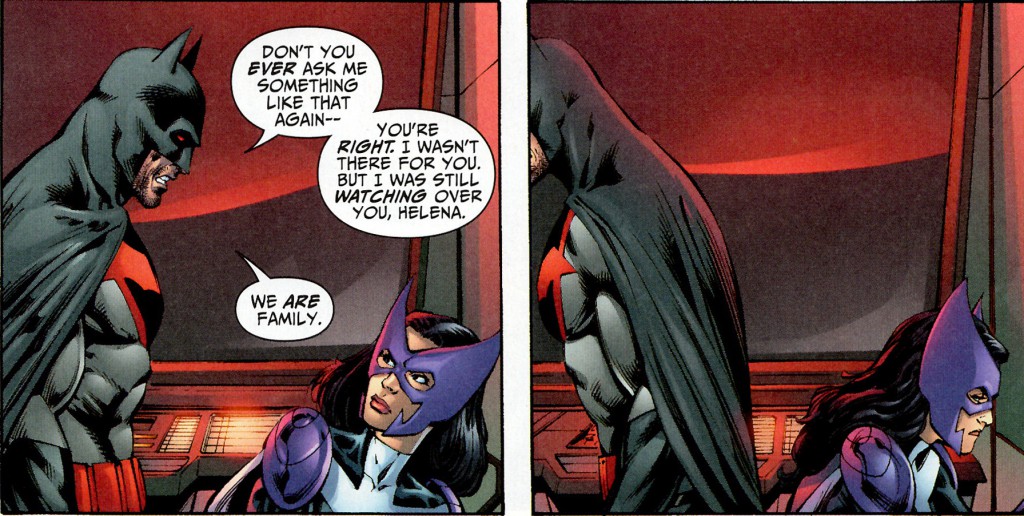 Thanks to World's End's handling of the greater Earth 2 cast, this issue gets to focus solely on Power Girl, Huntress, Superman, Batman, and Red Tornado. More specifically, it serves to integrate the World's Finest heroes into the cast. The story is less important to the greater plot as it is establishing interpersonal relationships and is very much a bottle episode. Huntress, Helena Wayne, argues with her grandfather, Thomas Wayne, who she thought dead and is disturbed to realize has taken up the mantle of Batman. Power Girl, on the other hand, bonds with Val Zod being old childhood friends from Krypton. Unfortunately, this ends up casting Lois Lane's Red Tornado to the side as mostly just a supporting character this issue. Nicola Scott's Saturday-morning-cartoon styled art is definitely missed. Andy Smith tries his best ,but even the help of Scott's collaborator Trevor Scott makes the art feel the same.
While this issue suffers from having its story tied into World's End, Taylor and Bennett deliver a personal and endearing issue. It's by far one of the most action lite issues (relatively speaking) and focuses on building relationships between members of the Superman and Batman families and is one of the best issues of Earth 2 to date.