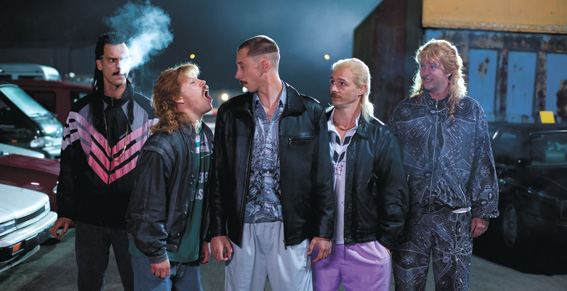 Fantastic Fest 2012: 'New Kids Nitro', a sequel that captures the essence of the original while expanding on its success
New Kids Nitro
Directed by Steffen Haars and Flip Van der Kuil
Written by Steffen Haars and Flip Van der Kuil
2011, Netherlands
In 2011 New Kids Turbo descended upon unsuspecting Fantastic Fest audiences in a wave of foul-mouthed vandalism and lewd humor. In it, the quintet of Dutchman from Maaskantje faced with certain disaster at the hands of the global economic crisis decide instead to take their fates into their own hands, vowing never to pay for anything ever again.
Hoping to raise the bar with a sequel, Nitro has the crew, Gerrie, Richard, Rikkert, Robbie and Barry pick up more or less where they left off. They occasionally elect work at their jobs as park maintenance, being loud and obnoxious and consuming copious amounts of fried foods on sticks. Economic woes were the kids' biggest problems in Turbo, but after a fight with a gang of dopplegangers from rivaling Schijndel and a zombie attack that kills someone in the neighboring town, things start to get out of hand. As an added note "Going Zombie" seems to be the trend at Fantastic Fest this year with the latest in the Universal Soldier also borrowing several horror film tropes as well.
New Kids originally came to notoriety on the internet before going on to wider success on Dutch TV. The first film New Kids Turbo debued in the Netherlands with the biggest box office opening in the country's history, so it's a wonder why Comedy Central, who produces the show in the Netherlands, hasn't already attempted to export it to the US. They would certainly be at home with the boys of Southpark.
With Nitro, the New Kids have accomplished what few, arguably more skilled filmmakers have achieved in the past; a sequel that captures the essence of the original while expanding on its success. With a "if it ain't broke don't fix it" mentality, they manage to amp up the laughs without losing the charm. The mashup of genres works well for the kids, and those not familiar with their previous work need not be put off. Just expect to be lost with some of the regional humor, let logic lapse, and begin acquiring a taste for the liberal use of the word 'Kut' in your daily vocabulary.
-Scott C.
Fantastic Fest runs September 20th – 27th.