For the horror buff, Fall is the best time of the year. The air is crisp, the leaves are falling and a feeling of death hangs on the air. Here at Sound on Sight we have some of the biggest horror fans you can find. We are continually showcasing the best of genre cinema, so we've decided to put our horror knowledge and passion to the test in a horror watching contest. Each week in October, Ricky D, James Merolla and Justine Smith will post a list of the horror films they have watched. By the end of the month, the person who has seen the most films wins. Prize TBD.
Ricky D (15 Viewings)
Total of 29 Viewings
Purchase
Thirst (1979)
Directed by Rod Hardy
The film is best described as one long dream sequence with nods to David Cronenberg, Rosemary's Baby and perhaps even Solyent Green. Thirst features some superb in-camera visual effects, a spectacular tilting room sequence, and death by falling from a helicopter – onto power-lines.
Razorback (1984)
Directed by Russell Mulcahy
Russell Mulcahy went onto become a major genre director with Highlander in 1986, launching a long-running franchise. However three years earlier, Mulchahy and script writer Everett De Roche set out to make their version of Jaws, only replacing the ocean with the outback, and the shark with a giant killer pig.
Snowtown (2011)
Directed by Justin Kurzel
Snowtown is unrelentingly grim and terrifying. Director Justin Kurzel delivers a slow effective burn, examining how one man's harmful beliefs spread through a community in the most horrific way possible. Snowtown is an instant classic, showing great promise for an first time filmmaker. Kurzel, for the most part. avoids sensationalistic, gruesome or exploitative techniques, and very little actual onscreen violence, yet Snowtown may just be one of the most unsettling films I have ever seen.
Picnic at Hanging Rock (1975)
Directed by Peter Weir
The questions that linger after seeing Weir's masterpiece reveal as much about you as they do about the film. Picnic at Hanging Rock creates a haunting atmosphere with a tour de force of imagery, score, pacing, direction and performance. Simply a masterpiece.
Last Wave (1977)
Directed by Peter Weir
I've been arguing all week long as to wether or not The Last Wave should be considered a horror film. Well, I think it is. In fact the tagline reads, "The Occult Forces. The Ritual Murder. The Sinister Storms. The Prophetic Dreams. The Last Wave."
The Last Wave is an especially evocative horror film, but a horror film nevertheless. Peter Weir follows up on his critically acclaimed masterpiece Picnic at Hanging Rock with this visually striking and totally engrossing, surrealist psychological thriller.
Mimic
Directed by Guillermo del Toro
The film marks del Toro's first American film and although he was unhappy with the theatrical release, it includes several examples of his best-known hallmarks. "I have a sort of a fetish for insects, clockwork, monsters, dark places, and unborn things," said del Toro, and this is evident in Mimic, where at times all are combined in long, brooding shots of dark, cluttered, muddy chaotic spaces.
Thankfully a director's cut has now been released on Blu-Ray and is a must have for any true horror afficiando.
Alucarda
Directed by Juan López Moctezuma
After the film's release in January 1978 in Mexico, it never received much attention from critics nor audiences, but over the years became something of an underground film and a B-movie cult classic. While it is not widely known by horror fans, many fans who have seen it, including myself, consider it an unrecognized gem. Seriously this movie is batshit crazy and a must see!
Rental
Shivers of a Vampire (Le frisson des vampires)
Directed by Jean Rollin
French director Jean Rollin began making arty vampire films on next-to-no budgets, beginning with Le Viol du Vampire (1967) and La Vampire Nue (1970). His vampire films aren't necessarily good but boy do they make for an entertaining watch.
Two Orphans Of A Vampire (Les deux orphelines vampires )
Directed by Jean Rollin
I am not a fan of Lesbian vampire films, but again this comes from Jean Rollin and features some great unintentional humour.
Fiance Of Dracula
Directed by Jean Rollin
Rollin's most sureal vampire film and maybe the best on the list. Explaining the plot would sound insane, but I'm starting to think Rollin is insane. Again an entertaining watch.
Ruins
Directed by Carter Smith
The Ruins is a good psychological horror movie that ratchets up the tension but also grosses you out at the same time.
What Have You Done to Solange? (Cosa avete fatto a Solange?)
Directed by Massimo Dallamano
Your typical giallo film but nowhere near being the best. Expect the staple elements such as violence, a bit of blood, horror, gratuitous nudity, dubious dubbing and an excellent score by the legendary Ennio Morricone. Sadly I can only give it a rental and not a purchase. Once the mystery unravels, I can't imagine ever taking interest in watching it again.
Lake Mungo
Directed Joel Anderson
A faux-documentary / mockumentary that is intelligent, at times creepy but would have made a better short film.
Skip
Fearless Vampire Killers
Directed by Roman Polanski
Some people have tried to convince me that this is actually a good, if not entertaining, film. Good it is not. Some might find it entertaining, but I can't say I do.
Rabies
Ahron Keshales , Navot Paposhaddo
I was shocked that I disliked this movie so much considering the rest of the Sound On Sight staff has been raving about it ever since it screened at the Fantasia Film Festival. Unfortunately I felt it was a little too familiar, predictable and it didn't really hold my interest.
Justine Smith (6 Viewings)
total of 20 Viewings
Purchase
Nadja
Directed by Michael Almereyda
A re-imagining of the vampire myth, Nadja remains relatively unknown in spite of many of it's high-profile contributors and cast members. This film not only features a cameo appearance by David Lynch but was almost entirely funded by him as well. Peter Fonda also plays an important character, essentially playing a version of himself who happens to be a vampire hunter. This is a post-modern contemporary re-imagining of Bram Stoker's Dracula that bears little resemblance to the original text.
Rental
The Mummy
Directed by Karl Freud
This is a very conditional recommendation, it is by far my least favourite of the classic 1930s Universal films. It is largely a bore. Nonetheless it has a few iconic moments and a place in classic Horror History.
Psycho
Directed by Gus Van Sant
It's quality does not compare in any way to the masterpiece that is Hitchcock's original film, but as a high-end art experiment I think Van Sant's film has a lot of merit. The slight variations in performance and direction on top of the wildly divergent art direction, casting and costume shed some light on the filmmaking process as well as our reception of art in general.
The Last Man on Earth
Directed by Ubaldo Ragona
Rough around the edges doesn't begin to describe this film. The Last Man on Earth is nonetheless charming and certainly implicitly horrific. I think this is LARGELY due to the strength of Matheson's literary vision and small moments of personal-despair and tragedy shine through in spite of some incompetent filmmaking. Price is miscast, he is far too old and his body far too apparently weak to be entirely probable as a man hunting and chasing zombie/vampires. He still sells the role because his hammy theatrics somehow work as an isolated figure, even in the extended flashbacks he seems to stand apart from his fellow humans. I enjoyed this film far more than I am letting on, it is very compelling and an obvious inspiration to Romero's groundbreaking Night of the Living Dead.
Cronos
Directed by Guillermo Del Toro
Del Toro's films have moments of incredible darkness but seem guided along by what I would call a mid-80s child adventure film. It's a form I generally do not like, it's innocence seems less child-like then it does pandering to youth audiences. Cronos is guilty of this. The film is engaging in many ways and I still really love the relationship between grandfather and granddaughter. The idea that the grandfather fears death until he cannot die, when at that moment he is able to accept his mortality in a strange twist of faith is an interesting notion and I think explored quite thoroughly here.
The Uninvited
Directed by Lewis Allen
I saw this very many years ago for the first time and remember it fondly as a 'sweet' ghost story. My opinion hasn't changed much, the film is engaging but harmless, failing to truly capture my attention. The first half is actually great filmmaking, both in terms of creating atmosphere and small moments of beautiful romance. My favourite sequence in the film isn't horror at all. Ray Milland and Gail Russell are in a roof-top sun room as twilight looms. They speak in silhouettes, Gail speaking of her dead mother while Milland simply watches her face, transfixed with admiration and desire. I don't usually like Milland, but he sells me completely in this moment. I also like the recurring image of the waves crashing into the cliffs below the small cottage house, it's striking in it's admiration of the splendor of mother nature and it's eternal existence compared to the fraction of each human life. The film relies unusually on high-profile special effects and though dated they are strangely effective. The film's second half really meanders in all directions and unfortunately loses steam.
James (11 Viewings)
Total of 22 Viewings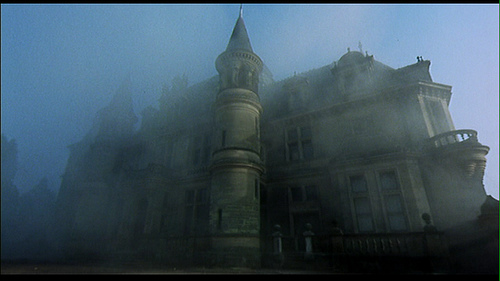 Essential Horror Viewing
Vampyr (Dreyer,1932) This classic may be a little aimless at times, but it is still one of the most visually haunting films ever made.
White Dog (Fuller, 1982) One of the sharpest, and cleverest exploitation films you will ever see.
Valerie and Her Week of Wonders (Jires, 1970) Not your typical vampire film, and I may never totally understand it, but we aren't meant too. It is a young woman's fevered dream, as she processes the horrors and beauty of her sexual awakening.
The Legend of Hell House (Hough, 1973) What carries this film is the intense passion and energy from beginning to end.
Meh
The Heirloom (Chen, 2005) There are some decent scares, and from what I can gather, and interesting story, but it is very convoluted, and messy.
Hell Night (DeSimone, 1985) There are some fun moments in this slasher, but it is bogged down by clichéd stupidity, and prolonged periods of dullness.
Poltergeist II (Gibson, 1986) Call me crazy, but I prefer this to the original. It abandons (not by choice) the Spielbergey family adventure tone, and replaces it with a somewhat darker, more sinister feel. That being said, it is still rather flat.
Blood and Black Lace (Bava, 1963) I had the same problem with this film as I do with many of Bava's films, in that it seems to fall short of its intention. It seems as though Bava was aiming for a sexually charged, stylish thriller, and it is quite stylish, but the sexual intrigue is nowhere to be found, leaving the film to feel hollow.
Creepshow 2 (Gornick, 1987) This film is a lot of fun, but ultimately forgetful.
Skip It
Poltergeist III (Sherman, 1988) It is a real shame when a horror movie wastes legitimate scares because of incompetent writing and direction. Much of this film is silly and laughable.
Terror in The Aisles (Kuehn, 1984) This faux documentary plays like an educational film reel from a 1980"s class room.
 Check out the week one results
Check out the week three results