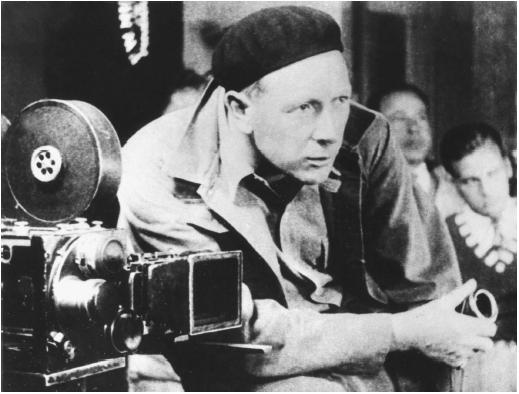 The CineClub is presenting biweekly screenings at the Crowley Arts Centre here in Montreal every other Sunday. This week the screening will be Sunrise.
A married farmer falls under the spell of an urban siren who convinces him to drown his wife. Murnau's first American film has been hailed as "the last high peak of German silent cinema." In the 1950s, the French magazine Cahiers du Cinema named Sunrise as the "greatest film ever made." In various international polls, Sunrise features prominently among the best and most significant films ever made. For your unique pleasure, this silent-era masterpiece will be accompanied by live music. Pianist: Simon Sloutsker.
If you have always wanted to visit the new space, this is your best chance! As you will see, experiencing this film in the same way that audiences did in 1927 will have you talking about it for weeks and it's certainly not something you can duplicate at home. So pay them a visit and have a great night at the movies! (Made even greater because one of their volunteers has promised to bake us all yummy cupcakes!)
Portes / doors: 7 p.m. Film: 7:30 p.m.
Admission: 8$, 6$ (étudiants/students & 65+)
Café, thé et eau de source offert gratuitement!
With complementary coffee, tea and spring water!
facebook: http://www.facebook.com/pages/Le-Cin%C3%A9club-The-Film-Society/256537787711537
How to get there:
(Closer than you think!)
BUS, METRO, WALK When coming to Crowley by public transport, we are an easy 4 minute walk from Vendôme station. From Vendôme head west on boulevard De Maisonneuve, continue onto Upper Lachine Road, turn left onto Crowley Exit (after the AMT overpass), and continuing onto Crowley Avenue, passing Prud'homme Avenue. We are located just before Nelson Garage. Distance from subway: only 300 meters.
DRIVING HERE Drive to Notre Dame De Grace in Montreal. From Rue Sherbrooke Ouest, turn onto Ave. Girourard (heading south). Stay on Ave. Girourard, and turn left onto Chemin Upper Lachine. Then take a right onto the Ave Crowley exit (before the AMT overpass). Cross Prud'homme Ave, and we are on the left, just before Nelson Garage.
DRIVING FROM THE OLD-PORT OR DOWNTOWN Driving from downtown or the Old Port? Then just follow directions for Autoroute Ville-Marie (QC-720 Ouest). Take Exit 2. Follow directions for Rue St Jacques Ouest. Pass the Mazda Gabriel car dealership & turn right onto Ave. Prud'homme. Turn right onto Ave Crowley, and we are on the left, just before Nelson Garage.
PARKING Free parking for the Crowley Centre is located at the back of the building (towards the end of Prud'homme Ave., along Prud'homme Avenue and in the parking lot of Nelson Garage (next door to us).