The American pop-rock band Imagine Dragons, became popular in 2012 following the release of their album Night Visions and their single "Its Time." Still, it was their addictive and catchy song on the album entitled "Radioactive," that shot them to worldwide fame and recording-breaking weeks on the Billboard Hot 100.
The band has launched a tour for every album release. Another reason for its popularity is the band's strong involvement in charitable events worldwide.
Despite what some hardcore rock fans consider dangling between rock and pop, the four-member band continues to grow its fandom and attain success.
Who are Imagine Dragons?
This American pop-rock band based out of Las Vegas consists of lead singer Dan Reynolds (guitar), drummer Daniel Platzman, bassist Ben Mckee, and guitarist Wayne Sermon. Imagine Dragons started in 2008.
Night Visions (2012), the band's award-winning initial studio album, was followed by the chart-topping singles "Demons" as well as "Radioactive," both of which helped the band acquire attention. This year's biggest rock hit was "Radioactive," which held the record for the most weeks charting on Billboard's Hot 100.
"The year's largest breakout band," according to MTV, and 2013s Breakthrough Band and 2017s Biggest Band, according to Billboard, with them being named the best rock band of 2013, as well as 2017 to 2018. When it came to " Duo/Group top artist," at the end of 2018, Imagine Dragons took the top spot.
How Did Imagine Dragons Get Its Big Break?
During the Bite of Las Vegas Festival in 2009, Train's leader Pat Monahan was hospitalized due to a virus. Imagine Dragons stepped in to cover the show, and they played to a sold-out crowd of almost 26,000 people.
Local accolades such as "Best CD of 2011" along with a slew of others helped solidify the foundation for the band's big-stage debut.
Which Awards has the Imagine Dragons Band won so far?
One Grammy Award, one Grammy nomination, one Video Music Award, one MTV Video Music Award, and one World Music Award have all been given to Imagine Dragons.
The Billboard Music Awards nominated the band in May of this year for 14 honors, including a Milestone Award, which honors musicians for their originality and inventiveness in a variety of genres. There were a total of 11 more Billboard Music Awards nominations for the band in April of that year.
What Have Record Sales Been Like for Imagine Dragons?
Over 75 million albums have been purchased by fans around the world thanks to Imagine Dragons. With "Believer," "Demons," "Radioactive," and "Thunder," they became the first rock band to have four songs surpass one billion streams.
Believer, Thunder, and Radioactive were Billboard's top-performing rock songs of the decade.
How Many Albums have Imagine Dragons Released and How Successful Have They Been?
The second studio album Smoke + Mirrors (2015) of the band gained number one in the United States, Canada, and Great Britain. Smoke + Mirrors "Believer," "Thunder," and "Whatever It Takes" were all chart-topping singles from their third studio album Evolve (2017).
It placed the band at number one for the largest number of weeks on Billboard's Hot Rock Songs Chart. In numerous countries, the album ranked in the top five on the album charts. The band's sixth number-one single on the Hot Rock Songs chart appeared on Origins, their 4th studio album.
Although each album was a commercial success, there remained disagreement among critics over the quality of the music. As of September 3, 2021, the band had released Mercury – Act 1, its 5th studio album.
Is Imagine Dragons a Rock Band?
There are many different ways to categorize the sound of Imagine Dragons' music. Some of the more common ones include indie rock and all pop genres. In addition, their music is influenced by synth and dance-pop as well as hip-hop, R&B, EDM, folk, trip-hop, and folk, as well as drum and bass and dubstep as well as, and.
Musicians such as Paul Simon, Muse, Nirvana, and Arcade Fire, have influenced the Dan Reynolds-led band's musical style.
Mumford & Sons as well as Foster the People have been credited by Reynolds for carrying alternative pop music to another degree of retail success in recent years.
How Much Does Imagine Dragons Do for the Community?
They have participated in numerous charity events throughout the years, with even certain songs dedicated to a specific cause.
To aid young people suffering from illness, Imagine Dragons and Tyler Robinson's family established the Tyler Robinson Foundation in 2013. For the first time in 2014, the Foundation's Gala took place in Sin City. To raise 100 thousand dollars for school music initiatives, the band performed "Playing It Forward" (S1 E2) during the show.
MtvU and the band collaborated on a selection of the four recipients of the Fulbright-mtvU Fellowship.
"Bringing Human Rights Home," an Amnesty International event, saw a performance by Imagine Dragons on February 5 in Brooklyn. Imagine Dragons recorded the song "I Was Me" for the One4 project in 2015, with all sales contributed to the UN Refugee Agency, especially in the Middle East.
They also released the cover version "I Love You All The Time" to aid Paris terrorist attacks victims. Meanwhile, the Trevor Project and other LGBTQ charities benefited from the band's efforts in 2017 as part of the LoveLoud Festival.
Why Is Imagine Dragons the Subject of So Much Criticism?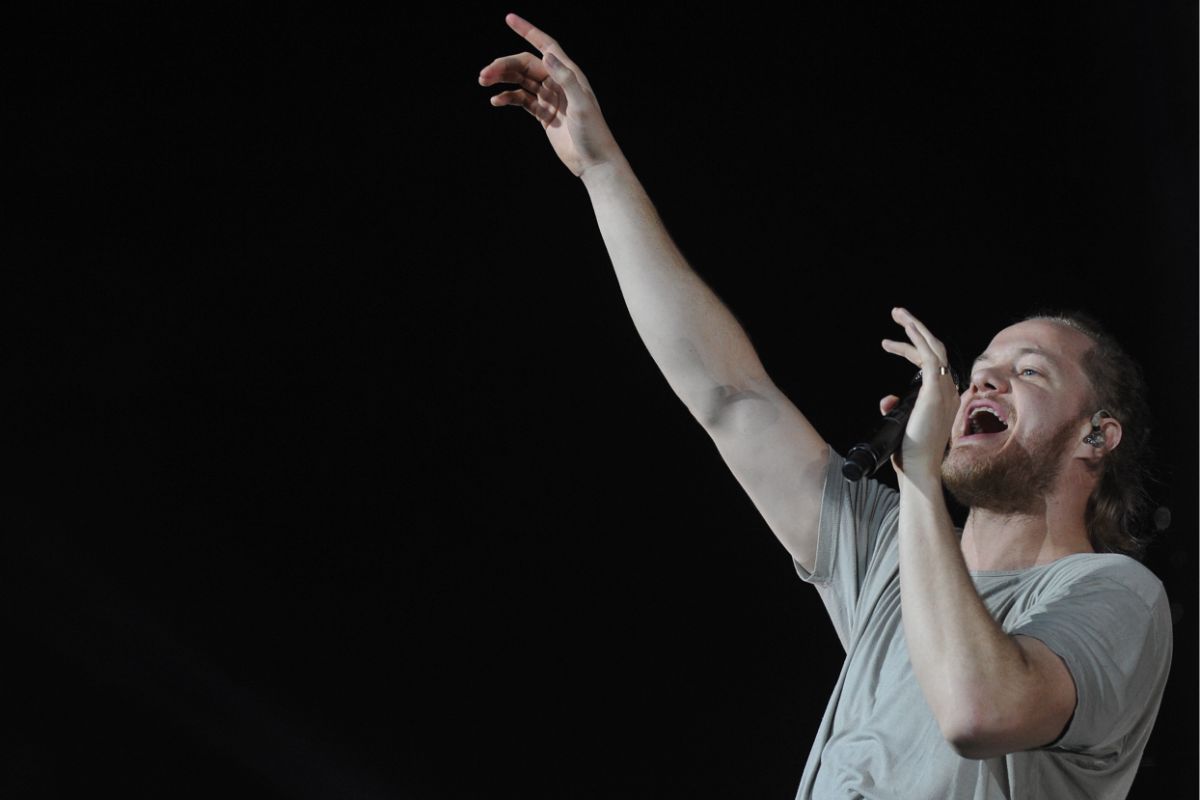 As a rock band, Imagine Dragons have been highly criticized for the more pop-oriented tracks in their repertoire. As soon as Billboard revealed that "Believer," "Thunder," and "Radioactive" had been the decade's best-performing rock songs, a chorus of skepticism was directed at the band.
This criticism hasn't stopped the band from referring to itself as "genre-less".
Despite their success and massive social media followings, Imagine Dragons have received a mixed reaction since their mainstream emergence. According to Metacritic, their first four studio albums—Night Visions, Smoke + Mirrors, Evolve, and Origins—received an average of 53, 60, 47, and 59 out of 100 reviews.
Reverberation effects, adherence to formulas, genre-hopping, as well as "overblown" arena rock production have been some of the many criticisms levied at the band.
What Made The Imagine Dragons Criticisms Spiral?
As a result of their appearance at the 2019 College Football National Championship halftime show as part of the halftime show, the American music publication Spin published an article titled 'Is Imagine Dragons The Worst Band Ever?'
The band's lyrics were heavily criticized as being a component of inspirational sayings and pseudo-theatrical yelps, hardly meriting repetition, if only because Reynolds seems so inclined to do that himself." Critics have repeatedly drawn comparisons between them and Canadian rock band Nickelback, citing the latter's poor public image.
When Did Imagine Dragons Form?
As undergraduates at Brigham Young University in 2008, lead vocalist Dan Reynolds and drummer Andrew Tolman struck up a friendship. For their band, Reynolds and Tolman hired guitarist Andrew Beck, bassist Dave Lemke, and pianist Aurora Florence.
The group's name is an anagram of a word known only to its members, and Reynolds said that each member approved of the moniker.
However, Beck and Florence abruptly parted ways with the group after the release of their lengthy album Speak to Me in 2013. Since graduating from Berklee College of Music in 2007, Wayne Sermon has been a guitar player. Later, Tolman enlisted the help of his wife, Brittany Tolman, who joined the band as a backup singer and keyboardist.
Lemke eventually dropped out of the band, which led Sermon to look elsewhere for a bassist and bring on Ben McKee, a fellow student at Berklee. Their first three EPs were recorded and released in the band's hometown of Provo before they moved to Las Vegas, the hometown of lead singer Dan Reynolds.
[wpchatai]