Dexter, Season 7, Episode 2: "Sunshine & Frosty Swirl"
Written by Manny Coto
Directed by Steve Shill
Airs Sundays at 9pm (ET) on Showtime
So far, Dexter's seventh season has been defined by conversations, meaningful exchanges loaded with significance and potentially lethal consequences. Given how last week's "Are You…?" concluded, with Debra discovering Dexter's secret identity, it's hardly a surprise that this trend continues with "Sunshine & Frosty Swirl", a great follow up installment both continuing the strong momentum and tickling the hearts of the show's fanbase.
Having been exposed as a serial killer, Dexter plays it straight with Deb, revealing the dark passenger and the details of his age-old murderous odyssey, right down to basic training chez Harry and the Code. After a turbulent night to sleep on it, Deb chooses a plan of attack; interventional rehab, which sees Dex firmly kept under lock and key at her apartment.
This proves a sticking point when he finally catches on to Louis, his dangerous admirer turned hysterical revenge seeker, an itch that has to be scratched. An imprisoned serial killer cooperating with the exhumation of one of his disappeared victims provides a day in the sun and a chance at making his move. Meanwhile, LaGuerta continues to look into the Travis crime scene blood slide, leading her back to former colleague and alleged Bay Harbor Butcher James Doakes, while Batista and Quinn's continuing investigation into Mike Anderson's murder finally brings Ukrainian mobster Isaac into the fold, with lethal results for at least one unfortunate soul.
While the big moments are again handled mightily, with Dexter's references to his season one victims in particular a source of satisfaction, "Sunshine & Frosty Swirl" continues the show's impressive trend in meticulous pacing and writing while staying true to its themes, a great balance which seems to redeem the opinion that the scribes on the show have caught on to what made Dexter, in its hay day, one of the best shows on television.
In particular, Dex's interactions with an apparently conscience-bound killer provide great insight into his potential destinations and mirror his torn plight. This plot's sledgehammer conclusion also provides food for thought a little harder to swallow. His descriptions of the dark passenger's influence, the killing lust, and his justification for his killings are also well penned and prove fresh and unheard when they could have turned out stale and repetitive.
There's also a greater sense of purpose about the way in which other characters are utilized and written, namely Harry, who while only appearing briefly, serves more important functions than being an imaginary sidekick. Maria LaGuerta's subplot continues to build, though at a pace which suggests she's being saved for the right moment, while the Louis situation finally blows up in an explosive confrontation, setting up a longer-term game of cat and mouse.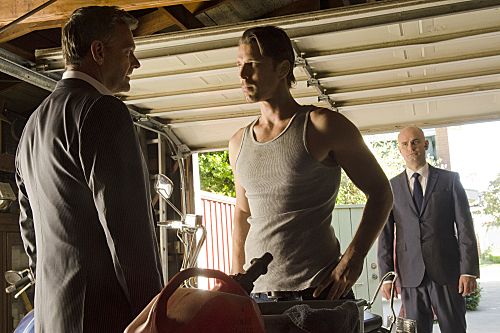 Having only made a slight mark previously, Ray Stevenson's special guest villain Isaac arrives in town and into the action, searching for his missing goon and apparently on a collision course with the protagonist. While Stevenson seems to give up on a Ukrainian accent pretty quickly, he brings a great deal of presence and danger to the role and is certainly interesting to watch.
How his character's arc will pan out is yet another spanner to throw in the works, so the plotting is once again busy. We also meet one of the dancers at his Men's Club, Katia Winter's Nadia, who proves to be a source of interest to Quinn for a couple of reasons. Romances seldom exist for their own sake in this domain, after all.
While week two represents a drop in pace after the relentless season opener, the density of the material means that this ship is sailing with fuel tanks at full, a myriad of branching stories opening up, and various threats and conflicts poised to come to the fore. Currently, Dexter faces three visible threats while also now contending with a pretty fresh arc: Can I just stop? If I can control it, can I not halt it?
It's a curious "cold turkey" twist on the rehab story from season two and one that should be watertight, given Deb's iron fist on the subject. We also have all of the main characters, minus Masuka, given something to do and the world's favorite pervy lab tech is cracking jokes again after a humorless preceding episode.
Most importantly, after so much prior slog, the show finally feels like it's going somewhere; there's a clear singularity of purpose clear while also not proving to be predictable. It's difficult to tell what's just around the corner, but at least there is a corner. This time, conflict resolution won't be easy, if it's even possible, and all bets are off. It's been a long time since this could be said of the show.
While continuing to hit all the right marks after its action packed opener, "Sunshine & Frosty Swirl" shows that Dexter is not only maintaining its tight and taut direction but also opening up slip roads into further fields of interest without losing any quality. In short, it's back to greatness and seemingly staying there.
Scott Patterson