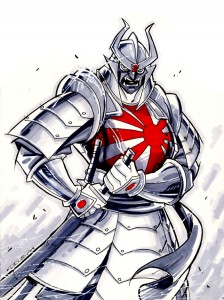 Fox has been all over this year's Comic-Con showing tons of promotional material for their upcoming projects. During a surprise appearance by Hugh Jackman at the Real Steel panel, the star revealed who the villain would be in the upcoming James Mangold-helmed Wolverine film. According to Screen Rant, Jackman went on to say that, "I will be filming Wolverine 2 in October. Chris McQuarrie has written a fantastic script and it should turn out really good. I'll fight the Silver Samurai in it so that should be exciting. Most of the filming will take place in Japan."
The Silver Samurai also known as Kenuichio Harad first appeared in Daredevil #111 (July, 1974). He is one of the few mutants that retained their superhuman powers after epic storyline M-Day, only to have Wolverine track him down and sever his hand at the wrist with his claws during a battle. When last seen, Silver Samurai was kneeling on the floor cradling the bloody stump where his hand once was.
Aronofsky might not be directing but I have to say I am very happy with the choice of director James Mangold, who crafted a brilliant western with 3:10 To Yuma a few years back. More to come.