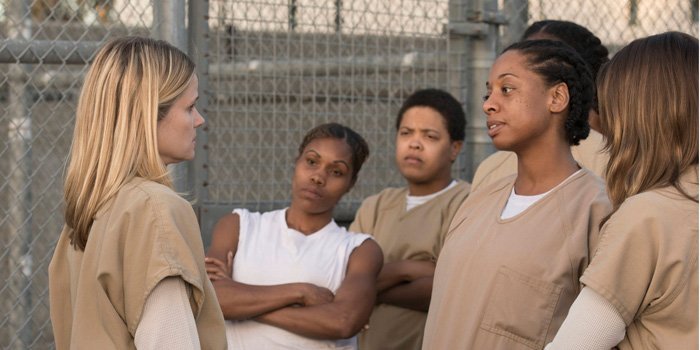 Justified, Season 5, Episode 6: "Kill the Messenger"
Written by Ingrid Escajeda
Directed by Don Kurt
Airs Tuesdays at 10pm ET
Thank goodness; "Shot All To Hell" appears not to have been a fluke, and Season 5 is finally, officially, cooking with oil. "Kill the Messenger," while not bucking the trend of Justified's almost uselessly arbitrary episode titling, follows up on last week's deck-clearing smorgasbord of goodness in kind, fleshing out the Crowe family dynamic with some of the season's most effective comedic beats and even managing to unite a host of seemingly disparate plot threads. In other words: vintage Justified.
It took six episodes, but we finally have the Ava Crowder Prison Drama we were all pretty openly clamoring for. Ava's arrival in the state pen ushers in absolutely no Orange is the New Black-style antics, only grim portent and the upsetting, but crucial development that she won't be able to rely on Boyd's assistance any longer. This turn is both a reminder that Justified always has an excellent recall of its own history – it took four seasons for Boyd's neo-Nazi past to bite him in the ass, but it finally happened – and that it has a command of tone that is almost unparalleled. Moreso than any other episode so far this season, "Messenger" manages to flit between taking the season's stakes and situations seriously, lending them the appropriate weight, and allowing itself a bit of knowing distance from time to time.
So while everything in the state pen is beyond grim – Ava's last scene, in which she uses a contraband razor to fix her hair, is the most darkly compelling she's had to herself in at least an entire season – everything else has an amusing, picaresque quality running through it, with Boyd and Raylan setting out to get their respective houses in order by whatever means available to them. For Raylan, that means defending the honor of Allison after she is cruelly attacked by Danny Crowe (A.J. Buckley), while doing his best not to let things in the Marshals office get any worse; for Boyd, that means scrambling to protect Ava, and securing any and all means necessary to settle the score when that endeavor is thwarted. (In the midst of all this, we also get the strange pleasure of hearing Boyd utter the word "kimchi.")
Now that we're almost at the season's halfway point, it's as good a time as any to take stock of the season's new additions. Buckley is getting increasingly good at making us all very uncomfortable, though he does feel like a lightly too-close analogue to Coover Bennett. (Buckley's tortured formation of the innovating portmanteau "consexual" goes a long way to smoothing over any nagging issues, however.) Amy Smart has developed nicely as Allison, already the most significant Sex Pal Raylan has ever had. In its unfussy way, Justified has a very distinct writing style, in which some characters seem to exist in the real world while others live in a mythic one, and Allison very obviously belongs to the first grouping. She's understandably shaken by her run-in with Danny, but she never feels like a mere damsel in distress, especially given her spot-on description of Raylan as the man who starts fires, but at least has the decency to rescue those at risk of being engulfed in the flames. Alicia Witt is, if anything, playing Wendy as being too smart – it's starting to strain credibility that she doesn't just take off with young Kendal (Jacob Lofland) – but she certainly helps to diversify the Crowe family dynamic a bit.
Finally, there's the small matter of Michael Rappaport, who has been a sore spot for many. While he still grates on occasion – I will never like the way he makes a meal of the word "eye-DEERS" – he has already benefited greatly from his new association with Boyd, and "Messenger" does well to capitalize on their chemistry as well as Rappaport's considerable physical presence. (He also scores an excellent, easy-to-miss comic moment when he bashfully clarifies what "throwing bones" entails to Allison.) While I'd be surprised if any adult Crowes not named Dewey make it out of the season with their lives or freedom intact, Justified has once again maneuvered itself into that narrative sweet spot wherein there's no good way to anticipate where the season arc will lead us, and that uncertainty, combined with the increasing scope, means there should be ample opportunity for all of the Crowes to get a chance to shine. If there's one complaint remaining, it's that the Crowes still don't connect on any level in terms of emotional resonance – not in the way past sources of conflict have managed to, at least. That element should be coming from Dewey, but he's simply too dim to connect with on that level. the natural move, then, would be to focus in more on Kendal, and I wouldn't be surprised if Lofland, who's been excellent throughout, winds up as more of a central focus. But, as ever when it comes to Justified, predictions are mere folly.
[wpchatai]