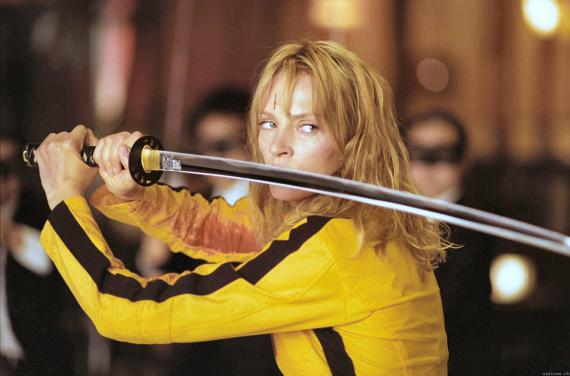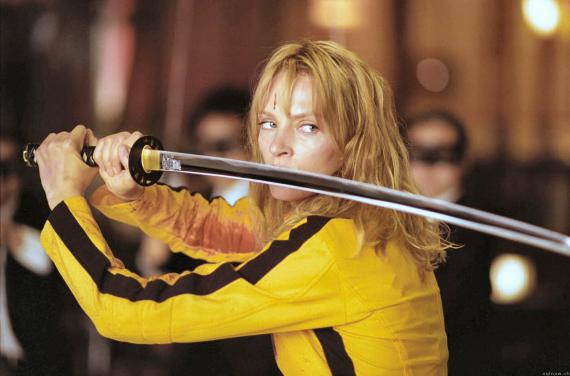 If Tarantino's films of the 1990s announced the writer-director's as a phenom for writing formidably snappy dialogue that enhanced characterization, his films of the 00s, while continuing to demonstrate the aforementioned writing prowess, suggest that he is equally adept at staging and filming wonderful action scenes, be they brawls, gun fights or contests of martial arts skills. Death Proof and Django Unchained have their share of impressive set pieces representing unique visions of what, in the case of the former, a cinematic car chase can be like, and, in the case of the latter, what a cinematic gun fight shoot out can be like. In essence, pretty darn sweet.
In both cases, even though Tarantino and his crack team definitely put their own spin on such action set pieces, the ingenuity that went into both was inspired by movies which made names for themselves in the annals of film history. As is often the case with this most flamboyant and divisive of filmmakers, a lot of what we saw on screen were hipper, snappier, more contemporary versions of scenes from the past. Impressive as those two examples may be of Tarantino stretching his directorial muscles for some adrenaline pumping scenes, the most complete and, dare it be argued, complex examples came in form of his two Kill Bill chapters. Let us take a closer look at the variety of fight scenes Tarantino serves up and where some of his inspiration might have come from.
1-The training
Every protagonist who faces the tallest of obstacles ahead of them in order to achieve their ultimate objective is required to hone their set of skills, otherwise failure shall stare them squarely in the face. All hopeful martial artists therefore must pass a series of gruelling series of training sessions that demand unrelenting physical, psychological and sometimes even emotional investment of the highest order. It begins with the training after all. Without the dutiful practice to perfect physical feats and usage of a wide variety of weaponry, there is no chance at success, especially not against the most terrifyingly proficient foes.
Taking important cues from some legendary Shaw Brothers pictures which themselves have earned top marks in the hearts and minds of kung fu film fans everywhere, Tarantino offers audiences a loving homage in the second volume of the Kill Bill story, when Bill leaves Uma Thurman's Bride with his former teacher, Pai Mei, played with infectious glee by Shaw legend Gordon Liu. Those two elements right there, the fact that Gordon Liu plays a kung fu master and the appearance of Pai Mei (a character who appeared in a great many Shaw films, among them Fists of the White Lotus), are in of themselves delicious references to the history of such films. Tarantino would be remiss to stop just there. The training itself is the real meat of this sequence and also brings long time fans back to the films of yesteryear.
Apart from Fists of the White Lotus, the most obvious film this chapter harkens back to is the 36th Chamber of the Shaolin, often referred to as the greatest martial arts film of them all. Starring Gordon Liu (not as a priest, mind you, but rather a young, ambitious martial artist looking for redemption), it features one of the the longest and best training sequences in any movie. There is so much going on and each of those elements is lovingly reproduced in Kill Bill vol. 2. There is the physical strain the Bride must go through, which we see when she is forced by Pai Mei to punch through thick wooden planks as well as carry large buckets of water up an endless flight of stairs. To pass the physical test, mental strength is of equal importance, yet another thing that the Bride and Liu's characters must discover. Mind over matter, as the saying goes, which helps her overcome the fear of pain when repeatedly smashing her hands against wood.
The Bride is also the target of her master's scorn. Usually said animosity might derive from the teacher's natural predilection to despise whatever colour or creed his student is, or simply because he sees no potential to bare fruit from. In any event, Pai Mei displays an unshakable disdain for the Bride at first, mocking what he sees as her amateurish capabilities, and mocking her because she's a whitey who can't speak proper Cantonese. The bubbling tension influences dinner time as well. After practising long and hard at ripping through those wooden planks with her fists, the Bride is unable to eat her steamed rice with chop sticks. Upon grabbing some of the delicious food with her bare hands, Pai Mei tosses her bowl to the floor, berating her disrespectful gesture, claiming that is she so desires to eat like a dog, then she best chow down from the floor. In 36th Chamber of Shaolin, the Liu character goes through some similar circumstances, with one elder continuously doubting his potential to the point where they engage in a contest at one point. As for the food related scenes, due to Liu's impertinence, he is the last one to arrive for lunch and thus must satisfy himself with the paltry leftovers.
2-Close quarters, one-on-one combat.
Now that our heroine has merited her master's blessings, here comes the hard part: actually vanquishing her foes in a multitude of settings, each demanding that the protagonist dig deep into her kung fu knowledge.First comes the grittier, less gracious sort of encounter, the type which pits opponents in some unreasonably close spots, with less room to manoeuvre and utilize their weapons as they would like. These battles typically see the mutual enemies both make use of and work around the restrictive environment.
At the very start of the Kill Bill vol. 1 the Bride arrives at the home of Vernita Green (Vivica A. Fox) in a California suburb. It is a lovely little home, perfect for a new family, although far from ideal for two deadly fighters to have a go at it. When Vernita opens the door and discovers non other than her former partner, long presumed to be dead, things go haywire quicker than O-Ren Ishii can decapitate dissenting Yakuza clan members. What follows is more a brawl than a martial arts fight, with both characters getting tosses onto and in some cases through furniture. The finesse one would normally discover in such battles is lacking in most part due to the unhelpful setting. Of all the fights depicted over the course of the two films, this looks and sounds like the most bone-crunch inducing. Even though this fight is rather bloody, it has a bit of a Jackie Chan element to it, what the enemies thinking on their feat by using regular house objects as weapons and showing off kung fu moves while avoiding (or not) various hurdles around the living room and kitchen. Interestingly enough, their duel comes to a swift and unexpected ending once Vernita surprises the Bride by firing a pistol through a cereal box in the kitchen just as tempers were seemingly cooling down. She misfires, providing our heroine with barely enough time to toss a kitchen knife into her chest. Never bring a gun to a kung fu fight, bitch.
The second significant close quarters battle occurs in the second volume, between Elle Driver (Daryl Hannah) and the Bride. This one is even more impressive for two notable reasons. First, the setting is even more compact than was the Bride-Vernita contest, seeing as it transpires within Budd's (Michael Madsen) modest trailer house. With such restrictive space to do battle, the complications are numerous. Nevertheless, that does not prevent Elle from opting to cut down her opposite with a Hattori Hanzo sword. The reality of the situation is that there is not enough space to properly manipulate the blade, and thus as Elle continuously attempts to released the sword from its holster, the end keeps banging on walls. By the end of the fight, Budd's trailer home is in utter shambles and Elle has lost her only remaining eye, although the latter bit is of the Bride's doing.
3-Slow and steady swordsmanship
Thankfully, not all battles will force contestants to adapt not only to their opponents but the distractions of the surroundings. Sometimes, the conditions for attacking one's enemy are ideal: open space with nothing but air between the heroine and her target.
This type of encounter happens at the very end of Kill Bill vol. 1 when the Bride, fresh off of vanquishing the Crazy 88s, finally comes face to face with their leader, O-Ren Ishii (Lucy Liu). Both are skilled in the art of the samurai, and therefore their contest is a slower, more methodically paced affair. Each movement is either a step closer to death or to victory. The slightest step, the slightest gesture with the arms, every detail matters in a fight of this kind. The inspiration here is less Shaw Brothers lore and more the Japanese samurai film. Much like the high noon standoff in American westerns, it typically does not make for the most flamboyant sort of duel. It is more a matter of out waiting and out thinking the other swordsman. When the opportunity for the perfect blow arrives, an expert will take advantage and see their rival fall lifelessly to the ground. Akira Kurosawa was one such director who made wonderful stories of the samurai who either served lords or were masterless, although his samurai movies were more epic in scope and involved some rather high octane battles, at least so far as samurai sword fights are concerned. Harakiri, from director Masaki Kobayashi is perhaps a better example, or even Sword of Doom from Kihachi Okamoto, which even has a standoff between two fighters in a snowy setting similar to the one in Kill Bill vol. 1.
4-Outdoing the 'special weapon'
Once the Bride has announced her presence to O-Ren and the crazy 88s at the Blue Lotus restaurant, all bets are off. The time for lurking behind motorcycle masks and hiding in bathroom stalls is over. However, before even getting a chance to kill O-Ren, the Bride is forced to reckon with her special crew, the Crazy 88s, and her personal guard, Gogo Yubari (Chiaki Kuriyama), a sick, demented teenager who dresses up in private school girl attire and wields one of the deadliest weapons scene in the film: a razor equipped metal ball attached at the end of a chain. Having trained herself with this weapon of choice, Gogo can whip the sphere wherever and however hard she pleases. With far more covering distance than a samurai blade (and just as deadly!), Gogo may be the most unexpectedly difficult foe the Bride does battle with.
There are so many points of comparison to be made with Gogo's pseudo 'ball and chain.' The Shaw Brothers classics of old were replete with enemies and heroes who made names for themselves across the land with the help of some custom made weapons which caught opponents off guard before someone eventually learned how work around them. The hooked sword in The One-Armed Swordsman, the metal paws from The Avenging Eagle, the titular golden blade from Vengeance is a Golden Blade, and yes, even though SOS editor Ricky D and I disagree on the cool factor of the weapon, even the famous flying guillotine. In each case the heroes are on the disadvantage until they either claim the special weapon for themselves or discover the weapon's weakness. The Bride-Gogo fight in Kill Bill vol. 1 is among the most tension filled in the entire two-part story because Gogo and her specialized weapon feel like the most legitimate threats the heroine has to face. After she takes a few nasty shots of the metal ball to the chest, a viewer can be forgiven for asking themselves if the protagonist will even live through the encounter.
5-One against a legion
Of all the examples reviewed above, most would be quick to claim that the most spectacular instance of kung fu ass whooping is when the protagonist, either alone or with a small band of allies, are greatly outnumbered by their enemies and whose only hope for survival is by fending all of them off. While the tension level might take a drop in scenes such as this (typically the heroes emerge not only victorious but unscathed for the most part) they do in fact make for the most fun action scenes.
Immediately following the death of Gogo, O-Ren calls upon her Yakuza team, the Crazy 88s. Equipped with a Hattori Hanzo sword, the Bride sees herself circled by a small army of men wearing thin black masks across their eyes and foreheads, all pointing their own swords straight at her. Led by Johnny Mo (Gordon Liu, doing double duty in these films), the onslaught begins. The acrobatics involved in this stunning sequence are most impressive, with a fair share of the credit going to stunt-woman Zoe Bell who steps in for Uma Thurman for the more risky shots. Tarantino also called upon the help of Yuen Wo-Ping for fight choreography and this Blue Lotus battle is arguably the most glorious example of his contributions to the two films. Enemies are offed in any number of ways. Some go down in vintage samurai fashion by remaining immobile on their two feet for a moment, as if stunned, before dropping dead, while others unfortunately have their limbs hacked off. Decapitations, eye balls ripped out of sockets, even one poor sap who is split into two from the head down!
The fight in the diner from Come Drink With Me and the climactic stairwell battle in Have Sword Will Travel are but two of the many classic Shaw films from which the Blue Lotus might have found inspiration from.
With that, I hope fans of these two films will want to explore some of the earlier movies referenced in this article and then re-watch Kill Bill with a different perspective. Tarantino took inspiration from of the very best martial arts movies to then make his own high-octane version of them. Some would call it plagiarism. Others would call it learning from the masters.
-Edgar Chaput
[wpchatai]