2012 wasn't a bad year for movies. It was actually a great year. The problem is, the movies we were most anticipating, specifically the Hollywood blockbusters like Prometheus and The Hobbit, didn't live up to our expectations. With that said I still managed to make a list of 50 films I loved. Maybe I just have bad taste or maybe I just love movies but the most time consuming factor when making this list was sitting down and deciding what makes the cut and what doesn't. Even with 50 films listed below, I found it hard to not include movies like Frankenweenie, The Loneliest Planet, Footnote, Compliance, Jiro Dreams of Sushi, Ai Weiwei: Never Sorry, and Searching For Sugar Man. Come to think of it, every film featured on our list of best documentaries could have easily snuck into this list. I haven't seen everything of course. Below is a brief list of oversights – but there were a few films that received critical acclaim that I just didn't like including Alps and Cosmopolis. As with all lists, this is personal and order isn't too important until you get to my top 10. I could easily rearrange the ordering for any film featured on this list as I enjoy them all.
Note: I am only including movies that were theatrically released. That means I am not including many of the gems I watched at film festivals nor is Zero Dark Thirty eligible.
A few oversights:
The Hunt, Barbara, Attenberg, Almayer's Folly, The Day He Arrives and Neighbouring Sounds.

****
50: Magic Mike
Directed by Steven Soderbergh
Screenplay by Reid Carolin
2012, USA
While at times a bit cliched and predictable, the Oscar-winning director Steven Soderbergh has a gift for making the best with undercooked characters and wafer-thin plot lines. Magic Mike is nonetheless extremely entertaining; a sexy, stylish film that while flashy, is never once trashy. This is a cautionary tale about aging, self-destruction and about the perils of having too much, too soon. The dance routines choreographed by Allison Faulk are lively and engaging in their own right, and Soderbergh clearly has a blast staging the performance scenes that involve campy props, workman-uniform-costumes, and physically demanding hip hop dance moves. The film's energy is loose, infectious, carefree, liberated and undeniable. Channing Tatum is impressive and mesmerizing on the dance floor – for reasons other than his physique, and whatever his character and performance lack in terms of depth, he compensates for in sheer charisma and likability. But much like Killer Joe, the real scene stealer here is Matthew McConaughey, who literally throws himself into the part dominating every scene as Dallas, a father figure, trainer, coach, and shady businessman. Magic Mike may not be anything new, but Soderbergh's sensitive direction, the simple screenplay, and strong performances make his one hell of a crowd-pleaser.
49: Prometheus
Directed by Ridley Scott
Screenplay by Jon Spaihts and Damon Lindelof
2012, USA
Ridley Scott's ambitious quasi-prequel to Alien may not answer all of its big questions (or any for that matter), but it's redeemed by its sheer visual spectacle, technical wizardry and emphasis on tone and atmosphere. Prometheus is not without problems – just ask the fine folks over at Red Letter Media – but director Ridley Scott takes chances and while some of his choices don't always work, Prometheus is at least never boring. While weighing heavily on familiar science fiction conceits, Scott still injects enough horrific elements to label this sci-fi horror. After-all, stripped to its visceral essentials, the franchise began with a horror film meant simply to frighten us and gross us out. Unlike any of the sequels between this and the original, Prometheus is a horror movie first and foremost; a haunting visual grandeur eating away at subconscious terrors. But if there is any reason to see Prometheus, it is simply for the compelling performance by Michael Fassbender as a fastidious android named David. Fassbender plays David with a mixture of curiosity, detachment, and arrogance, an android who models his appearance intentionally like that of Peter O'Toole's iconic Lawrence of Arabia – a performance so good it might help launch Prometheus into the cult stratosphere.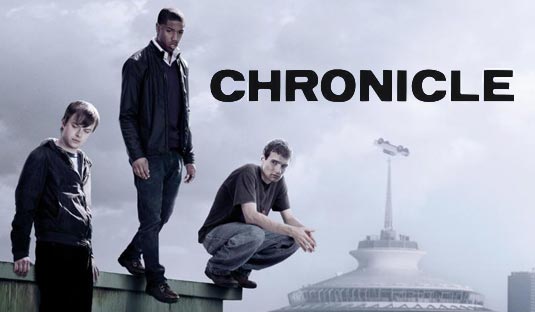 48: Chronicle
Directed by Josh Trank
Screenplay by Max Landis
Director Josh Trank and screenwriter Max Landis (son of filmmaker John Landis), put a fresh, invigorating spin on the superhero origin story, with Chronicle, a movie so sleek and incredibly ultra-portable, it suggests better things to come from the duo. The two display enough raw talent and ingenuity in their feature debut that this jolt to the found-footage genre transcends its gimmicks with a clever script, fast-paced direction, and engaging performances from its young cast. In many ways less a superhero movie than a coming-of-age story, Chronicle manages to outdo other mega-budget comic book spectacles by deconstructing the conventional superhero narrative and reassembling it as an artful dialogue on the troubled teen psyche… (read the full review)
47: Argo
Directed by Ben Affleck
Written by Chris Terrio
Based on true events, Ben Affleck's Argo chronicles an amazing true story of a life-or-death covert operation set against the context of the Iranian hostage crisis. Argo works as both a meta Holywood commentary and a historical thriller and despite a few shortcomings, it never leaves an audience bored.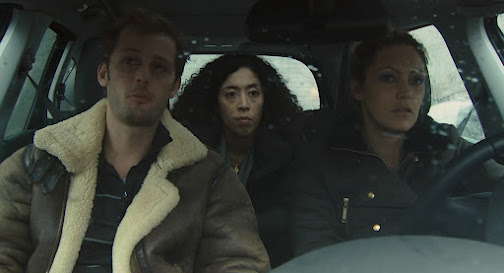 46: Polisse
Directed by Maïwenn
Written by Maïwenn & Emmanuelle Bercot
It's in the great tradition of the French to deliver such complex, multi-nuanced, informative and provocative examinations of big city crime. From directors such as Jean-Pierre Melville, Henri-Georges Clouzot and Jean-Luc Godard to more recent films like Un Prophète, Polisse can be added to the list. The film won the Jury Prize at the 2011 Cannes Film Festival and was nominated for thirteen César Awards – an impressive leap for filmmaker-star Maiwenn, directing only her third feature. Like a whole season of The Wire distilled into a single two-hour-plus film, Polisse successfully takes on troubling topics and examines the lives of those who fight to protect the defenseless. This is a solid crime drama with a touch of humour and humanity that despite its frenzied structure, never loses focus of the harsh realities at its core. Very much like David Simon's Baltimore-set HBO series, Polisse shows the growing effect on the officers from having to deal with one horrible case after another, day in, day out – not to mention how it affects their private lives… (read the full review)
45: Laurence Anyways
Directed by Xavier Dolan
Screenplay by Xavier Dolan
Xavier Dolan reveals a romantic, albeit tragic side, in Laurence Anyways, a highly unconventional romance that shows the young filmmaker has matured since his sophomore effort, Les Amours Imaginaire. Putting aside the last hour of the pic, a gargantuan mess that stretches what seems like a lifetime – the first 90 minutes is by far his best work yet, proving that confidence and ambition are not something Dolan lacks.
Dolan's imagery and dialogue is strong, with a soundtrack of handpicked 80's and 90's hits that service many of the film's best moments: A party sequence set to "Fade to Grey" and the opening sequence set to Fever Ray's "If I Had A Heart" quickly come to mind as standout moments. Even when the story is at times undercooked or overstuffed, Dolan frames almost every scene with such beauty, its like taking a tour through a modern art museum. Be it the lavish costumes or rich interiors, the heavy rain pouring on the city's streets or the clothes falling from the sky, every frame is carefully calculated to painstaking perfection.
But the reason to see Laurence Anyways is simply for the superb performances from Melvil Poupaud and Suzanne Clement, who share such incredible onscreen chemistry, they alone justify sticking through the insane running time. In perhaps the pic's best scene, Clement shines in a powerful, hysterical outburst when a small town waitress pokes her nose where it doesn't belong. It is moments like these that inform us Dolan may be far from making a masterpiece, but is very much capable.
44: 21 Jump Street
Directed by Phil Lord and Chris Miller
Screenplay by Michael Bacall
21 Jump Street is both a buddy-cop-action-comedy and a smart, affectionate satire of '80s nostalgia as well as teen movie tropes. This nonstop raunchy verbal riff is one of those rare comedies that's funny throughout, and quite possibly the best since last year's Bridesmaids. The unlikely pairing of Jonah Hill and Channing Tatum is what elevates the film to such praise. The two have excellent chemistry and play off the bromance angle better and sweeter than any previous pairing of Apatow leads. This is formula-driven entertainment at its best simply because the filmmakers Lord and Miller are always fully self aware, while cleverly making clear their affections for cinema of yesterday.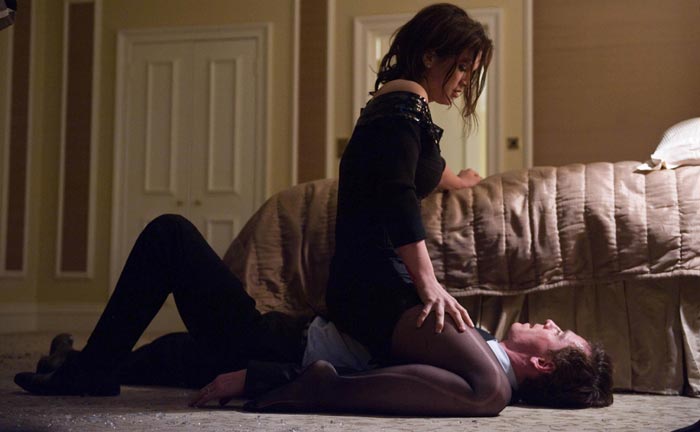 43: Haywire
Directed by Steven Soderbergh
Screenplay by Lem Dobbs
2012, USA
At it's roots, Haywire is the sort of low-budget, straight-to-video action thriller that airs on late-night basic cable. Make no mistake about it, Steven Soderbergh purposely keeps the picture true to its low-rent B-movie principles, right down to the strong heroine at its center. On paper, Haywrire sounds like your sort of run of the mill spy thriller, but several things elevate the film to well-above-average. Screenwriter Lem Dobbs who previously penned Dark City, The Limey and Kapka, is an accomplished enough storyteller, but here, he strips down the plot to an old-school, thrill-a-minute, striaghtforward, lean, globetrotting Spy Thriller. Haywire isn't a by-the-numbers action vehicle, this is a fast, crafty and spare thriller, with a sharp cast, and Steven Soderbergh's unmistakably sly direction.
Soderbergh has a knack for being inventive without showing off, and Haywire is a prime example. The credit is all on Soderbergh's shoulders since he acts as cinematographer, director and editor for his film. Haywire's defining characteristic is its look. The selection of shots are random and varied but he opts for simple images. The fight scenes are music free and the use of ambient sound only heightens the drama and tension. And in between, we are treated to David Gross's funk cool jazzy score which only helps to enhance the vintage feel. Shooting digitally on the 4K Red One camera, Soderbergh gives Haywire a visually sophisticated look, with tonal palettes color-coded to help make sense of time and place. Although some of the director's choices seem to be without rhyme or reason, others accomplish a specific goal. Soderbergh picks his angles artfully and allows Gina Carano, the amazonian brunette, to demonstrate her arsenal of acrobatic fighting tricks in extended, no-cheating, cleanly choreographed hand-to-hand fighting. Haywire is a bit like the Bourne movies, only stripped down with a UFC twist.
42: Headhunters (Hodejegerne)
Directed by Morten Tyldum
Screenplay by Lars Gudmestad and Ulf Ryberg
What starts out as a seemingly conventional heist film quickly changes into something that's anything but. Headhunters is sleek, provocative and relentless, a cat-and-mouse thriller complete with bizarre twists and a dark sense of humour. If you are looking for a good caper flick than this is your ticket. The unpredictability of the plot, Hitchcockian cinematography, well-orchestrated chase sequences and bloody shootouts make Headhunters far better than most Hollywood thrillers released these days. This is a genre movie that wants to do more than just entertain; a brutal, cutting corporate satire that at times plays like the best of the Coen Brothers.
41: Paranorman
Directed by Chris Butler and Sam Fell
Written by Chris Butler
Following on their success with the groundbreaking Academy Award-nominated Coraline, comes Paranorman, a savvy, intelligent, well-crafted animated horror comedy for the entire family. Fans of the genre cinema will get a real kick out of the referecnes to our favourite horror films from the past, but Paranorman excels is reminding us of the true horrors of adolescences. Much like Coraline, Paranorman focuses on an outcast finding solace in a parallel world.This new 3D stop-motion comedy thriller from LAIKA is truly uplifting and and insightful.
40: The Imposter
Directed Bart Layton
There are two sides to every lie: The Imposter is a mixture of documentary, mystery and crime-thriller, which recounts an astonishing true story about a missing teenager who mysteriously resurfaces after nearly four years. Those not already familiar with the story, will walk out of The Imposter shaking their heads in disbelief. Truth be told, as a documentary, The Imposter fails with it's poor dramatic re-creations and lazy journalistic investigations into the events which unfolded. However, The Imposter works extremely well as a genre film, a mesmerizing con-artist-black-comedy – a whodunnit mystery and a film that gets more outrageous and bizarre with every new revelation.
39: The Avengers
Directed by Joss Whedon
Screenplay by Joss Whedon
Ultimately, it all comes back to director/writer Joss Whedon, whose funny and well constructed script not only perfectly captures the spirit and essence of the comic, but also never forgets its heroes' humanity amidst the action powered set pieces. His clear vision for each character elevates the chemistry between the principle leads, notably Tony Stark and Bruce Banner, while still finding enough screen time for the supporting players to shine, both in dialogue and action. Despite the nearly two and a half hour running time, the film moves at a brisk pace, and even more surprising is Whedon's knack for action choreography. The Avengers comes complete with impressive battle scenes including one long take through the streets and skylines of New York City. Bottom line: Whedon's obvious love for The Avengers and fandom makes for a superhero epic that's packed with enough entertainment, one could forgive its lack of social commentary and minor plot holes.
38: Antiviral
Directed by Brandon Cronenberg
Written by Brandon Cronenberg
In Brandon Cronenberg's directorial debut, two competing companies in the thriving field of celebrity disease transfusions, make it their business to harvest viruses from famous people and infect customers with clones of that virus – so that they have, in essence, fallen ill from their favourite celebrity. If that wasn't enough to send shivers down your spine, there's also a black market for meat formed out of cloned celebrity muscle cells.
Antiviral is a satire of celebrity fandom – a cold and clinical look at our consumerism – modern technology – and the stuff that is making us a little less human.
37: 5 Broken Cameras
Emad Burnat and Guy Davidi
5 Broken Cameras is a cinematic achievement, a homemade movie and an extraordinary work of political activism. Co-directed by Palestinian Emad Burnat and Israeli Guy Davidi, the film is a first-hand account of non-violent resistance in Bil'in, a West Bank village threatened by encroaching Israeli settlements. It follows one family's evolution over five years of turmoil, and was shot almost entirely by the Palestinian farmer Burnat, who later gave the footage to Davidi to edit into a feature. 5 Broken Cameras presents a case of injustice on a massive scale and is a touching and telling piece of filmmaking. Regardless if it is one-sided, the film works as a fine example of how the camera has the power to become a weapon against oppression. As a result, the film works as a powerful personal testimony and direct experience of what it's like to be on the receiving end of oppression. 5 Broken Cameras is a tough watch, but when the credits roll, the message felt is one of optimism.
36: The Intouchables
Directed by Olivier Nakache and Eric Toledano
Screenplay by Olivier Nakache and Eric Toledano
France, 2012
The Intouchables finally had a North American release after breaking box office records in its native France and across Europe last year. This irreverent, uplifting odd-couple-buddy-comedy about trust and human possibility, is based on a true story of friendship between a handicap millionaire (Francois Cluzet) and his street smart ex-con caretaker (Omar Sy). The film will make you cry, laugh and gasp whether you want it to or not thanks to its strong cast and remarkably sensitive direction. Omar Sy and François Cluzet are superb in their roles making this another unexpected crowd-pleaser of 2012.
35: The Comedy
Directed by Rick Alverson
Written by Rick Alverson and Robert Donne
The Comedy is a strange bird, a comedy of discomfort in which terrible people say and do deplorable things to one another – even worse, they are all Hipsters. Never before, have I spent 90 minutes with characters I despise and walked away feeling rewarded. The title describes not the film but the main character's life, which he lives out as a of meta satire of life itself. This is a character portrait of a narcissist and nihilist; one of those great movies that is difficult to enjoy, but I guarantee will find a cult following in decades to come. The Comedy scores bonus points for its unwillingness to pander to audience needs and for compiling the best soundtrack of 2012.
34: The Color Wheel
Directed by Alex Ross Perry
Written by Carlen Altman and Alex Ross Perry
Alex Ross Perry's The Color Wheel looks, feels and sounds like an independent American hit of the 90's film fest circuit. This black and white post-mumblecore road trip through dark comic territory begins as a funny road comedy and ends with an unexpected twist of events. Recommended for fans of Richard Linklater, Lynn Shelton and the Duplass brothers.
33: Oslo, August 31st
Directed by Joachim Trier
Written by Joachim Trier
One of the most depressing films featured on this list, Oslo, August 31st is a bleak emotional character study of a drug addict confronting his demons. This is an absolutely moving and devastating film and one the will break your heart.
32: Django Unchained
Directed by Quentin Tarantino
Written by Quentin Tarantino
As he did with Inglourious Basterds, Tarantino revisits American history in Django Unchained. Through the filter of sixties spaghetti Westerns and blaxploitation films he incorporates every trope, cliche, stereotype, and stock convention found in films about plantation slavery. Put aside issues of pacing and Django Unchained is bold, inventive and a one of kind. Tarantino's witty dialogue, which has become a hallmark of his work, is found here in spades – Unchained offers big laughs and visceral pleasures aplenty. Robert Richardson's cinematography is lush, clear, and evocative and Tarantino's staging of gun-smoke-shootouts is masterfully executed. Samuel L. Jackson steals the show with his house-slave Stephen. Thishateful Uncle Tom figure – a self-race-hated black man who encourages black on black crime, is the greatest character the actor-director team have yet created. His scenes alone are worth the price of admission.
31: The Hunger Games
Directed by Gary Ross
Screenplay by Gary Ross, Suzanne Collins and Billy Ray
This is a highly ambitious, grounded, intelligent, intriguing, thoughtful, emotionally gratifying blockbuster, which doesn't pander or speak down to its primary target audience – how refreshing is that? Director Gary Ross (Pleasantville, Seabiscuit) doesn't play by the typical rules of franchise building and abandons a glossy, romanticized mainstream feel opting instead for stark emotional realism. Ross is more concerned with the human element of the story, rather than the spectacle, Hunger Games features a compelling central character and a strong narrative structure, replete with sharp observations about the politics of democracy, authoritarianism and the various dangers of fascism.
30: Beyond The Black Rainbow
Directed by Panos Cosmatos
Written by Panos Cosmatos
Director Panos Cosmatos pays homage to sci-fi films of the 70′s and 80′s with his first feature Beyond The Black Rainbow, a melting pot rich in bold images and thick in retro atmosphere. While many claim Cosmatos exhibits a Kubrikian influence, Rainbow is best described as follows: a Richard Stanley piece on acid, with a dash of THX 1138, echoes of Solaris, the iconography of Luis Buñuel and Kenneth Anger – the music of John Carpenter, the provocative visions of Dario Argento and David Cronenberg, and a narrative structure reminiscent of David Lynch and Ken Russell. Yet despite its cinematic influences, Cosmatos produces something that has a distinct character all its own. Describing what the film is about is a tough task, but it can be said that Black Rainbow explores notions of inter-dimensional time travel and control, both psychological and physical.
29: Bullhead
Written by Michael R. Roskam
Directed by Michael R. Roskam
Writer/director Michaël Roskam delivers an assured directorial debut in Bulhead, a disturbingly visceral art-house drama that ably blends elements from other genres. While punctuated with moments of austere dark humour, Bullhead ranks as one of the most original crime pics in recent memory – one which is light on crime but heavy on drama, blending thriller elements into what amounts to a character study. This emotionally driven tale of revenge, redemption and fate is morally complex and constantly surprising, shattering the myths of brute machismo by way of its central standout performance in actor Matthias Schoenaerts… (read the full review)
28: The Hobbit: An Unexpected Journey
Directed by Peter Jackson
Written by Philippa Boyens and Fran Walsh
On the narrative front, The Hobbit is a story originally meant for children and so it seems Peter Jackson sought out to make a kids movie. The narrative is straight forward, there is far more humour, and the tone is not as dark as the original trilogy. Thus the biggest challenge faced by Jackson was to address the tonal shift. Clearly it didn't work for some, as many LOTR's enthusiasts were greatly disappointed. However I found myself glued to my seat from start to finish. The settings are gorgeous and the effects are spectacular. Jackson continues to showoff his skill with elaborate action scenes, piling on battle after battle and mini-quests within bigger quests. The man knows how to stage epic fantasy battles like no one else. But for my money, the picture is saved by Martin Freeman's perfect performance. I can't think of anyone else who is better suited to play the younger Bilbo.
27: The Grey
Directed by Joe Carnahan
Screenplay by Joe Carnahan
USA
Writer/director Joe Carnahan adapts the short story Ghost Walkers by Ian Mackenzie Jeffers to deliver his best film yet. The Grey is a welcome surprise – a man vs. nature epic/survivalist thriller that's quiet, contemplative, and straightforward. There's an almost poetic quality to the way things develop, with characters becoming increasingly introspective. You don't expect poetry in what is marketed as an action film, but The Grey delivers it in spades literally and metaphorically. For all its machismo speeches and standoffs, The Grey is at heart a simple moral fable.
At nearly age 60, Liam Neeson lights up the screen as Ottway, proving to be one of the few magnetic action heroes left working in Hollywood. The Grey alsooffers us three great moments: The initial meeting with the wolves works incredibly well as the director gradually reveals several sets of gleaming eyes peering through the darkness like headlights. The second: one of the most realistic and frightening air crashes ever committed to celluloid and the third: an extraordinary scene early on in which, just after the crash, Neeson's character encourages a dying man to let go and accept his fate.
The Grey's abrupt cut-to-black ending will anger some viewers but in retrospect, it allows us to recognize how things would realistically play out while also giving us some form of hope, the same hope that impels the characters through their journey.
26: Amour
Directed by Michael Haneke
Written by Michael Haneke
Confronting death, director Michael Haneke studies life closely in what is his most intimate film yet. Amour relates the tragic final months between an elderly married couple, as a husband cares for his increasingly irritable wife. Winner of the Palme d'Or at this year's Cannes Film Festival, Amour is an honest and heart-wrenching depiction of love in old age – powered by two of the best performances of 2012.
[button align="right" color="red" caption="PART TWO / NEXT" link="http://www.popoptiq.com/ricky-ds-50-favourite-films-of-2012-part-two/"]
[wpchatai]