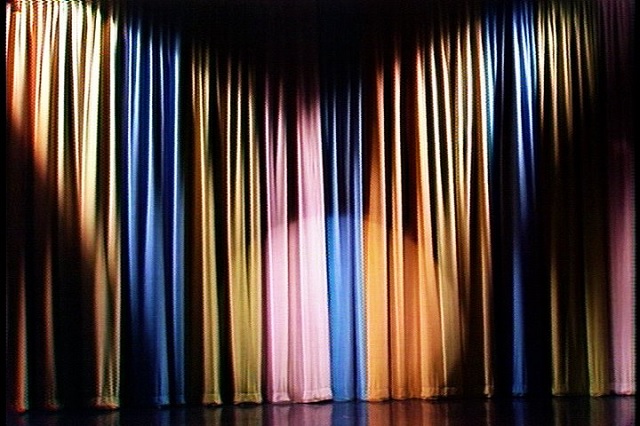 Real comedy still happens on late night, we can prove it. If you like Conan comedy gold, Fallon friendliness, cutesy Corden, list-making Letterman, kneedy Kimmel, and all the rest, I hope you'll enjoy this column too.
Last night on late night, Martin Short and Cher horsed around with Dave, Anna Wintour put Seth Meyers to work, Conan talked with Nick Swardson and Helen Hunt, Dana Carvey showed up on The Late Late Show, and Kimmel got the Adam Levine treatment.
Late Show with David Letterman
Late Show continues its streak of amazing shows as Dave officially puts in his "two week notice".
Martin Short, one of Letterman's best and most frequent quests, tells amazing stories. This one, about having to follow Tony Bennett as a young "boy singer" in 1974, is absolutely hilarious.
Late Show posts highlights from the monologue, which is nice, as most shows don't. Dave's monologue from last night is delivered with genuine energy. Although we lament Dave's leaving and celebrate his many great years, it is also probably true that his decision to retire has made the past few months' shows really great. There's a renewed energy and wit that had maybe started to slip away in recent years.
Last night featured a replay of a classic bit, Fun with Car Phone, in which Dave is mostly calling the city to report that traffic is just fine. Keep an ear out for exasperated but clearly amused phone operators.
Marty sings a song he planned for Dave's funeral, picking up where Nathan Lane left off.
"It's important I pay tribute in the only way performers do…by making it about me".
"Dave has skipped his last rehearsal/he won't be back after the next commercial".
"He lived through dog attacks and/ Jack Hanna's Cobra/ somehow the guy survived a feud with Oprah".
"It's the end, my pretend show biz friend".
I realize this post is like 60% Letterman, but he's retiring soon, and his show last night was awesome.
To conclude, Cher.
---
Conan
Comedian Nick Swardson has a new standup special, Nick Swardson: Taste It, coming out on Comedy Central, on May 30.
Nick Swardson was a "shifty" high school student, got expelled four times, and was escorted out of school in cuffs.
Side note: All the late night shows that post to YouTube have the "call to action" bit at the end with the host. On The Tonight Show, Fallon asks for subscribers and talks about not wanting animated ducks in his hands, but this Conan closer/"call to action" is particularly funny.
Now in creative control, Helen Hunt turns the old creepy Hollywood dynamic on its much sexier head and makes out with Luke Wilson in her new movie Ride.
---
The Tonight Show Starring Jimmy Fallon
Kerry Washington says the finale of Scandal season four is so explosive, she doesn't know how there'll be a season five.
Jesse Tyler Ferguson will be in The Tempest this summer in New York's Shakespeare in the Park.
Stanley Cup Superlatives is included only because of the 2-3 minute riff on "Carl".
Jesse talked about his weirdest role, playing Sally Hemings' child in a CBS miniseries called Sally Hemings: An American Scandal. Sally Hemings, of course, was an African American slave owned by Thomas Jefferson, with whom Jefferson had children.
"Lip Flip" segment was not the best.
---
Late Night with Seth Meyers
Anna Wintour is on the show, and she's a riot.
Pretty much everything on Late Night went well last night, including this bit explaining teen slang. Seriously, its good.
Mustn't-stache.
This bit with Anna Wintour totally works. "Is it funnier if Abraham Lincoln is driving a Lincoln? — Of course its funnier".
The European fashion houses can go shove it, Anna Wintour loves Kanye West.
Wintour says Kanye "likes to talk about anything", "like Karl Lagerfeld, he's brilliant".
Anna also did a fashion review of the/her most recent Met Gala, themed "Chinese White Tie".
---
Jimmy Kimmel Live!
Finger of Shame, more like Segment of Lame! Just kidding, but I didn't love it.
Adam Levine is on the show. He has fan interactions.
More importantly, Jimmy sits down with this woman in a wheelchair who won a treadmill on The Price is Right.
---
The Late Late Show with James Corden
Corden has Dana Carvey on the show and tending the bar as Michael Caine.
Elizabeth Olsen talks about not quite becoming friends with Taylor Swift.
Dana Carvey got a back rub from Paul McCartney at SNL 40.
---
The Daily Show with Jon Stewart
Jon talks with US Secretary of Energy Ernest Moniz about "getting it right" with the landmark US nuclear deal with Iran.
[wpchatai]