Life Partners
Written by Susanna Fogel and Joni Lefkowitz
Directed by: Susanna Fogel
USA, 2014
Long-term friendships are probably the most treasured definition of a kind of ideal relationship that an individual could ever develop in their lives. This is certainly so for late twenty-somethings Sasha and Paige, the perky protagonists in director Susanna Fogel's spry, down-to-earth dramedy Life Partners. Charming, quirky and breezily spirited, Fogel presents a chippy but honest character study of female empowerment that is certainly infectious and relatable. Life Partners is a precise look at the subtle anxieties of growing up and possibly growing apart relating to contemporary womanhood.
Fogel establishes a clear cut blueprint for long-time best buddies Sasha (Leighton Meester) and Paige (Gillian Jacobs) whose closeness and continued bonding are puzzling given the fact that they are opposite souls with different philosophies on life. In essence, they are the feminine version of The Odd Couple minus the constant clashing and hygiene fussiness. It is evident that Sasha (the lesbian) and Paige (the heterosexual) are more like sisters than anything else. In any event, Fogel does a terrific job of setting up the tandem's personalities on both a personal and professional level so we can experience the contrast in their lifestyles. The concept is rather cute and convincing as these curvy cohorts depend on each other and stick together as they share in such things as attending gay pride parades or cuddling up for an evening of TV watching. However, Sasha and Paige do have one element that they both hope to rectify–finding true love interests that can rescue them from their occasional dating nightmares.
Both 29-year old Sasha and Paige are facing the realities of transition in their lives as both are knocking on the door of "old age" at 30. When these women are not kidding around with one another (playfully referring to each other as "bitches") or recalling the awful dates they went on the evening before they could be seen hanging around with a couple of Sasha's lesbians pals in the two "Jennifers" ("Precious" Oscar nominee Gabourey Sidibe as Jen and Beth Dover as Jenn).
For the glib Sasha, she is in her "I am a starving artist" stage and has not settled down completely as she attempts to supplement her income by working a temp job as an entry level receptionist at Grossman Properties…an employer whom she is bored working for daily from 9-to-5. Sasha is an aspiring musician and had gone to music schools only to not realize her dream as a gifted paid performer on stage. Shamefully, she still relies on her parents to fund her for rent and other financial considerations and she barely makes ends meet and insists on hopping from one Mickey Mouse position to another. Sasha does not want to get serious and concentrate on one steady job but instead stubbornly leave her options open in case she gets her musical breakthrough.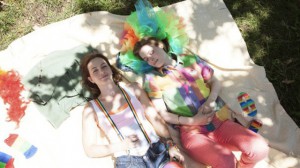 As for the uptight Paige, she is an overachieving young attorney with more stability going for her. Whereas Sasha is more flaky and indecisive in what she wanted to do with her employment prospects Paige kept on the straight-and-narrow path to success in landing a white-collar profession in law. Paige is traditional and played it safe and sound in her pursuit of a stable career that pays substantial dividends. We get a glimpse of Paige's somewhat icy and dismissive exterior when she accidentally bumps the parked car of her married neighbor Casey (Mark Feuerstein) who cannot understand why Paige just does not own her mistake of denting his vehicle and taking proper responsibility. Paige is affable but can get quite wound up at times.
As both women compare notes regarding their off-kilter hook-ups, Paige surprisingly tolerates the straight-laced yet geeky Tim (Adam Brody). Soon, she finds Tim rather fascinating and they hit is off to the point Paige slips and uses the "L" word on him (as in "love"). In the meantime, Sasha is saddled with a few off-balance dates including a butch-like blonde gal named Trace and later on a pretentious and opinionated stiff-lipped Vanessa (both played by "Saturday Night Live" alums Kate McKinnon and Abby Elliott). However, the overnight camping trip spells marital magic for Paige as Tim pops the question and asks for her hand in an unconventional manner for which Paige gleefully accepts.
Enthusiastically, Paige informs Sasha about her engagement to Tim. Somehow, things start changing gradually for the best friends as a rolling rock down a hillside effect takes place. First, Paige's spare time with Tim interferes with the leisurely get-together that she normally has with Sasha. Secondly, Paige is not too thrilled with Sasha's new lover in snooty Vanessa. Sasha realizes Paige's slight distaste for Vanessa and gets defensive about her choice of a love interest being suitable for her because "Vanessa is free spirit and is not bound by a specific goal and marches to the beat of her own drum". Later on, the tension between the close knit gal pals reaches new proportions when Paige tries to set up her lesbian co-worker Angelica with Sasha at a backyard cookout…something that Sasha was not too receptive to partake in. Finally, Paige and Sasha air out their dissatisfaction with one another as they question their differences within the friendship. The results are not so appealing as Sasha and Paige decide to not speak to one another.
In addition to irritating each other, the women have pending issues with other distractions. Sasha's ineptitude at Grossman Properties cost her the receptionist job that led to her firing. Also, Sasha has lost her lesbian love interest Vanessa to a man. To make matters worse Jenn is upset that Sasha played footsies with one of her former lovers. And the pressure is on when Casey sues Paige for car damages as Tim wonders why Paige just did not pay this guy off in the first place. Naturally Tim questioning Paige's mishandling of the Casey car incident has her ticked at him. The question remains: can Sasha and Paige ever get back to when things were not so hostile between them?
Life Partners exudes with twisty complications that are both enlightening and gently heartbreaking. Both Messner and Jacobs are fabulously endearing as the joined-by-the-hip besties coping with love and life lessons while dealing with the high expectations that they maintain for themselves and each other. The supporting cast are a nice revelation particularly Brody as the "man in the middle" and Sidibe as the sideline confidante to Sasha whenever she is not attached to Paige. Elizabeth Ho (as Sasha's bothersome by-the-book workplace nemesis Valerie) and Dover as the flawed Jenn bring the wacky fun to their nagging characterizations.
–Frank Ochieng
[wpchatai]