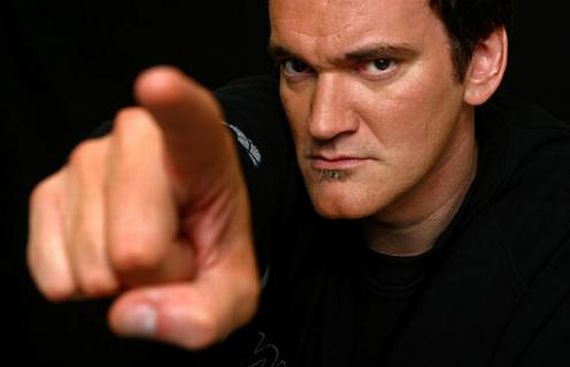 Yesterday, several of Quentin Tarantino's friends gathered in New York for lunch to roast the director in only a way that the Friars Club can. Witnesses say the event was very bizarre and even included Tarantino drinking wine out of Uma Thurman's shoes, satisfying his rumored foot fetish. The star studded event which included Samuel L. Jackson, Uma Thurman, Harvey and Bob Weinstein, Harvey Keitel, Johnny Knoxville, Sarah Silverman, Rosario Dawson, Patricia Arquette and Steve Buscemi isn't scheduled to air anywhere yet, but we managed to scour the internet to compile a list of some of the best jokes.
Comedian Whitney Cummings said that there were so many "white conservatives" in the audience that someone had tried to bid on Samuel L. Jackson during the silent auction. She also joked about Eli Roth's Hostel and Kathy Griffin's plastic surgery, stating: "No matter how much you cut it, it's still horrible."
Filmmaker Eli Roth has this to say to Tarantino:
"It's only fitting, like Pulp Fiction, that I begin my speech with the ending…'However, to Uma, it was just considered foot-rape.'
Comedian Whitney Cummings got Eli Roth back with this one:
All your movies are about torture. If you're so into people getting tortured on camera, you should make a movie about people watching your movies.
Edgar Wright, who was a last minute replacement for Jackie Brown star Pam Grier, commented on his inclusion:
"Of course I'm everybody's first choice to stand in for Pam Grier. You may remember me from Foxy Brown 2: British Fox, or Coffey 2: White Coffey".
Jeffrey Ross said that the name "Tarantino must be an old Italian word for plagiarism", which lead to
"I already roasted better versions of [him] so…You're like Martin Scoreso-so".
Ross later said, "Thank you for making all us movie geeks seem a little cooler. You changed the face of cinema. I just wish cinema would return the favor".
Ross also has this to say to Samuel L. Jackson, in regards to how many roles he takes.
"You really got to start saying the 'N word' more. And the N word' is no".
Sarah Silverman remarked that, "Tarantino turned down the job to direct the film Speed, but that it was
the first time he ever turned down speed".
Director Brett Ratner got in a few shots at the Weinsteins, saying that:
"They build businesses without ever actually paying anyone, other than Oscar voters".
Whitney Cummings, meanwhile, joked: "Quentin, you have ripped off so many directors that when I Googled you for this, it came up with, 'Did you mean Brian De Palma?"
You can see more quotes over at /film or by watching the video below.
[ad#left-side-ad]
–
–