Maus (1991)
Writer: Art Spiegelman
Artist: Art Spiegelman
Published by Pantheon Books
Comics originally got started in strip form.  They were quick reads that, as often as not, had a slight overlapping narrative or at least a reoccurrence of characters.  Found often in newspapers and magazines the limited medium left windows best situated for satirical, comical or political focus.  As everyone well knows the advent of the superhero, derived from the more serialized strips (Tarzan, Dick Tracy, The Green Hornet), birthed a genre so popular that it made possible the sale of a feature magazine where the comic alone was the selling point.  These new "comic books" caught on in the 40's and they and superheros have gone hand and hand pretty much since.  
Those following this weeks Sound on Sight salute to Will Eisner know full well his importance in creating the concept and coining the phrase of the latest and greatest evolution of the funny pages, the graphic novel.  Graphic novel does more than simply sound more sophisticated than comics, it provides artists and illustrators with the best possible medium with which to tell more mature and harrowing stories.  Regardless of anyone's feelings about comics or graphic novels it is simply just a means with which to tell a tale, like film or script or even ballet.  The work is only as good as what the artists choose to put into it and how they utilize both the freedoms and confinements of the respective medium.  With regards to graphic novels it rarely gets more influential nor more personal than Art Spiegelman's acclaimed Maus.
Famous for being the first graphic novel ever to win a Pulitzer Prize it has long been celebrated as one of the finest works in all of comic-dome.  On paper Maus is an artistic retelling of numerous discussions between the author and his father who talks of his days spent during Germany's Holocaust, itself working as a frame story.  In spirit however Maus is more of a personal story of a fractured relationship between father and son.  The more logically interesting story would be of Art's fathers trials during wartime but instead the reader experiences a deeper connection with the modern day characters of Art and his Dad.  Feeling the disconnect and unspoken words between the two it is more inciting reading each page exploring where, if anywhere at all, their relationship is headed.
Utilizing nearly every devise that a graphic illustration has to offer Spiegelman boldly wrote himself and his family into the story, famously masked as anamorphic mice.  This is done to give an honest and deeply personal account of a story but also for strong visual interpretation.  The characters are not talking animals, like so many Disney cartoons, because they are attractive to children but instead are used as a visual illustration of Spiegelman's own disconnect with the events in the story; it also doesn't hurt that it makes the piece stand-out.  The Holocaust, and the greater mystery of his own father, are as foreign from Spiegelman as the reader is from him.  Knowing he can't possibly do a visually accurate depiction, Spiegelman instead resides in a method of storytelling that truly only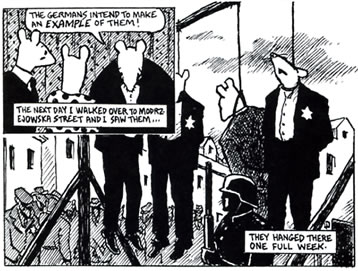 this specific approach can accomplish.  As a regular novel
Maus
would be just like countless others memoirs or depictions of one of the worst events in human history.  
We know the events on page are real but with such an obvious unreal depiction it molds the work into a historically fictionalized biography unlike anything readers have likely experienced before.  
It's a blending of artistic license to make something both personal and factual come off as stylish and genuine.    
Maus's sequel was awarded the Eisner award for Best Graphic Album: Reprint in 1992 and in 1999 Spiegelman was given The Will Eisner Award Hall of Fame honors.  Today the graphic novel is one of the crown jewels of cartoonists and represents the very best of everything that Eisner strived to create.
– Matthew Younker