Nikita, Season 3, Episode 7: "Intersection"
Written by Michael Brandon Guercio
Directed by Dwight Little
Airs Fridays at 8pm (ET) on the CW
With Amanda now identified as the overarching threat to both Nikita and Division, and some leeway finally gained from the US government, it would logically follow that the efforts of the team, and Division as a whole, would focus on apprehending their former trainer, dead or alive. This, of course, is easier said than done, as Amanda has proven both that her ruthlessness has not diminished, and that she still has plenty of resources to fight whatever comes her way, particularly by reactivating the kill chip embedded in Sonya. How Nikita and company would thus choose to go after Amanda was a big point going forward, and this episode delivers on that storyline in spades, proving that the writers are not afraid of briskly advancing plotlines or shaking up the status quo.
Chat Box - Go ahead, make my day and ask me questions about movies and TV shows...
It was great to see the show acknowledge and deal with Amanda's sources of information and intel. Many shows are content with letting the villain be an almost supernatural force, but Nikita has smartly avoided that pitfall, despite the way Amanda has been built up on this show. Addressing how Amanda got all the pictures that she does have of Nikita and her close group is a great way to introduce a new agent without retconning the season to date. The season has also been great at not making Amanda and Ari an unstoppable force, as every time Nikita has come up against her, they have chipped away a bit more at her capabilities and defences. From gaining the cryptograph to thwarting Ari's sale, Division has dealt a blow at every encounter, and this episode left Amanda at her weakest, with both moles at Division neutralised, the Watchman captured, and Amanda's personal enforcer Ann killed at Nikita's hands. It will be interesting to watch how Amanda recovers from this, as all her immediate resources seem to have been cut off, yet her desire for vengeance against Nikita remains, and she's never fully out of the game, as previous seasons have shown.
It was also nice to see Alex's budding addiction relapse come to the attention of the other members of the group. Alex's overall arc this season has been fascinating to watch; for the first season and a half, she had a single-minded focus of avenging her father's death, first by going after Percy and Division, then by going after Semak. After she wrestled control of her father's company away from Ari, she almost immediately went to help Nikita take down Division once again, but this season is the first time she's had a concrete choice to make as to what the future will hold for her. It makes perfect sense that the character would flounder now, as this is the first time she's really been able to process that Semak's death means her life's work is done. There's a lot of potential in the idea of sidelining Alex while she recovers from her new addiction, as she could provide internal backup to Birkhoff, as she did this episode, or even work towards becoming Ryan Fletcher's immediate deputy. The possibility that Owen, who knows a few things about being addicted, shows up to help her get through any potential withdrawals is still present as well.
Of course, no discussion of this episode would be complete without mentioning the final two minutes, particularly Michael and the loss of his hand. The action was unexpected right up until Nikita began eyeing the knife, yet it was entirely understandable and plausible in hindsight. The loss of Michael's hand, however, is a major game changer for the show, as Michael is one of the top agents of Division right now, and a recognised force when fighting. Missing a hand is bound to alter that, primarily from a shooting perspective, and could easily hinder Michael's ability to fight as well, which severely affects any mission from here on out. This action is also not something that can be easily reversed, and credit goes to the show for taking such an action with a character as vital to the overall narrative as Michael, and thus providing the clearest example that the major conflicts on this show are never casualty-free, much to its credit. This action certainly alters how the story can progress from here, and how things change as a result is definitely worth looking out for.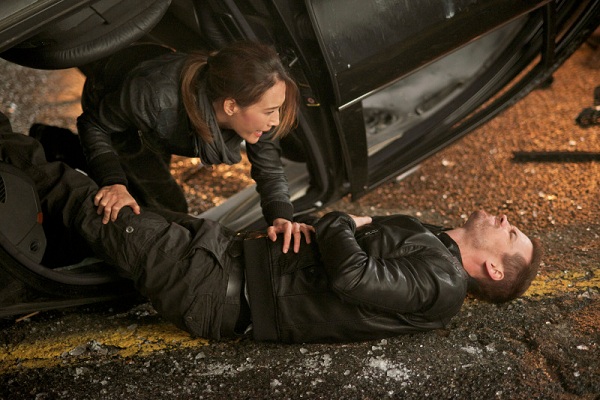 Overall, this was another solidly paced episode, and one that continues the show's excellent pacing. Having Sonya's kill chip get deactivated has the potential to increase her importance to the show, as now both her and Birkhoff have a personal stake in seeing Amanda get taken down, and with both of them being brilliant techs, they can do a lot of damage working together in this manner. How Amanda chooses to rebuild her attempts at destroying Nikita is also something to keep an eye on, particularly as Ari has shown that he's less than receptive to the overall endeavour, and might take this opportunity to wean Amanda away from the idea altogether. The show has lost none of its intensity from the second season, despite a few hiatuses, and how these plotlines progress is worth tuning in for next week.
– Deepayan Sengupta