Sure, there have been countless articles detailing the debonair men that portrayed the world's most famous superspy in Ian Fleming's creation of Agent 007 (a.k.a James Bond). And of course there have been many debates arguing who is considered the best Bond of them all (yes…I concur with the majority of the Sean Connery census that he is the ideal licensed to kill Lothario of them all). Plus, the listing of who's the better Bond from top to bottom is always a lively discussion among Agent 007 aficionados.
Well, here is one more list to join the fray in terms of examining the actors that carried the action-packed load in bringing Fleming's dashing Danger Man into the forefront of adventure, mystery, travel and romance. In Of Human "Bond"-age: Top Ten Actors That Had Played James Bond we will take a look at the actors that had played James Bond in cinema, TV and radio while determining the order of their importance and impact as the adventurous Agent 007. Feel free to argue with the results and determine your own order of Bond besties from a scale of 1-10 (1 being the best/10 being the lowest). Moviegoers had five-plus decades of appreciating the iconic pop cultural movement of James Bond so it is natural to gravitate to the actor that best signifies the skillful skin of the "martini-swilling shaken but not stirred" British operative.
The selections (in order of the "best" Bond portrayals) for Of Human "Bond"-age: Top Ten Actors That Had Played James Bond is:
1.) Sean Connery
BOND appearances: Dr. No, From Russia with Love, Thunderball, You Only Live Twice, Diamonds Are Forever, Never Say Never Again
Sean Connery was the quintessential James Bond…hands down. Nobody had that effortless impish appeal that the former Scottish male model brought to the role as the cunning Agent 007. Connery was as cool as ice and was the ideal poster boy spy for the background opulence of exotic locales/scenery, curvaceous cuties to bed down and the constant thorn in the side of the international baddies wanting to destroy civilization as we know it. When Connery stepped down as James Bond to pursue other acting challenges (resulting in him winning an Academy Award for his supporting performance in The Untouchables for instance) we desperately missed him and the other actors that took on the legendary role had no choice but to be compared to the man that embodied Fleming's resilient superspy. Thankfully the aged Connery returned for his last run as Bond in 1983's Never Say Never Again as that was a nostalgic moment for Bond fans around the world to rejoice. Even in a wheelchair and spotting some grayish baldness Sean Connery would still be smooth enough to fit into the shifty shoes of the heralded big screen spy he made famous back in the turbulent 60's and beyond.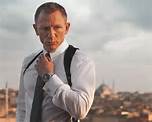 2.) Daniel Craig
BOND appearances: Casino Royale, Quantum of Solace, Skyfall, Spectre
The criticisms were harsh about first casting the unknown Daniel Craig as the calculating James Bond. After all, Craig did not fit the expected profile of the suitable secret agent. He was short and blonde. He did not fit the polished "pretty boy" mode of the other tall dark-haired actors that played the charismatic Bond. Yet the workman-like angst of Craig proved the detractors wrong when his 2006 debut in Casino Royale proved them all wrong. Craig's Bond was earthy, ragged and stoic…a welcomed change to the other portrayals of Agent 007 as a sophisticated playboy with designing gadgets and the occasional witty one-liners. One gets the sense of Craig's committed devotion to rounding out his Bond with a resourceful combination of blue-collar no nonsense mixed with angst-ridden baggage. Still, Craig's Bond is captivating in that he seems intense and uptight…an Agent 007 that suffers from a Napoleon complex but has the giant-sized gusto to back up his strides as the bold British operative out on a mission. Daniel Craig may very fact be the prominent actor that has the best acting grasp on the superspy's complex consciousness.
3.) Pierce Brosnan
BOND appearances: Goldeneye, Tomorrow Never Dies, The World is Not Enough, Die Another Day
For some reason Pierce Brosnan does not seem to get enough credit during his 4-movie commitment to the Bond film franchise. Maybe because his work on NBC-TV's Remington Steele in the mid-80's was a small screen version of the James Bond he would come to finally play in the 90's. Brosnan had to wait a bit to get his golden chance to place his elegant take on the iconic Bond and it paid off in spades. Dapper and determined, Brosnan's Bond was quietly dynamic and his high level of sophistication matched the brilliant British superspy's sensibilities perfectly. Some accused Brosnan's Bond as being stiff and safe-minded. Whatever. But Brosnan rose to the occasion and made Bond the metro-sexual risk-taker that the guys wanted to be so anxiously and that the gals craved with their off-the-chart hormones. Remington Steele who?
4.) Roger Moore
BOND appearances: Live and Let Die, The Man with the Golden Gun, The Spy Who Loved Me, Moonraker, For Your Eyes Only, Octopussy, A View to a Kill
There is nobody, other than Sean Connery of course, that is closely identified with the crafty James Bond image as is the suave Roger Moore. Moore has had the relatable experience of playing intriguing and engaging men of mystery on television in shows such as The Saint and The Persuaders. So having Moore get into the mindset of 007 was not too much of a stretch for the Bond handlers that wanted his acting services. In fact, Moore has played Bond in more films than anyone else. Moore's approach to Bond was action-oriented and gently comical. And a lot of his Bond flicks seemed relentlessly gimmicky (Moonraker anyone?). Still, Moore was steady and self-deprecating in what he brought to the table as the highly decorated British superspy out to love the ladies and protect the world from the sinister characters that lurk. Roger Moore made for a compelling, quirky Bond in the 70's and 80's.
5.) David Niven
BOND appearance: Casino Royale
The late distinguished actor David Niven screams volumes of Bond-ish appeal, grace and chicanery. Niven certainly displayed these qualities in the wacky Bond spoof Casino Royale from 1967. So why is Niven ranked in the top five over the likes of such established Bond brands as Timothy Dalton or even George Lazenby for that matter? Well, one has to believe if Niven got the chance to play Bond straight and incorporate his on-screen regal charisma to the role of Agent 007 then he could have brought a whole new dimension to Fleming's sensational spy. Niven was essentially a "retired" Bond taking on the role of overseer for other agents he christens "Bond" to throw off his finicky foes. Niven's mature James Bond–played for dramatic suspense–could have been a change of pace in the psychology of a maturing superspy thwarting the deadly antics of his diabolical enemies. A more serious-minded Casino Royale could have done wonders for Niven's inclusion into being one of the more involving and character-driven James Bonds from a prim and proper perspective. One can dream, right?
6.) Timothy Dalton
BOND appearances: The Living Daylights, Licence to Kill
It is a crying shame that respected Welsh stage and screen actor Timothy Dalton did not have a decent chance to elevate his brief late 80's interpretation of James Bond beyond two entry 007 flicks in 1987's The Living Daylights and 1989's License to Kill. Dalton's Bond was more theatrical and a deep-thinker in excitement and social confrontations. Next to Daniel Craig it appears that Dalton's handle on Bond was more complex and cerebral as he took no prisoners in the way he handled his high-wire escapades. Dalton deserved better and had the potential to take James Bond to newer psychological heights. In the universe of Bond the classical-trained Dalton certainly is not deemed down or out for the count in his bid to characterize his brief stint as the illustrious and daring 007.
7.) George Lazenby
BOND appearance: On Her Majesty's Secret Service
What a travesty that Australian male model George Lazenby could not parlay his sole James Bond role beyond one outing in On Her Majesty's Secret Service. Lazenby followed in the highly regarded footsteps of fellow former model Sean Connery after he decided to leave the Bond exploits behind. The undeniably handsome Lazenby's handlers warned him that playing Bond in other entries would "cripple" his career in film. Naturally, Lazenby's ill-advised decision to move forward and never look back after On Her Majesty's Secret Service was foolish and cost Lazenby a lucrative screen legacy enjoyed by the likes of Connery, Moore and others that let James Bond put them on the cinematic map for years to come. Contrary to belief, Lazenby's Bond was not the bland and Connery-inspired "copycat" some made his one-time 007 big screen experience out to be.
8.) Barry Nelson
BOND appearance: Casino Royale ("Climax! Mystery Theater)
So what we have here is one of the most popular James Bond-related trivia questions ever to be asked: who was the first actor to officially play Agent 007? Naturally the tendency is to cite Sean Connery's name with 1962's Dr. No which would be incorrect. The casting of actors to play British Bond over the years was a variety in a nutshell: Scottish, Welsh, Irish and Australian. But an American? And on late 50's television to boot? Well, the honor goes to the late Barry Nelson as star of screen and television. Nelson's 1954 episode on TV's Climax! Mystery Theater was indeed the first evidence of an actor playing Ian Fleming's literary superspy from the inspiration of Casino Royale. Nelson's American Bond was not particularly memorable or ground-breaking but he did have bragging rights to Bond's bravura excellence eight whole years before Connery took his explosive 007 technique to the movies.
9.) Christopher Cazenove
BOND appearance: Omnibus: The British Hero (British television)
If one was fortunate enough to be watching the BBC in the early 1970's they would have discovered an interesting documentary entitled Omnibus: The British Hero devoted to spotlighting novelist Ian Fleming's notable literary works. In the case of Fleming's creation James Bond, actor Christopher Cazenove was more than cooperative in demonstrating some of the perilous Bond entrapments that were showcased in the documentary. Cazenove's "Bond" was basically a prop to promote the illusions of Fleming's imaginative creation of his revered worldwide superspy's jeopardized experiences in cinema. Cazenove's "rental" Bond for the BBC crowd was insightful and informational to boot.
10.) Woody Allen
BOND appearance: Casino Royale
Yes, the running joke in the world of Agent 007 is that the nebbish Woody Allen was in fact James Bond (okay…well, Jimmy Bond) in the nutty 1967 spoof Casino Royale. Of course Allen and all his fellow secret agents were deemed "James Bond" by the retired main James Bond himself (David Niven). And thus to fool the foes that want to create world havoc the legitimate Bond assigns his namesake to all his minion spies including his bespectacled Bond operative as portrayed with intentional comical clumsiness by Allen.
–Frank Ochieng
[wpchatai]