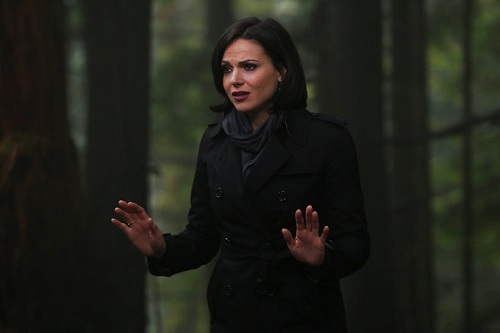 Once Upon A Time, Season 2, Episode 17: "Welcome to Storybrooke"
Written by Edward Kitsis & Adam Horowitz
Directed by David Barrett
Airs Sundays at 8pm (ET) on ABC
"Welcome to Storybrooke" is the title of this week's Once Upon a Time and that's exactly what the writers give us. The episode takes us down several different paths with the past storyline and even brings back some familiar faces, including Jamie Dornan, popping back up to play his role as Sheriff Graham. Dornan was always a delight in the few episodes that he starred in during the first season of Once, so having him back is definitely a treat.
The story's main focus is Regina in both the past and the present day. It shows us how she really felt after she got to Storybrooke- at first happy, but then, with the town basically on repeat, starting to long for something more, eventually placing her focus on the young boy Owen, which made her want a child of her own (enter Henry!). It's nice for the writers to give us an insight into Storybrooke's beginning days and how everyone went about their daily business, even though the repeat from day to day is actually rather creepy.
Other props with the storyline need to be handed to Lana Parrilla. It is nice to see Regina basically back to her old tricks. While Parrilla can make us feel sorry for her and sympathize with her, it's also entertaining to watch her in the full force Evil Queen mode that we know she is capable of. In the past Storybrooke at first Parrilla and the writers make us hate Regina for how happy she is, but as time goes by and she starts to develop something towards Owen and his father, a family of her own, we almost start to feel sorry for her. Parrilla has always been one that is capable of pulling us into Regina's world, making us see her side of the story and this week's edition is no different.
Aside from the main Regina storylines, the other one we are given is that of Snow's, who isn't in the best of places. Since basically killing Cora, Snow has withdrawn and lies in bed all the time. It's kind of disappointing to see Ginnifer Goodwin given the bedridden storyline, especially after last week when she stole the episode. However, after some convincing from Henry, Regina throws out her current plan for killing Snow and ends up going empty handed. This, in turn, gives Goodwin some emotional material at the end of the episode. After Regina tears her heart out we are informed that Snow's heart has started to turn black. The amount of fear, frustration, and hurt that Goodwin puts into the last few minutes of the episode is unquestionably brilliant.
Of course the biggest shocker of the night is Ethan Embry's 'stranger' character. Since his arrival in Storybrooke, Embry's character has been nothing but a nuisance, popping up every now and then with a "Hey! I'm still here!" moment. However, the writers go out of their way to make sure his reveal is a jaw dropping moment. He's Owen, the child that had contact with Regina in the first days of Storybrooke, and let's just say that Regina has one more person coming after her now.
All in all, the episode delivers on many fronts and it is interesting to have a look into the town's first day. However, in typical Once Upon a Time fashion, the show presents question after question like, What is going to happen to Snow now that her heart is going black? Is Regina just going to sit idly by and watch them all suffer? What exactly is Ethan Embry's character going to do? Is Bae going to stick around for even more episodes? And where the heck is Belle at? Are we just going to leave her in the hospital with no memory?
The show is determined to take us loop for loop and around each turn as fast as it can. The writers and actors definitely deserve kudos and props for everything they've done this season. The ride, so far has been fast paced and incredible; the show has no signs of slowing down to let us off. Onward to the Season Finale!
Josh Bouye