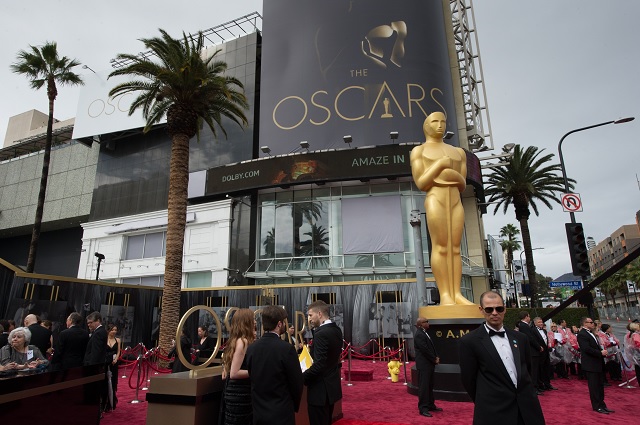 The Oscar nominations are nearly upon us! Can you feel the excitement in the air? I can tell you're just buzzing.
Perhaps you should be, because however small it is, the announcement of Thursday morning's Oscar nominations will be a historic moment. All 24 categories, not just a select few, will be announced during the morning broadcast. Yes, even Best Sound Mixing and Best Documentary Short Film You Never Got The Chance to See. J.J. Abrams, Chris Pine and Alfonso Cuaron will do the honors starting at 8:30 ET, 5:30 PT.
Though everyone and their brother is making absolute final last minute Oscar predictions as though all their misguided predictions throughout the fall didn't matter, we thought we'd throw our hat in the ring at least once, draw a line in the sand and make sense of all we've been reporting on this Awards Season in our Hype Cycle feature.
Unlike the Academy however, the major categories are the only ones I'll be predicting with any sort of certainty. Here goes:
Best Picture
Boyhood
Birdman
The Imitation Game
The Grand Budapest Hotel
Gone Girl
Whiplash
Selma
American Sniper
The Theory of Everything
Ever since the rule changes to the Best Picture category to allow up to 10 nominees, there have been nine nominees in all three of those instances. It would be bold to presume that this would be the year to change that, but more so because of the second Best Picture nomination rule: a movie must receive enough Number 1 votes in order to be nominated.
Only five movies on my list have "universal" acclaim, respect and love as most peoples' favorites: Boyhood, Birdman, The Imitation Game, The Grand Budapest Hotel and Gone Girl. For months Wes Anderson's film was the question mark, but with The Grand Budapest arguably solidified by the Golden Globes Sunday, all five seem like locks.
Whiplash proved in recent weeks it has strong guild support and love, as did latecomer American Sniper. Selma has been missing on that front for a variety of reasons, many of them having to do with the ability to get screeners into the hands of voters. But the movie has enough pedigree, history and relevance behind it for me to strongly doubt it will get left out.
That leaves The Theory of Everything; I strongly suspect that this is the film that will suffer the fate Saving Mr. Banks did last year, a movie that everyone predicted for greatness but that really wasn't "loved" by anyone for the simple fact that it wasn't all that special to begin with. Does it have that kind of support outside of the acting categories? Perhaps not, but is anything from Foxcatcher, Unbroken, Nightcrawler, Mr. Turner, Into the Woods, Inherent Vice, Interstellar or Wild, strong enough to take its place? If so, consider Foxcatcher and Nightcrawler the strongest dark horses among them.
Best Actor
Michael Keaton – Birdman
Benedict Cumberbatch – The Imitation Game
Eddie Redmayne – The Theory of Everything
Steve Carell – Foxcatcher
Jake Gyllenhaal – Nightcrawler
The deepest of all the acting categories, Best Actor is and always will be overstuffed with worthy performers who get left on the table, and that's just among those who were in Oscar movies. This season, the awards season love has been spread around to about eight or nine performers. Only Michael Keaton can boast true frontrunner status, as he's not only the dominating force in what is the biggest actor's movie of the year, he also holds the Oscar narrative the movie parallels, or the comeback story.
Cumberbatch and Redmayne are getting in firstly on their characters' name recognition as important, British figures of history, but they're also hugely deserving actors on the rise and never recognized by the Oscars.
The final two spots however are murky. Steve Carell's transformation is as plain as the nose on his face, but also that he went dark after so many years of being the comedian. Gyllenhaal's work is more subtle and understated in the way Travis Bickle is, but Nightcrawler is riding a wave of chatter and buzz that if I were a gambling man might even lead to a surprise Best Picture nomination.
If I really had my way however, I'd throw all my support behind Ralph Fiennes, so effortlessly charming and eloquent in The Grand Budapest Hotel in a way not enough people seem to appreciate. Yet he's on the bubble along with David Oyelowo in a performance that's been ignored by several guilds, Bradley Cooper doing work that would be a surefire lock in a less contentious year, and Timothy Spall in a performance that won him Best Actor at Cannes and is also about an Important British Historical Figure but seems to have been completely forgotten.
Best Actress
Julianne Moore – Still Alice
Reese Witherspoon – Wild
Rosamund Pike – Gone Girl
Felicity Jones – The Theory of Everything
Amy Adams – Big Eyes
The lack of a deep list of strong contenders in the Best Actress race says less about the state of women in Hollywood and more about the media and awards hype cycle that can't think creatively enough to nominate someone like Scarlett Johansson or Tilda Swinton for incredible, off the wall performances.
And yet this is not a bad list by any means. Julianne Moore's hype as the frontrunner for Still Alice is no fluke, and she's one of the most nominated actors in history to never win an Oscar. She shares that record with Amy Adams, who has been stumping for Big Eyes relentlessly and was charming as hell accepting her prize at the Golden Globes. Witherspoon has been to this stage before, and she turns Wild into the successful one-woman show it needs to be. As for the newcomers, Felicity Jones serves as the real core of The Theory of Everything's story, and Rosamund Pike took on the biggest female literary character of the 21st Century and came out standing tall.
It's hard to bet against any of these women, but Jennifer Aniston in Cake has been the actress looking for a narrative. The movie, unseen by me, and likely by many Academy voters, may not have enough goodwill to earn Aniston a nomination. Only Marion Cotillard in Two Days, One Night has earned the recent critical traction to bring the actress back for a shot at a second statue, but it's unlikely that will be enough.
Best Supporting Actor
J.K. Simmons – Whiplash
Edward Norton – Birdman
Ethan Hawke – Boyhood
Mark Ruffalo – Foxcatcher
Josh Brolin – Inherent Vice
J.K. Simmons is getting all the attention as the long unrecognized character actor getting the role of a lifetime in Whiplash, and he's arguably the deserving frontrunner, but really all five of these contenders can claim the same. None have won an Oscar, but all with the exception of Simmons have been nominated. What's more, you could make a case that each is doing truly career work. Is the understated nature of either Hawke's or Ruffalo's performances good enough to beat Simmons's fiery transformation? Probably not, but this is a strong field.
The unfortunate problem again is that contest for the fifth slot. Josh Brolin to me feels like the guy. Christoph Waltz already has two Oscars in this very category, but Big Eyes is not his strongest work, and Robert Duvall earned his lifetime achievement recognition long ago. A movie that's barely made a blip on the radar like The Judge is not going to remind everyone again what a great actor he is.
Best Supporting Actress
Patricia Arquette – Boyhood
Emma Stone – Birdman
Keira Knightley – The Imitation Game
Meryl Streep – Into the Woods
Rene Russo – Nightcrawler
No one in the Oscar race has been a runaway favorite quite like Patricia Arquette. Each year there seems to be at least one, whether its Jennifer Hudson or Heath Ledger or Christoph Waltz, but Arquette didn't come out of nowhere. She's been at this role for 12 years, and it's as lived in a performance as any. The remainder of this category is a fight for second place.
For Emma Stone and Keira Knightley, both young actresses with long careers ahead of them, an Oscar nomination will in some way validate that. Meryl Streep is the exact opposite, as she has a record that may never be broken, and yet I'm still finding it hard to swallow that she'll be here in the Supporting category. But the fact that the Academy will give her a nomination for just sneezing is bad news for Jessica Chastain, Laura Dern or even the under appreciated Carrie Coon in Gone Girl. I'm betting on a surge of support for Nightcrawler tomorrow, and if that's true, the very deserving Rene Russo will get that fifth spot.
Best Director
Richard Linklater – Boyhood
Alejandro Inarritu – Birdman
Ava DuVernay – Selma
Wes Anderson – The Grand Budapest Hotel
Morten Tyldum – The Imitation Game
If you were looking for one last swing in this race, you got it Tuesday with the announcement of the Directors Guild Award Nominations, in which Wes Anderson found a place among frontrunners Richard Linklater and Alejandro Inarritu, making it his first nomination with the guild. Morten Tyldum also received his first nomination for The Imitation Game, and though he's in the company of auteurs and could reasonably push out people like Bennett Miller, David Fincher, Christopher Nolan and Paul Thomas Anderson, history shows that a nomination for a Best Picture frontrunner also means a nod in this category as well, despite what happened to Argo.
And yet only twice in the last 15 years have the DGA and the Academy converged on all five nominees, the last being in 2009. If I'm wagering that Selma will have a bigger showing than some are anticipating and that justice will be served by nominating a black woman in this boys club category, then Ava DuVernay will be in and Clint Eastwood will be out.
Best Adapted Screenplay
Gone Girl
The Imitation Game
Wild
Whiplash
Inherent Vice
I talked last week about the category confusion Whiplash had to undergo as technically an Adapted Screenplay, and sadly entering into this weaker of the two categories does not make its fight for a nomination any easier. Gone Girl has the good fortune of being adapted by the book's very author. Inherent Vice is as dense of modern literature as you can get. Wild is a beloved memoir adapted by a veteran screenwriter and novelist, and The Imitation Game just has history on its side. Unbroken, The Theory of Everything, Still Alice and Into the Woods all have a shot here, but there are some more compelling choices in an otherwise weak category.
Best Original Screenplay
Boyhood
Birdman
The Grand Budapest Hotel
Selma
Nightcrawler
You might argue that Boyhood is not much of a "writer's" story, but to get a cohesive narrative out of a timeline that long is damn impressive and something the Writers' branch won't be able to ignore. Birdman however is definitely a writer's movie, and it's as talky as it is full of cinematic flourishes. For Wes Anderson, this branch loves him even if the Directors don't, so he's in. Selma has had to face down some controversy in recent weeks, but Ava DuVernay overcame the challenge of not even having Dr. King's actual speeches to draw from, making a movie that spoke to our present as a result.
As for Nightcrawler, I'm probably putting too many of my eggs all in one basket, picking over multiple nominee Mike Leigh for Mr. Turner, the true story Foxcatcher, the other noir contender in A Most Violent Year, the intricate sci-fi Interstellar and what is for my money one of the most creatively funny of the year, The LEGO Movie. In another year, a movie like The LEGO Movie that would never get nominated for Best Picture but should could find additional traction here. Let's hope I'm wrong.
And for fun…Best Cinematography
Emmanuel Lubezki – Birdman
Hoyte Van Hoytema – Interstellar
Roger Deakins – Unbroken
Bradford Young – Selma
Benoit Delhomme – The Theory of Everything