Last year's Moonrise Kingdom was inarguably auteur director Wes Anderson's most accessible film and received widespread critical acclaim. That said, his style is an acquired taste, and those who have acquired it continue to disagree when the subject turns to ranking his best films. Ranking his work, however, hinges on the successful combination of composition and performance. Anderson's best films perfectly balance his familiar tropes with moving portrayals of human foibles and vulnerability.
The overall appeal of Wes Anderson films lies in their unique presentation, unity of vision, and endearingly asocial characters. The main criticism of Anderson's work has been that his style is repetitive. This critique ignores the benefits of a self-possessed style and unity of vision, something to which many filmmakers only aspire. Anderson films consistently depict the universal dysfunctionality of characters and employ simple vertical and horizontal pans, lingering static shots, and an inhuman attention to detail in production design.
Anderson's ever-present tropes and archetypes also have some critics convinced that his films are largely interchangeable. In truth, his films depict a variety of characters in vastly different situations: a buddy heist film, a tale of an eccentric teen, a family drama, a deep sea expedition, a journey to reunite estranged brothers, a stop-motion animated children's film about kleptomania, and a story of first love.
With all that said, here is my ranking of Wes Anderson's seven feature films:
7. Fantastic Mr. Fox (2009)
Fantastic Mr. Fox sees Anderson foray into stop-motion animation while maintaining his familiar humor. This film's achievement lies in its production design. Fantastic Mr. Fox is all production design. This film features Anderson's most uniform color palette, with almost exclusively oranges and reds. To bring Anderson's same attention to detail to such a time-consuming animation is stunning. For this reason, Fantastic Mr. Fox is likely Anderson's most fully realized work. Visually, the film is a stunning achievement, yet the pacing and character development leave something to be desired.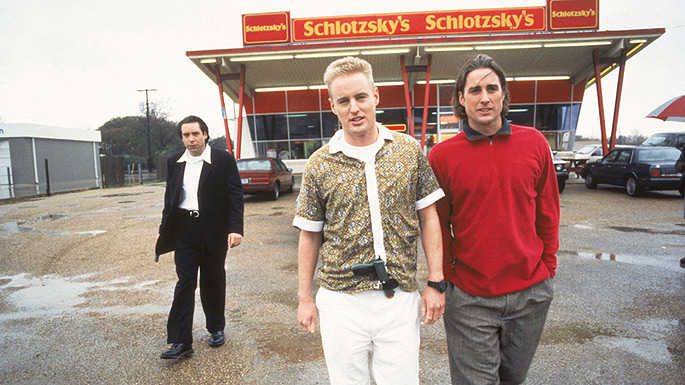 6. Bottle Rocket (1996)
Anderson's first film, Bottle Rocket, shows a fledgling director at work and simultaneously impresses with a visionary screenplay. Bottle Rocket does not feature cutaway facades or elaborate panning shots but instead relies on story and dialogue. Anthony Adams is smart but directionless; Dignan is ignorant and naïve. Their story carries the emotional weight typical of an Anderson film, as the two embark on a delusional 75-year plan and attempt several heists. That said, Bottle Rocket has a lightness that Anderson's later films have the tendency to bury in detailed production design. Anthony and Dignan's plans are incredibly juvenile. Instead of robbing casinos, the two rob a local bookstore and a cold storage facility. Although these characters are young adults, Bottle Rocket remains a coming of age tale for its characters' juvenile naiveté.
5. The Darjeeling Limited (2007)
The Darjeeling Limited, much like The Life Aquatic, focuses on reuniting estranged family members. Three brothers, Peter, Francis, and Jack, plan a journey of spiritual self-discovery, as they travel by train to meet their mother in India. This is the first of Anderson's films that seems to follow a checklist. The opening scene, complete with Adrien Brody running in slow-motion for a train while The Kinks play in the background, makes Anderson's style feel more like shtick. Despite this shtick, the collaborative screenplay written by Anderson, Roman Coppola, and Jason Schwartzman is a moving and dramatic piece. Scenes in which the brothers argue over their father's razor and sunglasses and try to rescue three drowning Indian children have a powerful impact.
4. The Royal Tenenbaums (2001)
The Royal Tenenbaums features an all-star cast playing a host of flawed characters. This is a major crutch for the film, as dozens of asocial, vain, and inept characters packed into tight environments lessen the impact and believability of the film's emotional core. Aspects of The Royal Tenenbaums fall flat due to poor performances by Gwyneth Paltrow and Ben Stiller. Granted, their disappointing performances may have suffered from poor character development, which is unsurprising in a script with so many protagonists. This film is actually the first time that Anderson took the reins in production design. On Bottle Rocket and Rushmore, his ideas were largely pushed aside in favor of the set designers'. By outlining specific ideas for props, costumes, and sets, The Royal Tenenbaums became the first Anderson film to feature such a rich mise-en-scene, with nearly every item having its own significance in relation to the characters.
3. Moonrise Kingdom (2012)
Anderson's most recent film, Moonrise Kingdom, is clearly his most Andersonian effort. The film combines all of the elements of Anderson's unique style – quirky characters, methodical cinematography, and a richly detailed world – and the result is a beautifully shot film. Not much is lacking with this film. The screenplay juggles the coming of age story of Sam and Suzy with that of the adults on the island of New Penzance perfectly. Its flawless set design also makes for a simply gorgeous film. Sets and props solidify the film in the familiar 1965 while simultaneously maintaining an element of fantasy. Anderson deviates from his recent films here in relegating his dysfunctional adult characters to supporting players. Instead, the focus is on young Sam and Suzy. These children are imaginative and romantic, early incarnations of the asocial, misfit Anderson type.
2. Rushmore (1998)
Rushmore follows the trials of Max Fischer, a teenager vying for the love of his school teacher. The film depicts a coming of age tale for its story of disappointment in first love and the necessary growth of Max's character. As opposed to his other films, which fill the screen with Anderson's token dysfunctional characters, Rushmore truly focuses on the singular figure of Max, himself a dysfunctional Anderson type, encountering the "real world" and being forced to change.
1. The Life Aquatic with Steve Zissou (2004)
The Life Aquatic marked Anderson's second all-star cast, yet in this film Anderson is much better at handling the presence of so many eccentric misfits. This film juggles a father and son reuniting, the loss of a friend, an attack by pirates, and a mid-life crisis, yet manages to convey complex relationships and emotions (masterfully underplayed by Bill Murray). The moving final encounter with the jaguar shark shows the audience the culmination of Murray's subdued character and is eerily beautiful.
Katherine Springer
[wpchatai]