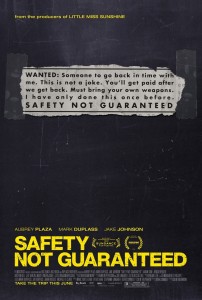 Safety Not Guaranteed
Directed by Colin Trevorrow
Written by Derek Connolly
USA, 2012
There's a tricky allure and painful waiting game that is played out between the audience and Colin Trevorrow's Safety Not Guaranteed. Going solely off its intriguing synopsis, one would think they're in store for a charming indie molded in playful faux sci-fi sensibilities. The film is anything but successful in its low-rent appeal; a script that wallows in middling execution, consistently force-feeding its audience poorly staged character development throughout.
The film follows three magazine employees who head out on an assignment to interview a guy (Mark Duplass) who placed a classified ad seeking a companion for time travel. The ad promises compensation once the "mission" is completed, and the companion must bring their own weapons. Aubrey Plaza stars as Darius, an intern brought along on the assignment by Jeff (Jake M. Johnson), an obnoxious thirty-something womanizer who appears to be incompetent in his job and highly forgetful that he's out of high school. There's also Arnau, played by Karan Soni. He's the token scrawny geek who is drilled by Jeff for never having been laid. You can probably guess where his arc leads to right? Yes, the pursuit of his deflowering that makes us question why his character even exists in the film. The narrative also awkwardly invests time in a dead-end subplot between Jeff and a past high school flame. The script by Derek Connolly is almost deliberately choppy in taking the focus off the central dynamic between Darius and Kenneth, the aforementioned ad placer who is semi-believable as a spooked grocery store employee shielding motivations and secrets – people are "after him." Connolly's narrative is sidetracked by so many non-vital encounters that call into question his confidence in telling Safety's story, however thinly comprised it is.
Duplass has tapped into serious success as of late, and given his mumblecore "every man" appeal, even he can't save this scattered off-handed romance from disaster. Plaza is a welcome addition, but her trademark deadpan appeal isn't utilized here. Instead, Darius is written as a soul searching and adventure seeking dud. Her encounters and "training" with Kenneth are at first cute and mysterious, but venture off into bland repetitiveness. What's most frustrating is the idea that the slow build will pay off in the third act, but to no surprise, the excitement and wonder remain exclusively dormant.
Filmed exclusively in Seattle, there's hardly any reliance on the city's colorful locale, as much of the film takes place in the trio's hotel room or Kenneth's forest hideout. I would have preferred if the film took on a more low-key noir approach, much akin to Andrew Katz's Cold Weather from 2010. There's a film that had fun with its noir aspirations, maintaining a consistent tone, and portraying a contemporary brother-sister relationship shrouded in Sherlock Holmes mythos. At its core, Safety Not Guaranteed boils down to the dynamic between Darius and Kenneth. The film's climax is impressively staged on a technical level, but ends on an ambiguous note that confirms how light the script really is. Unfortunately, Safety Not Guaranteed plays like a short film stretched out to 90 minutes, with Duplass and Plaza trapped in Colin Trevorrow's lame rendering of love and fantastical relationships.
– Ty Landis