Hollywood needs a hit
Actually, Hollywood needs a bunch of hits.
Chat Box - Go ahead, make my day and ask me questions about movies and TV shows...
Actually, Hollywood needs a bunch of big, fat, through-the-roof hits.
And with the summer – and the year – half over, the time to come up with them is running out.
The movie business finished 2010 with the second highest domestic box office on record: $10.2 billion. But this was a misleading, oh, let's call it a "symptom." That ten billion and change was like the midpoint in every episode of House where the brilliant diagnostician thinks he's figured out what's ailing this week's guest star, his team begins treatment, and, just as the patient seems to be getting better and the regulars are congratulating each other on the save…the patient throws a conniption fit, thrashing around on the bed and spitting up blood.
Part of that ten billion-plus came from a nearly 20% hike in average tickets prices over 2009, and from surcharges for 3-D exhibitions ranging as high as $5.00. That Hollywood was able to juice its revenue was a case of curing the symptom…while the patient got sicker. Do a biopsy on the movie business of 2010 and you'll find the real disease was attendance. Despite the high box office tally, admissions for 2010 were down 5-1/2% from 2009.
This would be the part where House finds out his patient has been lying about his/her medical history: "Why didn't you tell us you'd been treated for the clap last year, you jackass?" Hollywood's been sicker longer than it's let on, too. That 2010 attendance drop was bad enough on its own, but it was worse as another installment in a downward trend dating back to 2002, a slide often camouflaged – as it was in 2010 – by inflated ticket prices. In 2010, movie houses sold 230 million fewer tickets than they had eight years earlier.
Studios had hoped 3-D would be some kind of penicillin, but despite an initial novelty-inspired surge, it doesn't seem to be working out that way. The studios haven't helped their case by poisoning their own well, running 2-D flicks like Clash of the Titans and The Last Airbender through half-assed last-minute 3-D conversions to jump on the craze, a move which may have padded out their receipts ($163 million domestic for Clash; $130 million for Airbender), but didn't make them any less mediocre. The collateral damage may have been worse, leaving a bad aftertaste with moviegoers now thinking 3-D isn't always all that, and that it sure as hell doesn't make lousy movies any less lousy.
Even before summer 2010 was out, movie-goers were getting a little 3-D wary. Despite generally upbeat reviews calling Piranha
3D a bit of campy – if gory – fun, the movie flatlined at just $25 million domestic. Resident Evil: Afterlife's domestic take of $60 million wasn't much of an improvement over the three previous entries in the series ($40 million; $51 million; $50 million – factor in 3-D surcharges, and it's no improvement at all), and Saw 3-D: The Final Chapter didn't provide much of a turn-around for the sliding returns of that franchise, pulling in $40 million domestic compared to a prior series average of $61 million, and series highs of $87 million (for 2005's Saw II) and $80 million (2006's Saw III).
Some other notable 2010 3-D stiffs: director Zack Snyder's attempt at family entertainment with the $80 million The Legends of the Guardians: The Owls of Ga'Holle (domestic take: $55.7 million); $85 million Cats & Dogs: The Revenge of Kitty Galore ($44 million); horror maestro Wes Craven's $25 million My Soul to Take ($15 million); $40 million Step Up 3D ($42 million); and Tron: Legacy 3D whose healthy-looking take of $172 million looked a lot less healthy measured against the punch to the wallet of its $170 million budget. According to Entertainment Weekly, movie studios have somewhere around 60 3-D movies planned for release 2011-2012, but it's obviously not going to be the magic bullet which puts more tushes in auditorium seats, and it clearly hasn't done much to help 2011's stats. John Fithian, president of the National Association of Theater Owners, hit it on the head when he told Entertainment Weekly, "3-D is neither the most important thing that ever happened to Hollywood nor is it going to go away."
Any number of reasons – many if not all of which we'll probably be hearing again at the end of this year — have been given for 2010's sour numbers: a bad economy,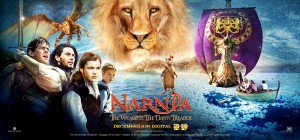 preferences for home entertainment, a shrinking young demographic more interested in electronic diversions than movies, and, of course, too many big studio clunkers. Certainly last year's Christmas season – the biggest revenue-generating time of the year after summer – was a testament to major studio does-anybody-here-know-what-they're-doing mediocrity with one dog after another rolling into multiplexes: The Chronicle of Narnia: The Voyage of the Dawn Treader, Gulliver's Travels, How Do You Know, The Tourist, and Yogi Bear.
So, there's Hollywood at the beginning of 2011 needing hits: lots of 'em, lots of big ones. And it's going to be a long, hard slog even if the biz comes up with them because with ticket prices holding steady this year (actually, the average is down a few cents), there won't be any padding, no camouflage. The movie business is going to have to make every dime the old fashioned way: earn it.
What's the industry's strategy to drum up those needed hits? Going by the announced slate for the year, it was apparently to keep making the same kinds of movies which have been losing ground for nearly a decade; just make more of 'em, and make 'em bigger.
And here's where we switch analogies from House to the ever-reliable sports analogy.
"Well, Chet, how's it look so far?"
"Bob, they really took a beating in the first quarter and you've got to think they must be getting nervous."
Actually, by the end of April, the studios must've been worse than nervous; they must've been in a cold sweat because spring performance was absolutely abysmal. The season is a traditionally slow one for the industry, but if the vital signs had gotten any lower, it would've been time for House to call for the heart paddles (oops, slipped back into medical analogies! Sorry, won't happen again). By the end of February, attendance was already off 22% from 2010, and still down 20% come end of March. USA Today declared this "One of the worst springs in (movie) industry history…"
The downbeat tone seemed to be set with the first major release of the year, the $120 million adaptation of The Green Hornet, Columbia's attempt to launch a new comic book superhero franchise with star and co-writer Seth Rogen looking to bring a new twist to the genre with his particular brand of schlub appeal.
Slacker mascot Seth Rogen – superhero? But there'd been many other question marks floating above GH long before Rogen joined up, all the way back to the project's inception. Development had ground on for years dating back to the 90s, stars came and went, a director came and went before the slot was filled by Michel Gondry whose work on the dreamy Eternal Sunshine of the Spotless Mind (2004) made him seem an odd fit for an action-heavy superhero flick. Footage screened at Comic-Con during summer 2010 hadn't particularly lit up the fanboy crowd, but Columbia's hopes spiked a bit when a test screening in Long Beach, CA scored a 93% favorability rating with almost a quarter of the under-16 crowd labeling it a must-see.
When the film was released in mid-January, you had to wonder what they'd been putting in the popcorn butter down there in Long Beach because the film took a critical
pounding, largely being viewed as a noisy mess; an opinion evidently widely seconded by the public. Although GH ranked #1 on its opening weekend with a haul of $33.5 million (point of comparison: Spider-Man's 2002 opening weekend tallied $115 million; Iron Man opened to $99 million in 2008), the flick began losing ground almost immediately, and its domestic take capped out just under $99 million.
After The Green Hornet hit the box office bug-zapper, industry news didn't get any better.
Studios have been looking to hit the same tweenage sweet spot Summit Entertainment found with the Twilight movies, and Disney took a swing — and a miss – at it with $60 million February sci fier I Am Number Four which petered out at a box office of $55 million.
Hoping to fall under the same fairy tale spell which had brought Alice in Wonderland (2010) a $334 million domestic haul (Alice was the #2 domestic earner of the year behind Toy Story 3), Warners turned out a $42 million horror/fantasy version of Red Riding Hood, while CBS Films tried for the same entrancement with the $17 million Beastly, a contemporary teen romance take on Beauty and the Beast, both opening in March. Though female moviegoers came out for both flicks (almost two-thirds of RRH's opening audience was women; almost all of Beastly's debut audience was teenage girls), neither made magic with reviewers nor got much past their opening audiences with Riding Hood flattening out at $38 million, while Beastly did even worse with $28 million. With Hansel & Gretel: Witch Hunters, Jack the Giant Killer, Snow White and the Huntsman, and Snow and the Seven in studio pipelines, you know those relevant studios have to now be thinking if those are the best plays in the playbook right now.
Other spring stiffs: the $40 million The Mechanic, a loose remake of the 1972 Charles Bronson starrer, died its own violent death with a take of just $29 million; fat suit jokes can only carry a film series so far as $32 million sequel Big Mommas: Like Father, Like Son choked at $38 million, about half of what had been earned by Big Momma's House 2 (2006); much-hyped $38 million gooey adaptation of Sara Gruen's novel Water for Elephants, with Robert Pattinson still trying to prove there's life after Twilight, dried out early at $58 million; the $40 million remake of Arthur, with a sozzled Russell Brand playing the part made famous by a sozzled Dudley Moore in the 1981 original, turned cold sober at $33 million; the $19 million Take Me Home Tonight, exec produced by the movie's star, Topher Grace, quickly showed why its release had been held up for two years when it took home less than $7 million; Hangover-clone Hall Pass couldn't clone the original's success, pulling in $45 million on a $36 million budget; and supposed comedy The Dilemma was a puzzling $70 million misfire from director Ron Howard with a final b.o. of $48.4 – his third lowest-grossing effort in ten years.
Two of the biggest hyped offerings of the season – after The Green Hornet — turned into two of the spring's biggest disappointments: Columbia's $74 million March release Battle Los Angeles, and Dimension's April rollout of the $40 million Scream 4.
BLA seemed to have been aiming at being the Independence Day (1996) of the 2000s, with jittery TV spots of alien space ships splashing down off the West Coast and massive
war machines bashing around L.A. tickling and disturbing the same way ID4's advance trailers of alien ships blasting apart the Empire State Building and the White House had 15 years ago. The clips certainly had the online fanboy circuit buzzing with anticipation (over two-thirds of BLA's opening weekend audience was male). Buzz as they might, they didn't have the numbers; Battle Los Angeles was a fight lost on its debut weekend with a soft opening of $36 million (ID4 opened at over $50 million back when prices were almost 40% less than they are today), and finally ran up the white flag at $80 million domestic.
With reviewers generally of a mind that Scream 4 had gotten the blood going again in the long-dormant franchise, and rolling out on a heavy promotional wave, Dimension execs must've been doing some frustrated screaming of their own over the movie's unexpectedly sudden death and epitaph of just $38 million. Maybe there's a lesson there about expecting a franchise to awake from an 11-year coma and hoping it's still going to have much drawing power. Or maybe the lesson is a demographic one, with fans of the original series aging out of usually youth-appealing horror flicks (the first Scream rolled out in 1996), while young horror fans thought of the brand as the franchise equivalent of Dad's Oldsmobile – "I'm not going to that! Mom and Dad saw that! It's gotta be corny!"
A particularly interesting spring flop was writer/director Zack Snyder's $82 million Sucker Punch, released by Warner Bros. in March. Snyder's first original screenplay concerned an unjustly imprisoned young girl who has some of her fellow prisoners follow her through a series of fantasy battles in a bid for escape. Snyder went typically heavy on action but atypically light on
blood spillage, trying to avoid what had been thought by many to be the limiting misstep of last year's Kick-Ass, another fanbody-targeting action/adventure. That $30 million Lionsgate feature had topped out at $48.1 million despite predominantly favorable reviews for its quirky under-aged take on superheroes, the best guess being the film's R-rating had cut the movie off from the young fanboy base most likely to have taken the movie to its heart.
Snyder was able to keep the mayhem of his pic at a PG-13 level, but it didn't help; the movie's box office took its own sucker punch to the chin and hit the canvas KO'd by a $36 million domestic take. Sucker Punch didn't just die; it died miserably, with its limited audience (nearly two-thirds were male, three-quarters under 35) unable to keep Snyder from his worst live-action debut, or the biggest second-week slide of the year thus far.
The fate of Sucker Punch raises some ponder-worthy questions about the flexibility of fanboy-targeted actioners and the fanboy audience, as well as the direction of Snyder's career.
Movie's like Sucker Punch and Kick-Ass are all about young male adolescent fantasy fulfillment, and it may be that young males don't want their young male fantasies fulfilled by young females. Focus Features' $30 million PG-13-rated April release, Hanna, about a young girl turned into a revenging CIA killing machine, offers some confirmation to the idea with a domestic box office topping out at $40.2 million; right in the same range as Sucker Punch and Kick Ass.
These movies also bring up the question of how far a genre audience is willing to "allow" an imaginative filmmaker to torque the conventions of the genre. Christopher Nolan revived the Batman franchise by giving its brooding hero – and his supervillains – a dramatic heft above the genre norm, then mixing it with a dose of topicality, but the movies still looked and played out
more-or-less like superhero movies. But Sucker Punch, Kick-Ass, and Hanna pushed at the sides of the box with female principals, 2006's V for Vendetta turned the superhero movie into a post-9/11 political allegory (budget: $54 million/domestic b.o.: $70.5 million), and Snyder's own Watchmen (2009) threw heavy doses of angst, indulgence, amorality, high-brow philosophizing, and brutal violence into the mix to create a tough-to-swallow superhero noir-ish nightmare which managed a respectable $107.5 million looking a little less respectable against its $130 million cost.
Of course these all might be academic questions, and the root problem simply be that Snyder turned out a stinker. The write-ups for Sucker Punch were universally bad, and Rotten Tomatoes' canvass of reviews gave the film an abysmal 22% positive rating.
Which brings us to the question of Snyder's career arc. Warner Bros. has been the director's home since his 2006 smash 300, but the combined cost of his last three films for the studio – Sucker Punch, The Legends of the Guardians: The Owls of Ga'Holle, and Watchmen – comes to almost $300 million against a combined domestic take of just under $200 million. Granted, overseas receipts and ancillaries cushion the blow and may even generate black ink, but nonetheless, the studio has to be wondering if they've tapped the right guy to undertake their second attempt at expensively rebooting their Superman franchise with Man of Steel (slated for a 2012 release with a rumored $175 million budget). Remember: director Bryan Singer was coming off a much hotter streak (the first two X-Men movies and helping launch the hit TV series House) when he fumbled the studio's first attempted reboot, the blah Superman Returns (2006).
As bad as Hollywood's spring of 2011 was, the stats weren't all completely bad. If you consider a blockbuster hit a home run, the industry did manage a number of singles and doubles throughout the early part of the year in the form of several midrange earners. January's romcom No Strings Attached, with Ashton Kutcher and Natalie Portman, posted a respectable return of $71 million domestic against a $25 million budget; February had Liam Neeson in the thriller Unknown which did OK business ($64 million/30 million) but only half of what his action hero breakout Taken (2009) had brought in, while Single White Female (1992) clone, The Roommate also posted a decent return ($37.3 million/16 million); March had Matthew McConaughey trying to carry The Lincoln Lawyer without flashing his egg carton abs ($58 million/40 million), the Matt Damon sci fi/romance The Adjustment Bureau ($62 million/50 million), and Bradley Cooper doing nicely with his first dramatic lead in the thriller Limitless ($79 million/27 million); and then there was April with Jake Gyllenhaal as a time traveling agent in the sci fier Source Code ($55 million/32 million), and the inspirational true story Soul Surfer, with AnnaSophia Robb as a gifted teenaged super-surfer who loses an arm in a shark attack, then mounts a comeback ($43 million/18 million).
One of the out-of-nowhere hits of the season – and labeled by Entertainment Weekly as "The Most Profitable Movie of the Year" — was indie horror flick Insidious. With a
budget of a little over $1 million, no marquee-value stars, and more spooky atmosphere than schlocky shocks, the little movie that could showed the big boys how it's done, slowly cruising along on positive word-of-mouth from its April 1 debut to a tally, as of June's end, of over $53 million…and it's still in theaters earning.
Singles and doubles are nice, but they were hardly drawing crowds to the multiplex, and the lack of a good, solid, breakout hit hurt. One measure of how weak spring 2011 was is that over the first four months of the year, only one live-action feature broke the $100 million ceiling – and just barely (I'm not counting Fast 5, really a summer movie jumping the starting gun with an April 29 debut – more on that in a bit): February's critically panned Just Get On With It, top-lined by persistently critic-proof Adam Sandler, earning $103 million against a budget of $80 million. In contrast, by end of April last year, four live-action features had hit blockbuster status, including box office monster, Alice in Wonderland (spring 2011 was kinder to animated features with three breaking the $100 million barrier – critter-populated Western spoof Rango; Rio, from the makers of the Ice Age movies; animated/live-action hybrid Hop, from the company behind last year's Despicable Me; and honorable mention Gnomeo and Juliet, co-produced by Elton John, which overcame largely negative reviews to just miss making the blockbuster club with a domestic take of $99.9 million).
"That was the first, quarter, Chet. How'd they do after the break?"
"Well, Bob, I'd like to tell you they turned it completely around, but I can't. You don't want to change your game plan in the middle of the game, but they might oughta start thinking about a different strategy after the half."
Which is supposed to be a funny (ok, mildly funny) way of saying summer hasn't been the bloodbath spring was, but if Hollywood was hoping for big hits in January, they must be praying for them now as, going into the end of June, while summer attendance is up over summer 2010 so far, total attendance is still running 12% behind last year.
Summer is critical for the business, generating 40% or better of the industry's total domestic box office for the year. Any major studio not landing at least one or two big-money hits in summer is probably looking at a bad, bad year. Summer is so crucial to the movies that Hollywood has, bit by bit, cheated the season ahead of the usual Memorial Day demarcation and deeper and deeper into May (in the case of Fast 5, even into April). Facing a 10-year slide in attendance, Hollywood countered by going into this most pivotal time of the year…with what may be the most uninspired, creatively conservative, (supposedly) safe-bet riddled summer in memory. One would be hard put to find a hot weather season so filled to busting with sequels, spin-offs, remakes, and clones, and many of them not particularly good.
Fast 5 – the fifth entry in the Fast and Furious series – got the jump on the summer pack by drafting on spring's tailgate with an April 29 release. It turned out to be a brilliant strategy, giving the movie the big-budget field to itself during what's normally a slow time of year. The movie opened strong ($86 million) and quickly grabbed the lead as top earning movie of the year. Current U.S. box office: $207.9 million with the film still in release.
That's good money by any measure, even against the movie's $125 million budget, enough to bring an announcement of a sixth F&F, but – not to spit in the wine – it's worth noting that despite being the best reviewed entry in the series (in fact, it's the only well-reviewed entry in the series), Fast 5's earnings dropped just as much in its second week (by almost two-thirds) as 09's less well-received Fast and Furious. It may just be the first, slight sign of franchise fatigue (the original The Fast and the Furious debuted in 2001), but Universal must be wondering how much life the ol' F&F engine has left in it before putting this set of wheels up on blocks.
The summer began in earnest with the May 6 release of Warners' Thor, first of the summer's parade of superhero flicks. Director Kennth Brannagh earned critical respect for
lending an air of dignity to what some reviewers judged could easily have wound up one of the silliest of superhero vehicles. The movie hammered out a healthy but not great opening, its $65.7 million debut weekend lagging behind other Marvel comic-inspired franchise launches like Iron Man ($98.6 million), X-Men Origins: Wolverine (2009 — $85 million), and Spider-Man (2002 — $114.8 million). Still in theaters, the movie will probably top out domestically around $180 million, but a goodly share of that will have been from 3-D surcharges, and it'll be an open question about whether or not Warners' considers that enough of a return on its $150 million investment to justify a second go-around with the golden-locked Asgardian expatriate. Still, if the movie didn't quite do what Warners would have liked it to do, the studio would come to have plenty of reasons to thank Odin for his comparative largesse as other superhero flicks rolled out into the summer market.
A week after Thor opened, Screen Gems put out the $60 million Priest, adapted from a Korean manga comic by Min-Woo Hyung. With such a cultish source, one has to guess Screen Gems was probably hoping not for a blockbuster knockout, but for an equally cultish following in the Resident Evil range. The film didn't even manage that. Defrocked from the outset with universally awful reviews and a pitiful $15 million opening, Priest immediately fell into a deep, dark hole with the second largest second-week fall-off of the year thus far, and soon received last rites with a final $29 million b.o. tally.
20th Century Fox looked to extend their X-Men franchise with origin story X-Men: First Class, released June 3. Though the film opened #1 with a first weekend gross of $55.1 million, that was below expectations and, adjusted for inflation, gave First Class the lowest opening of any X-Men film. This was particularly disappointing given the film's generally enthusiastic reviews; it was certainly better received by reviewers than the two previous entries: X-Men: The Last Stand (2006), and X-Men Origins: Wolverine. It may simply be a case of the franchise having hit its expiration date; after all, the first X-Men movie debuted back in 2000. But another possibility is that in recasting the film with new actors i.e. James McAvoy, Michael Fassbender et al playing younger versions of long-established characters, the pic may have lost the loyalty of series fans who'd bonded with the original cast i.e. Patrick Stewart, Ian McKellen, et al – kind of a Star Trek v. Star Trek: The Next Generation kind of thing. First Class is still in theaters, still earning, with a current tally of $136 million, and will probably tap out around $150 million, but that's against a budget of $160 million. Even after overseas receipts are figured in, it still has to be judged a disappointment.
"Disappointment" doesn't begin to describe The Green Lantern. Easily one of the most hyped – and anticipated – films of the summer, GL is Warners' second superhero launch
of the summer, and it's everything a studio doesn't want a big-budget hoped-for blockbuster to be. From Day One, Lantern has cast a dim light, with both the reviews and word-of-mouth universally and adamantly bad, and the movie's take dropping two-thirds in just its second week of release; the third steepest drop of the year behind Sucker Punch and Priest. After two weeks in release – and fading with each week – The Green Lantern has grossed an unimpressive $97.6 million. Just how unimpressive is that? Cars 2 – the first Pixar release not to light a fire under reviewers – was released the week afterThe Green Lantern and has already passed it at the box office with $98.8 million, while the critically-dismissed Transformers: Dark of the Moon – released two weeks later – is on its tail with $97.6 million. The numbers go from bad to worse when you measure them against GL's budget – an accountant-killing $200 million.
The unimpressive performance of this year's five superhero flicks – four of them since May – must have Paramount fretting over the fate of its upcoming $140 million Captain America: The First Avenger. Worry Paramount is the question that even if Captain America is good, has the summer audience already been too burned out by what Sound on Sight reviewer Al White called "superhero-movie fatigue" to care?
The wrinkles that separate superhero flicks – this year's, anyway – aren't so distinctive that they don't easily get lost in the crashing, stunting, and exploding making up much of their running time, and when they come into the market nearly back-to-back, at some point they blur together. It's worth keeping in mind than when the first X-Men debuted in July of 2000, there were no other superhero movies opening that year; likewise, Spider-Man had the superhero market all to itself when it rolled out in May 2002. Even in 2008, when three superhero flicks when into theaters the same summer – Iron Man in early May,
Hancock on July 2, and The Dark Knight on July 18 – they were each so distinctive as to keep from numbing the summer audience. The marketing challenge for Paramount is to persuade moviegoers Captain America offers them something they haven't already seen – four times since May.
And, by the way, speaking of Cars 2 and Transformers, in this sequel-packed summer, how have the non-superhero franchises been doing?
Released June 24, it's too early to see how much mileage Cars 2 has in it. Pixar, with its no-fault box office and critic's track record, has been bound to hit a speed bump sooner or later, and judging by the reviews, Cars 2 is that bump. But earnings here and abroad are muscular, and the loyalty of the family audience to the Pixar brand is strong. It's worth remembering that the original Cars (2006) was considered one of Pixar's weakest efforts as well, yet went on to a domestic haul of $244 million.
Likewise neither the Transformers franchise nor its helmer, Michael Bay, has ever been a critics' favorite. At their most generous, reviewers were willing to grant the original Transformers (2007) was empty-headed fun, but Transformers: Revenge of the Fallen (2009) they adjudged to be simply empty-headed and loud. Still, Fallen had done even better than the series' first entry ($402 million v $319 million) which says something about Bay's facility to wring big bucks out of empty-headedness and volume. The obvious question is, can he do it again? Transformers: Dark of the Moon's Wednesday opening was the biggest opening day of the year so far, at $37.3 million, but was also the weakest opening day for the series. The reviews have been overwhelmingly hostile, but then Bay's movies are usually pan-proof. With almost $100 million in the bank going into its first weekend – the Fourth of July three-day weekend — Dark of the Moon will undoubtedly be a big moneymaker, and the Fourth of July weekend will likely decide how big. With a $195 million budget, undoubtedly Paramount is hoping it'll be damn big.
Throughout the pre-release promotion for Pirates of the Caribbean: On Stranger Tides, fourth entry in the series which opened May 20, there was a lot of admirable candor from the franchise's creative team in admitting how off-the-rails the nonetheless lucrative series had become. The previous two
sequels had brought out crowds (POTC: At World's End [2007] delivered $309.4 million; POTC: Dead Man's Chest [2006] $423.3 million), but had left a sense dissatisfaction hanging heavy in the air like cannon smoke after a broadside. Reviewers had lambasted the sequels for becoming overly reliant (well, actually, completely reliant) on the charm of Johnny Depp's Keith Richard-inspired performance of loopy pirate captain Jack Sparrow, and a torrent of over-the-top – and expensive – action and special effects. Disney and producer Jerry Bruckheimer also couldn't have been happy over the escalating costs (Dead Man's Chest had run up a tab of $225 million, and At World's End a back-breaking $300 million v the $140 million budget of the original POTC: The Curse of the Black Pearl) and declining box office.
The talk, then, was about getting the series re-focused, more character and story-driven; you know – make it more like a real movie.
The creative parties did get the price tag down…somewhat ($250 million), but as far as creatively re-invigorating the franchise… Rotten Tomatoes scored the movie with only a 33% favorable, the critical consensus being the series was still a plotless, noisy vessel, and, as for Depp's Jack Sparrow, after four sailings the captain's charms were wearing as thin as a dead man's chest. Argh!
That said, POTC could still get hardies in theaters, and the movie opened #1 with the biggest opening of the year to that date ($90.2 million), but that was short of what the last two sequels had done. With $230 million stashed in its treasure trove by the end of June, On Stranger Tides will undoubtedly be one of the year's big earners; almost a lock considering how weak the field has been so far. But in light of sharp week-to-week drop-offs suggesting a general sense among both movie-goers and reviewers that it wasn't worth a fourth trip, Disney might finally – and mercifully – drydock the franchise.
The Hangover Part II was great news for Warners' money-counters, especially considering the so-so returns for Thor and the Green Lantern disaster. Opening May 26th, the sequel opened huge ($85.9 million) and within three weeks had already become the year's biggest hit to that point.
Warners may be happy, but it's questionable if anyone else is. Most reviews have been negative, feeling the sequel is just a louder, dumber, more chaotic knock-off of the 2009 original, and judging by the sharp week-to-week drop-offs, ticket-buyers seem to be taking two aspirin on their way out the door and recommending abstinence.
Still, by the beginning of July, the movie had raked in $248 million and has a good shot – if things don't improve during the rest of the year – of being among the top-earning releases of 2011.
Which, if you think about it, is depressing as hell; that a movie as uninspired, redundant, and as unliked as Hangover II could end up at or near the top of the box office heap for the year.
Plugging into the same trash-talking, calculatingly offensive sensibility – and with notable success – is the Cameron Diaz starrer, Bad Teacher, a painfully obvious clone – right down to the title – of 2003's dyspeptic Bad Santa. Think the inspiring, fighting-against-the-odds teachers of Stand and Deliver (1988), Lean on Me (1989), To Sir, With Love (1967), all the way back to Blackboard Jungle (1955) (the kinds of movies Diaz' coasting teacher shows her class instead of, you know, teaching), and Diaz' hungover, slacker teacher is their evil twin. The laughs are cheap and easy and predictable and that seems to be the way the summer crowd likes 'em with the June 24 release's b.o. already at almost $60 million against a $20 million budget.
It says something about Hollywood creativity (or lack thereof) that with a summer filled with franchise sequels and spin-offs, the only sequel that did seem to do more than flog
a familiar format to death was a cartoon: the charming May 26 release, Kung Fu Panda 2. Normally, other animated flicks are also-rans in a Pixar release year, but this time, with Pixar offering the edgeless Cars 2, DreamWorks animation is shining and deservedly so, serving up an Asian-flavored dish with all the savory spices Pixar usually whirls into the wok, only this time Pixar isn't doing the whirling. Kung Fu Panda 2 was a blend of something warm, thrilling, certainly funny, and flavored just right with sweetness, a winning blend that has positioned the film as the leading animated feature of the year with b.o. to date of $156.7 million with the film still in release.
Looking back over the summer slate thus far, it shouldn't be surprising that the two most well-received releases of the season were a summer 2011 rarity: imaginative, deftly-done movies that, rather than being sequels or some kind of spin-off, went their own distinctive ways.
Bridesmaids, released May 13, was everything The Hangover Part II could've been (in another universe) but wasn't: raunchy and funny rather than raunchy instead of funny, mixing out-loud laughs with sweetness and something heartfelt to say about the complicated relationships between women friends. Co-written by star (and Saturday Night Live alum) Kristen Wiig, Bridesmaids refuted all the macho canards mounted on the walls of studio executive suites: that women can't be funny (I mean really funny), that a movie about women can't draw men, and that a movie about grown women can't survive in a season which seems a shrine dedicated to the testosterone rush of the persistently adolescent male.
Granted, about two-thirds of the movie's opening audience was women (but that meant one-third were guys, and this in the same weekend Thor opened which makes that pretty damn impressive), and the movie hasn't traveled as well overseas as the usual two-hour dose of summer teen-male-directed mayhem. Still, domestically the movie is #7 for the year with a b.o. to date of $152.9 million, receipts are still coming in, and it's all riding on a wave of glowing reviews and equally high word-of-mouth. Against a budget of $32.5 million (change found in the couch compared to the summer's big guns; in contrast, The Hangover Part II went for $80 million), that's the ladies showing how to get the job done with finesse instead of brute muscle.
The other break from the baseline of summer inanity must be one of the best-pedigreed films of the year, coming from producer Steven Spielberg and director J. J. Abrams: Super 8, released June 10. The movie plays almost as if Spielberg is passing the torch of blockbuster-with-heart – the one Spielberg himself ignited with Jaws (1975) – to Abrams who already demonstrated his worthiness with the 2009 Star Trek reboot. It's an Abrams script filled with Spielbergian touches – set in 1970s suburbia about a bunch of Super 8 movie-making geeks who witness the accidental freeing of an alien which may not be as threatening as the grown-ups think – and seemed a fresh breeze in multiplexes mostly filled with stale, recycled air. It may not have the box office muscle of bigger, noisier FX/action fests, but its b.o. to date is $108 million with the film still in release; this against a modest (by summer standards) budget of $50 million.
With the exception of Bridesmaids, it's been a very hard summer so far on movies that don't blow the crap out of things. With all the air sucked out of the family playroom by
Cars 2 and Kung Fu Panda 2, rubber-faced Jim Carrey hasn't been able to put much pop in June 17 family feature Mr. Popper's Penguins, slipping and skidding its way to $50 million to date against a budget of $55 million, and not showing much ability to stay upright on the ice much longer; moviegoers didn't buy into either the rom or com much in romcom Something Borrowed, Warners own attempt to counterprogram Thor on May 6, but which was blown away by the better-received Bridesmaids, chalking up just $38.5 million on a budget of $35 million.
It's clear from the slate of major summer releases, Hollywood is still obsessed with the idea that no one but young males goes to the movies in the summer. True, the young male demo can throw off money like no other demographic slice of the movie-going public, and movies made for domestic young males do seem to travel well overseas offering the paradox of kids in other countries doing better than our kids in math and science while enjoying the same craptastic spectacles about things getting blown to hell and back.
But, year by year and bit by bit, the demographic numbers have been working against that as a formula for financial stability as the youth demo contracts, although you couldn't tell it by what Hollywood has been pumping out in recent years. True, 49% of all teenagers attend movies at least monthly v 27% of all adults, but there are a lot more adults; a whole lot. As of 2009, only a little over 14% of the country was 15-24 – the most sought-after movie-going demographic — but almost 41% of the country was 30-59. According to AARP Magazine, about 40% of "frequent moviegoers" are over 25; 20% over 50.
Older audiences have shown they will come out – if you give them something to watch. Both Limitless and The Adjustment Bureau did respectable mid-range business because of their appeal to older audiences. In fact, The Adjustment Bureau gave star Matt Damon his best opening since the Bourne films ($21.2 million) thanks to a first-weekend audience almost three-quarters of which was 30 or over. An even stronger older-skewing performance can be seen in Super 8, a movie which premiered only a few points off the young male-tilted Battle Los Angeles, with 71% of its opening weekend audience aged 25 and up.
The adult audience is also responsible for a number of this year's limited release winners, like Cedar Rapids, a kind of sweeter, gentler, The Hangover; Win Win, with yet another brilliant performance by Paul Giamatti; and Woody Allen's Midnight in Paris, which in three weeks of release (amidst all the noise of summer no less) is already his best-earning pic since his 2008 hit, Vicky Barcelona.
Grown-ups weren't the only ones underserved this year. Say what you will about Tyler Perry's unsophisticated brand of storytelling, but he definitely knows how to tell a story to a black audience which rarely sees its experience on the big screen in a family-friendly way. Perry's been a consistent moneymaker and his April 22 release, Tyler Perry's Madea's Big Happy Family, will be no exception. Tally to date: $53 million against a $25 million budget and still in release.
The same could be said of the black-audience directed May 6 romcom, Jumping the Broom, which has turned in a gift envelope of $37.3 million against a budget of just $6.6 million.
Yes, these are all – by studio standards – small-time earners. And yes, the youth demo still turns out money like it's minting it…but only when it comes out, and it's no longer the box office anchor it used to be. It couldn't hurt the majors to mix their pitches up a little bit. A one-pitch pitcher – and that's how the majors are looking this year – starts looking like Charlie Brown, screamers blowing right past him leaving him near-naked and on his ass on the mound.
"With the teams going into the locker rooms for halftime, how's it look to you, Chet?"
"Bob, I gotta tell you, even though they're not out of it yet, they're in a hole. They just haven't played a very good game so far, and I'd hate to hear what's going on in that locker room."
"Well, Chet, when you're down like this at the half, what do you do?"
"One thing is to come out and show something new, but, I gotta tell you, this is not a team that shows a lotta different faces. They keep going to the same plays they've been playing year after year, but if they do decide to stick with the same game plan, then they gotta execute better; the passing's gotta be more on target, and they gotta minimize the fumbles that've been killing 'em. The thing is, if they don't get some points on the board in the third quarter, I'm not sure they can get outta the hole."
The fact is, Hollywood doesn't have the rest of the summer to turn the season around. Knowing they'll lose the biggest chunk of the summer audience when school starts,
August releases are typically among the weakest of the season, and this August looks like an even poorer version of the first half of summer: franchise reboot Rise of the Planet of the Apes, remakes Conan the Barbarian and Fright Night, sequels Final Destination 5 and Spy Kids: All the Time in the World, the fourth entry in the SK series.
None of these promise to be the kind of explosive breakout blockbusters Hollywood needs right now which puts the pressure on July's contenders. The Tom Hanks/Julia Roberts romcom Larry Crowne has already opened to a widespread "Eh," and next week brings Horrible Bosses, sort of a male take on 1980's 9 to 5. But the best bets for major coinage are July 12's Harry Potter and the Deathly Hallows Part 2, July 22's Captain America: The First Avenger, and July 29's Cowboys & Aliens, with Captain America having to worry about the aforementioned "superhero-movie fatigue."
Deathly Hallows Part 2 is probably the most predictable moneymaker. Warners has allowed producer David Heyman a rare-in-big-studio-Hollywood liberty to carefully nurse the franchise as he's seen fit through seven well-crafted, ever-evolving installments since Harry Potter and the Sorcerer's Stone inaugurated the series in 2001. It's almost a sure thing fans who've hung on for this long will be there for the series climax.
As for Cowboy & Aliens? In a way, the title lays out the prospects: it can either be one of the most unique and enticing offerings of the summer, or winner of the Are-You-Freakin'-Kidding-Me? Award for the year.
After summer, there's typically a fall lull, then Hollywood moves into another season of big releases for the end-of-year holidays, but much of the September-December schedules looks an awful lot like the first half of the year: remakes (The Three Musketeers, Footloose, The Thing, and Straw Dogs), spin-offs (Shrek-spawned Puss in Boots), and sequels…a godawful number of sequels (Paranormal Activity 3, Happy Feet 2 in 3D, The Twilight Saga: Breaking Dawn (Part One), A Very Harold & Kumar 3D Christmas, Mission Impossible – Ghost Protocol, Sherlock Holmes: A Game of Shadows, Alvin and the Chipmunk: Chipwrecked, and Piranha 3DD).
What's been missing so far from the year is buzz: some movie that's both so distinctive yet connects with the mass audience that everyone is talking about it, that has everyone
saying, "You gotta see this!" With so many major releases merely extensions of franchise lines or familiar in other ways, that energizing, engaging freshness isn't there, and a sense of the stale and familiar has been hanging over the movie marketplace all year so far, suffocating it like an L.A. summer smog. This isn't just curmudgeonly griping: the numbers Hollywood lives and dies by stink, and it would be a surprise, considering what's in the pipeline for fall and winter, if they didn't end the year still stinking.
It's always possible for a late-year turnaround. The last quarter of 2010 saw the release of such surprise hits as True Grit, The King's Speech, Black Swan, The Fighter – but only True Grit came from one of the majors, and even collectively they couldn't make up for the lack of more blockbuster hits.
"What if they can't turn it around after the half, Chet?"
"Bob, there's always a danger that if they think they're just gonna see more of the same, the fans are gonna leave and not come back. And for the teams on the field? Lemme tell ya, if that third quarter goes by and they're still stuck? It turns into a looong game, and you just keep lookin' at that clock wonderin' when it's gonna end."
– Bill Mesce
Chat Box - Go ahead, make my day and ask me questions about movies and TV shows...