The Rencontres internationales du documentaires de Montreal (RIDM) was founded in 1998 and every year since has highlighted the very best documentaries from Canada and around the world. With a special focus on documentaries that really test boundary between fiction and reality, while presenting singular and personal perspectives that might change our view of the world around us, this is a truly unique festival. This year RIDM will run from the 7th to the 18th of November.
As this marks the festival's fifteenth year, in conjunction with its regular programming, they are including a special program called "15 Years and 15 All-Time Favourites" where they asked a variety of film personalities from Quebec and around the world to choose a documentary film that changed their life. This will give people a rare opportunity to see documentary classics like Hotel Terminus, Capturing the Friedmans and The Man with a Movie Camera on the big screen. The choice of films is as illustrious as the panel, which includes filmmakers and film personalities like Lou Reed, Frederick Wiseman, Barbet Schroeder and Philippe Falardeau. All fifteen films will be screening at the festival and you can read their justification for their choices at the RIDM website.
My choice of anticipated films won't include the retrospective, but instead will focus on new releases from 2011 and 2012. This is just a brief selection of films that appeal to me, but the line-up is really strong and will sure to have something to appeal to your curiosity. Check out the full schedule on the RIDM website.
The Tundra Book: A Tale of Vukvukai, The Little Rock
Directed by Aleksei Vakhrushev
Russia, 2011
A film about a disappearing way of life, The Tundra Book depicts the difficult life of a nomadic family living on the frozen tundra of Sibera. Though depicting a difficult lifestyle with many unimaginable challenges, the film takes a light-hearted approach to its subject. Three generations are depicted, and from the grandfather to the grandchildren there is a certain joie-de-vivre that is infectious and consistently uplifting. The documentary similarly addresses the fact that this way of life is continually threatened by progress and industrialization. Like many great documentaries before it, the confrontation of different ideologies and ways of life becomes the central conflict of the film.
Directed by Heidi Ewing & Rachel Grady
USA, 2012
From the same director as Jesus Camp, Detropia depicts a poetic vision of Detroit. Detroit was once a city that represented the ideals of the American dream, in the past decades, the city has fallen from grace as the fall of the American auto-industry has crippled all aspects of the city. Apparently a filmic search for Detroit's "soul" this is an impressionistic journey in a city whose best days are seemingly behind it.
Directed by Lucien Castaing-Taylor
France, UK & USA, 2012
One of the most critically acclaimed films of the year and screened in conjunction with the Festival du Nouveau Cinema, Leviathan is a harrowing and original documentary shot on an industrial fishing boat. A mixture of abstract and anthropological, the film depicts the strange monstrosities and beauties of this industrial life, the film foregoes almost all dialogue in favour of impressionistic imagery. One of the big film events of the year, this is an experience not to be mixed, as it will surely be unlike anything you've ever seen before
Directed by Namir Abdel Messeeh
France & Qatar, 2012
It's Christmas 2009 and someone takes out a video tape with a recording of an apparition of the Virign witnessed by thousands of Egyptian Christians. This is the beginning of the journey for the filmmaker, who takes his camera to Egypt, where he visits the people who saw this vision to hear what they have to say. A light-hearted and affectionate portrait of the Egyptian countryside, Namir Abdel Messeeh similarly integrates his passion for Cinema as part of this joyful and amusing portrait of faith.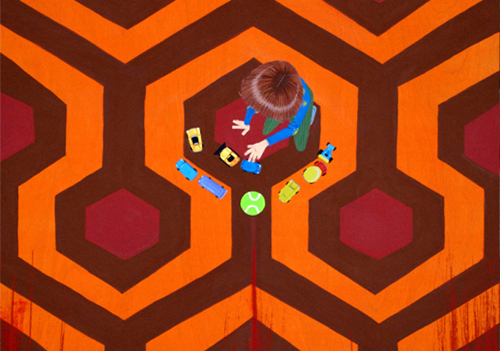 Directed by Rodney Ascher
USA, 2012
Needing very little introduction, this film has already gained something of a cult following. Depicting the many possible interpretations of Stanley Kubrick's horror classic, The Shining – from the possible allegories of genocide, to a coded confession about shooting the moon landing, Room 237 is consistently entertaining and eye-opening. Described as experimental by some, the film reworks The Shining, shedding a new and some might say – obsessive- light on this familiar classic. A must see for fans of Kubrick and conspiracy theories.
Directed by Oskar Alegria
Spain, 2012
Filmmaker Oskar Alegria depicts his journey to find Emak Bakia, the house that inspired Man Ray and one of his visual poems. The filmmaker allows Man Ray's surrealist routes to be his guide, and his journey is continually interrupted by observations, tangents and mini-adventures true to Ray's own style. This is by no means a traditional documentary and might be better described as a tonal poem or meditation on life and memory.
[wpchatai]