2013 is here. Obviously its extremely early in the game, but the biggest moneymaker of the year so far has been Texas Chainsaw 3D. That says something about a landscape of movies full of reboots, remakes and sequels.What it says is that they work.
Is this a sad fact? Yes, in some ways its a bit disconcerting. In my mind I see a film industry that no longer embraces the original. Just look back at the 80's and nostalgia kicks in with bitter sentimentality. But if you go back 20 years to 1983 you'll find six of the top 20 films from that year were also sequels. Granted, six of the top ten films of 2012 were also sequels, the others including one reboot, a comic book film and two films based on novels (The Hobbit can even be classified as a prequel).
Unfortunately we have to come to terms with what mainstream film has become and embrace the few original stories that crop up now and again. Among this years releases, the sequel/prequel/reboot trend grows even more substantially. While they may lack the individuality of one-off films, these extensions can often be memorable and original takes on their franchise. Of this years crop of releases I've singled out 13 of the most intriguing sci-fi/comic-book/fantasy and horror films. Among them are four sequels, two reboots, one book adaptation and six original films. Granted, these are my picks, but still, a little optimism never hurt anyone. Here are 13 films to see in 2013…
13. Upstream Color
With his debut film, 2004's time-travel thought-piece Primer, writer/director Shane Carruth firmly tackled the sci-fi genre as one of the most intelligent and original auteurs working today. With his second feature, Upstream Color, Carruth again enters the world of science fiction with a romantic thriller about…well, I'm not really sure yet. Judging solely by the mesmerizing clips from the film released so far, it looks to be another thoughtfully structured Carruth design melding heady science with human conflict. Upstream Color premieres later this month at Sundance with a theatrical release on 4/5.
12. Evil Dead
Remakes don't usually excite me, especially remakes of beloved films I've grown up with (I'm talking to you Total Recall remake), but this Sam Raimi, Bruce Campbell produced remake of their 1981 horror classic looks just plain awesome. When I originally heard news of a remake I was appalled. When I heard Diablo Cody (Juno) was attached to write, the idea of a remake sounded even more abhorrent. Then came the incredibly violent, pleasantly atmospheric trailer, and a teaser poster that arrogantly read in large bold letters; "The most terrifying film you will ever experience." That's all it took to turn my doubt into sheer anticipation. Evil Dead comes out 4/12.
11. The Hobbit: The Desolation of Smaug
After hearing mixed things about The Hobbit: An Unexpected Journey I feared the worst. Talk of overlong scenes and the failure of Jackson's experiment in 48-frames-per-second, along with the seemingly unnecessary lengthening of a short book into three long films greatly diminished my once eager excitement. That is until I finally saw it for myself. While the first hour dragged a little long, An Unexpected Journey suddenly turned into a beautiful trip back to Middle Earth. In the end, Jackson's vision succeeded, and has me counting down the days until the next adventurous chapter due out on 12/13.
10. Iron Man 3
Iron Man 2 failed to grip me like the first, but the reason Iron Man 3 made this list while Marvel's other 2013 releases, Thor: The Dark World and The Wolverine did not, is simply for its choice of director. Replacing Jon Favreau is Shane Black, writer of Lethal Weapon and writer/director of the under-appreciated 2005 film Kiss Kiss Bang Bang which also starred Robert Downey Jr.. Black, who is also credited with writing the story for Iron Man 2 has a witty edge to his screenwriting and direction. With the vision of Iron Man 3 put more firmly in his control I expect a more serious comic-book film where the stakes are more personal and the humor more crisp. Coming 5/3.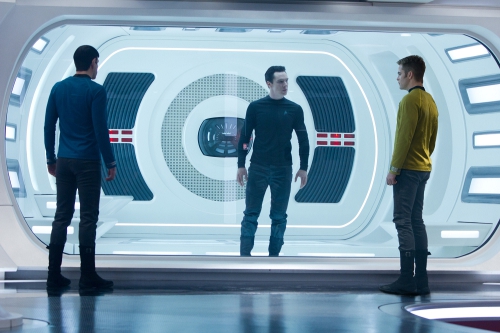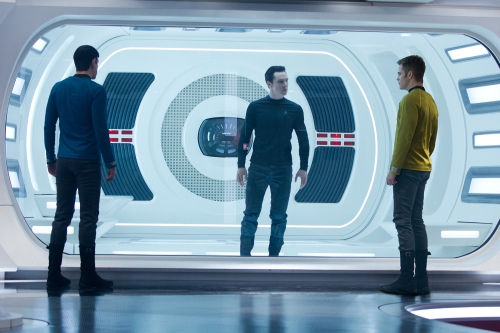 9. Star Trek into Darkness
J.J. Abrams 2009 Star Trek prequel (or reboot depending on how you look at it) offered a fresh new vision to the saga complete with a young cast of character-perfect actors taking Kirk, Spock and the crew of the Enterprise back to their beginnings. A sequel was inevitable and this year Abrams finally delivers. While the initial teaser trailer has been a contentious conversation point among Trek fans, I for one am sold. It looks like the lighter tone of the first film will be giving way to more Dark Knight-esque grimness, but I'm alright with that. I'd gladly follow this ensemble to the darkest black-hole in the universe. Coming 5/17.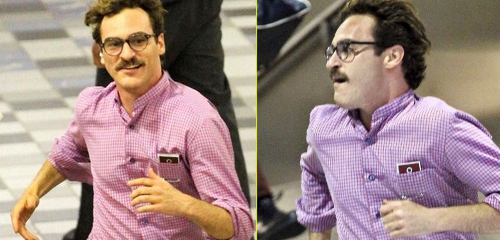 8. Her
Spike Jonze is a master of the sublime romance. From his music video work to his equally visionary feature film work, short films and commercials, his style is distinctly personal and always reliant on imagination and wonder. With 2010's short film I'm Here Jonze tackled romantic sci-fi by adapting Shel Silverstein's "The Giving Tree" into a sweet tale about lovelorn robots. There's not much news on Her at the moment, save for the above set images of star Joaquin Phoenix (Theodore), but like I'm Here, it sounds like it follows a similar romantic/sci-fi vibe. This is the first feature Jonze himself has written, usually known for his collaborations with Charlie Kaufman. The film is set in the near future where Theodore is a program designer who ends up sparking a romantic relationship with the operating system he's designed. Her also stars Amy Adams, Rooney Mara and Olivia Wilde. No date has yet been announced, but Her will release sometime this year.
7. Man of Steel
With his surprisingly right-on adaptation of Alan Moore's Watchmen and flawless panel to screen reconstruction of 300, Zack Snyder has more than proven comic book films are in hiswheelhouse. Hell, they may be all that's in his wheelhouse judging from his horrendous non-comic book outing Sucker Punch. Its only fitting that Snyder's been given the reigns of one of the comic industries most well-known heroes; Superman. This reboot could go either way, but I'm hoping that Chris Nolan's producing credit is more than just a bump by DC to attract Dark Knight level excitement. Bryan Singer's reboot attempt failed with Superman Returns, but Snyder's origin reboot is positioned to launch a new Superman franchise that, if done right, could craftily lead to the Justice League movie in 2015. With Michael Shannon (Take Shelter) as General Zod, get ready to kneel down when Man of Steel hits theaters on 6/14.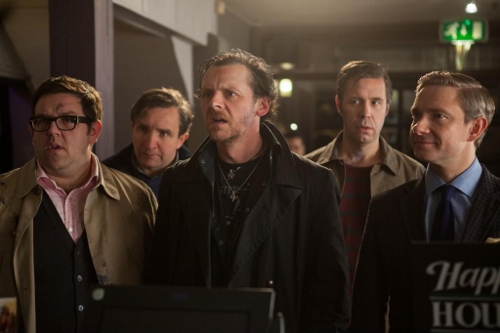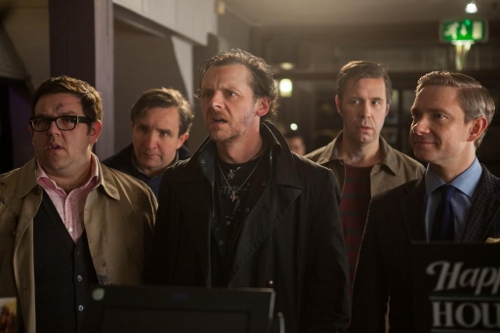 6. The World's End
The finale to the Edgar Wright directed, Simon Pegg and Nick Frost starring "Blood and Ice Cream Trilogy" (Shaun of the Dead & Hot Fuzz), The World's End is a pub-crawl science fiction comedy about reaching a pub called "The World's End" at a time when the world may actually be ending. There aren't yet many details about the film, but with this collaborating team behind it, it really can't fail. The "Blood and Ice Cream Trilogy" is so named not because the films tie together, but simply because each film features characters eating a different flavor of Cornetto Ice Cream, an homage to Krzysztof Kieslowski's "Three Colors Trilogy." Expect goofy, pop referential fun when The World's End hits UK theaters on 8/14 and US theaters on 10/25.
Orson Scott Card's ambitious science fiction novel is finally coming to the big screen. In the future, an alien race attacks earth and a sophisticated military complex is created to weed out potential military leaders from earth's children. This has the potential to be the most ambitious and intelligent military based science fiction film to date. Where Starship Troopers was a brilliant satire, Ender's Game could be even more culturally relevant at a time when perpetual wars are escalating around us every day. This could be the closest we ever get to a Halo film, since that intelligent sci-fi war series seems inevitably locked away in development hell. Starring Harrison Ford, Ben Kingsley, and Asa Butterfield (Hugo), Ender's Game is due out 11/1.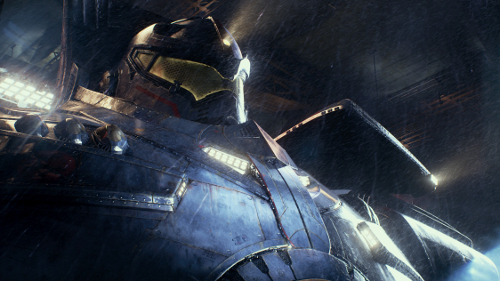 4. Pacific Rim
I've already written about this film after seeing footage during New York Comic Con last October. Guillermo del Toro's answer to giant kaiju fighting robots looks to be literally the biggest movie of 2013. There's nothing I can write that can add any greater excitement around this film than its trailer already has. Watch the trailer now and count down the days until Pacific Rim's 7/12 release.
3. Elysium
Create a shortlist of the most original sci-fi of the past ten years and Neil Blomkamp's apartheid driven District 9 is sure to be near or at the top. With his second feature, Elysium, Blomkamp is primed to tackle social issues once more with a film set in 2159, where the rich live in the pristine, Stanford Torus modeled "Elysium" space station while the rest live on the overpopulated ruins of earth. The film is about anti-immigration enforcement on "Elysium" and stars Matt Damon and Jodie Foster in what I hope will be the most original sci-fi since, well, District 9. Elysium is due in theaters 8/9.
2. Gravity
The shortlist I mentioned above would surely include Alfonso Cuaron's 2006 dystopian masterpiece Children of Men. Like Elysium, Cuaron's new movie is also set on a space station. George Clooney and Sandra Bullock play two astronauts trying to survive on a damaged space station. Not much more is known, though I can speculate that Cuaron's visionary style will translate wonderfully to the scaled back sci-fi this plot entails. No date has been set, but Gravity will release sometime later in the year.
Trapped in development hell for over 25 years, Mad Max: Fury Road is finally on its way. The fourth installment in George Miller's epic, post-apocalyptic saga, Fury Road is the biggest budget film in a series known for large scale set-pieces and the baddest vehicles ever put to film. Miller's return to the Mad Max franchise is a welcome return to the Australian wasteland he created well over 30 years ago. Tom Hardy is the perfect choice in taking over Gibson's iconic role (imagine if the once-rumored Sam Worthington had been cast), but part of me was hoping Miller would reboot or create a new lead character for his Mad Max universe. No trailer has been released, though the above photo of Hardy as Max surfaced on AICN late last month. Another sequel, Mad Max: Furiosa is rumored to be filmed directly after Fury Road ends production. Fury Road isn't set for release until around Christmas, but knowing the hell this production has seen, it could end up being released in 2014. Let's hope not.

The following list of releases (organized by release date) are also of note.
Schwarzenegger's return as leading man in I Saw the Devil director Kim Ji-Woon's The Last Stand and the del Toro produced horror of Mama on 1/18, zombie romance Warm Bodies on 2/1, another Die Hard sequel with A Good Day to Die Hard on 2/14, Oldboy director Park Chan-wook's thrilling English-language debut Stoker 3/1, Sam Raimi's Wizard of Oz prequel Oz: The Great and Powerful on 3/8, the better looking G.I. Joe: The Rise of Cobra sequel G.I. Joe: Retaliation on 3/29, Jurassic Park's return to theaters on 4/5 for Jurassic Park 3D, the Joseph Krasinski directed Tom Cruise starring sci-fi Oblivion 4/12, Michael Bay's promising action-comedy Pain & Gain 4/26, Baz Luhrmann's energetic take on The Great Gatsby 5/10, Hangover and Fast and Furious sequels The Hangover Part III and Fast 6 on 5/24, M. Night Shyamalan's iffy looking After Earth on 6/7, Pixar sequel Monsters University and the Marc Forster directed zombie epic World War Z on 6/21, sequel Kick-Ass 2 on 6/28, Gore Verbinski's The Lone Ranger on 7/13, Supernatural comic-book adaptation R.I.P.D. (Rest in Peace Department) with Jeff Bridges on 7/19, Hugh Jackman's return to the claws in the X-Men Origins: Wolverine sequel The Wolverine 7/26, 300 sequel 300: Rise of an Empire on 8/2, the third chapter in The Chronicles of Riddick series Riddick on 9/6, Schwarzenegger and Stallone's co-starring thriller The Tomb 9/27, the Frank Miller and Robert Rodriguez co-directed return to Sin City in Sin City: A Dame To Kill For on 10/4, Spike Lee's Samuel L. Jackson starring Oldboy remake on 10/11, the Jeff Bridges led fantasy The Seventh Son 10/18, Marvel's Thor sequel Thor: The Dark World 11/18, second installment The Hunger Games: Catching Fire 11/22, Anchorman sequel Anchorman: The Legend Continues 12/20, Keanu Reeves samurai epic 47 Ronin and the Kenneth Branagh directed Chris Pine starring reboot of Tom Clancy's Jack Ryan series on 12/25.
[wpchatai]