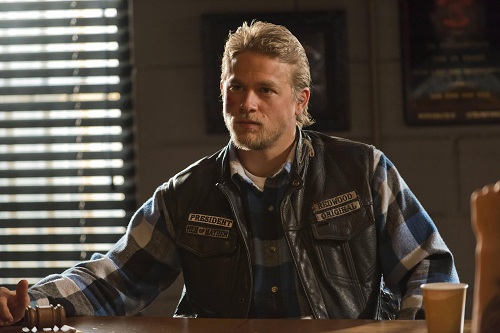 Sons of Anarchy, Ep. 5.01: Back on the road of fast ridden pavement, with some of the usual bumps
Sons of Anarchy Season 5, Episode 1: "Sovereign"
Written by Kurt Sutter
Directed by Paris Barclay
Airs Tuesdays at 10pm ET on FX
Jax (Charlie Hunnam) is at the gavel, vendettas are all around SAMCRO, the Niners are under the cold, hard reign of promising new villain Damon Pope (Harold Perrineau), and there's a new pimp on the block, "companionator" Nero Padilla (Jimmy Smits), double starring as Gemma's (Katey Sagal) momentary lover and brothel runner to lighten up the cruelty of the drama.
Kurt Sutter's fifth season of Sons of Anarchy starts off with the familiar ingredients of what has made this show stand out in the past- throwing its strong characters into the utmost of cruel situations and difficult emotional dilemmas, paving the way for a deeply thought-out journey of character development. The season opener appears to have Sutter bringing his series back to the second season's brilliance, if he can manage not to get caught up in rushed plot changes (yes, the infamous CIA intervention of last year's season finale remains too out of the blue) and instead give everything the necessary time to play out.
Season five picks up shortly after the big show down power-shift from Clay (Ron Perlman) to Jax (Charlie Hunnam), leaving the show at an intriguing peak, with Jax finally taking over the club and a dethroned Clay hooked up to an oxygen tank. Jax is simultaneously pushed not only to continue what Clay started (transporting drugs and guns for the cartel), but to also keep up the lies surrounding Piney's death, a set-up that should make for an interesting struggle on Jax's end to bring the club to where he wants it to be. Admittedly, Clay is unlikely to remain a broken President of SAMCRO (a role that doesn't necessarily suit him well) for too long, as he's surely already plotting his way back into a position of power.
Some of the usual club business is getting utterly familiar by now – the legal hassle and threat of arrests – yet with Damon Pope, Sutter expands his repertoire of cold heartedness to a surprising new level of cruelty. Pope seeking revenge for the daughter he lost to Tig's (Kim Coates) gone-wrong attempt to avenge Clay has a different approach than the standard eye for an eye. He's much less impulsive about reaching for a gun but rather is vindictive, preparing a well-thought-out plan always in a calm and easy manner. This new approach is only spoiled by Kim Coates' performance (he isn't the best at portraying absolute horrific emotional pain) – let's hope Pope doesn't follow through with his threat of killing Tig's second daughter as well; another theatrically-screaming Coates would make for too much unwanted comedy. Pope, however, will be a more than welcome superb opponent to the gritty bikers of SAMCRO.
Season five kicks right into high gear and Sutter doesn't hold back with gruesome scenes, while still being too afraid to actually off one of his central cast members. The only proof that Sutter actually has it in him to give his characters the ultimate fate remains the shocking cut of Johnny Lewis as Kip 'Half Sack' Epps in season two (William Lucking's Piney would have died a natural death at some point of the show anyway). While it does feel a little like Sutter is only shuffling his old players in the familiar deck of roles, Opie (Ryan Hurst) as the new Jax more and more at odds with the club's way of dealing with things, Tara (Maggie Siff) slowly turning into a Gemma as the new old lady at reign, it is doubtful that he will play them exactly the same way.
If the calm cruelty of season five's opening is any indication of how this season will play out, we are going to be in for a bloody vengeful trip. There are conflicts aplenty, including that Opie and Jax have yet to deal with Clay's seemingly consequence-free killing of three of the first nine, and these will hopefully fuel this season's arc and bring the show back to its season two heights.
Merle Fischer