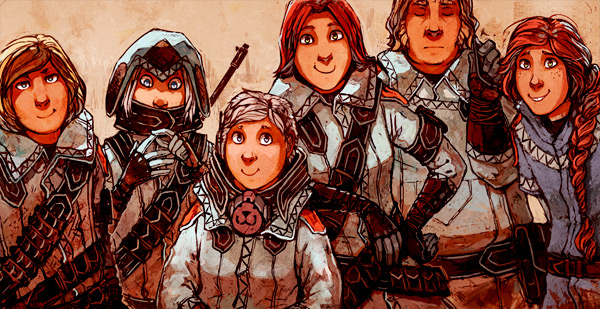 Stand Still, Stay Silent
Written and Illustrated by Minna Sundberg
Ongoing, 2013-present
Updates Monday-Friday
Stand Still, Stay Silent is the second webcomic written and illustrated by Minna Sundberg. Set 90 years into the future, this post-apocalyptic webcomic intertwines Nordic mythology, cats, magic, and trolls.
The prologue is a little slower to get through compared to A Redtail's Dream because there is a lot more set up involved. However, once readers make it to chapter one, the story really takes off. So stick with the prologue, or skip it completely, but don't pass up Stand Still, Stay Silent just yet.
The main story takes place in a world wrapped in silence. Those who survived the cataclysmic event are living in Iceland, Norway, Denmark, Sweden, and Finland. Since the collapse of civilization as we know it, gods, spirits, and ancient spells have returned to the forefront of human knowledge. That is not to say that technology has been abandoned. Magic and technology now work together to protect the remaining inhabitants of the world. Speaking of work, a change in society means a shift in occupations. Hunters, mages, and cleansers for example, are absolutely necessary in protecting settlements from creatures who wander far from depths of the silent world.
After 90 years of isolation, a few brave souls volunteer to venture out into the unknown (or a few underqualified idiots depending on how you look at it). The main protagonists of Stand Still, Stay Silent are currently comprised of five individuals from four different nations who are tasked with researching and recovering priceless treasures. What might those treasures be? Books! Books filled with mountains of knowledge, valleys of wisdom, and seas of stories. So far, our intrepid team has barely made it to their first checkpoint. Only time will tell if they will return home triumphantly, or, more importantly, if they will return at all.
Stand Still, Stay Silent sees the return of Sundberg's gorgeous art style and page design. As this adventure is happening on a much grander scale than A Redtail's Dream, Sundberg spares no expense in providing readers with detailed info graphics about languages, jobs, beasts, and cultures; an extremely handy feature for readers like me who live outside of a Nordic country. She also explores the difficulties involved with bringing together a group of people who speak different languages. I find this refreshing to see because many times stories tend to dodge this subject so they don't have to deal with linguistics. Sundberg isn't afraid to dive into language, and even goes so far as to create a linguistics tree for old world languages.

Once again, for those of you who enjoy a physical copy, one of the comic will exist, but you'll have to get in line (and it's a long one). In the meantime, you can enjoy Stand Still, Stay Silent online. We're only 227 pages in, so you can catch up quickly. Just remember the first rule of this post-apocalyptic world.
If you come across

a Beast, a Troll, or a Giant

do not run or call for help

but stand still and stay silent.

It might go away.