Top 10 Episodes #9
–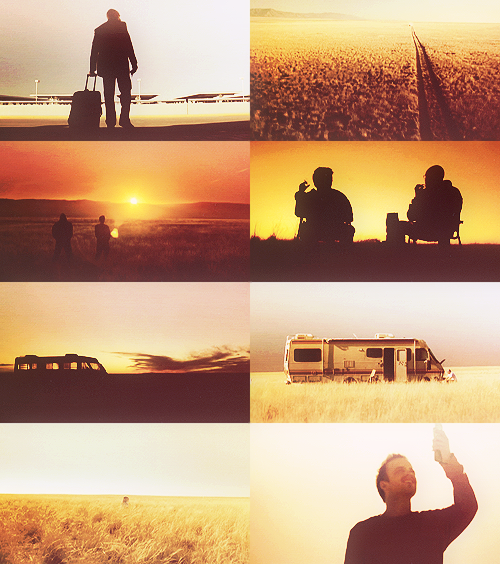 Season 2, Episode 9: 4 Days Out
Directed by Michelle MacLaren
Written by Vince Gilligan & Sam Catlin
'4 Days Out' is another memorable episode in an astounding series. Here we have the take on Flight of the Phoenix, with travellers stranded in a desert, low on supplies and desperately trying to find ways to survive. In this episode, almost everything stops while our heroes are left to solve a life-or-death situation. This is a survival tale, and in the crisis both protagonists slowly bond closer to one another. Finally Jesse is made to understand what is driving Walter, and how far he'll go to provide for his family even when he is gone. He gains a newfound respect for Walt and promises to watch over his family when he is dead. The episode forms the bond between the two, and no matter how often they've argued, it was that moment in which Walt felt the need to look out for Jesse as though he were his own.
When we come to the end of the episode, we begin to understand what Walt's character is really feeling – frustration and fear. In the final scene Walt stares into his reflection in the bathroom mirror. He doesn't like what he sees, and begins punching the towel dispenser until it's so badly deformed that all he can see is his distorted reflection. And judging by the dent in the dispenser, Walt is unsure of who he is and who he is slowly becoming.
The episode also boasts the best cinematography of any episode yet by two-time Oscar-winning cinematographer John Toll (Braveheart, Legends of the Fall), with images of the bright orange desert light, wide angle shots, shivery blues from within the RV and tall green grass on the horizon. Also worth noting is the great use of music throughout the series. In this particular episode we are treated to two notable songs: 'Good Morning Freedom' by Blue Mink, and 'One By One' by The Black Seeds.
[vsw id="rP2yyQfTUGA&feature=related" source="youtube" width="500″ height="425″ autoplay="no"]
–
–
–