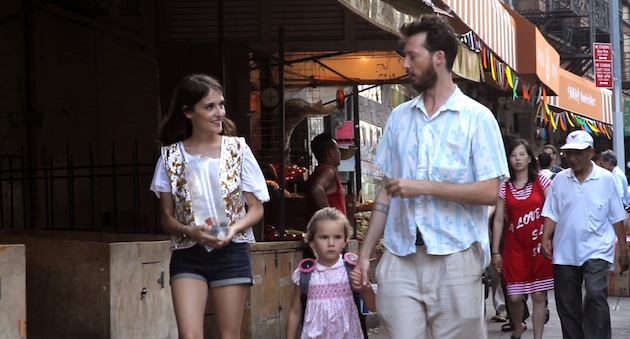 SXSW 2013: 'Swim Little Fish Swim' is a poignant, bittersweet look at the lives of struggling artists
Swim Little Fish Swim
Directed by Ruben Amar, Lola Bessis
Written by Ruben Amar, Lola Bessis, Brian Paccione (script consultant)
US/France, 2013
There have been many meditations on the relationship between people and the creation of art. Swim Little Fish Swim takes a stab at this, examining how some people use art to connect to reality and how art can also cause disconnect, especially when it comes to doing what feels right versus what must be done. This is done by following the dichotomic couple Mary (Brooke Bloom) and Leeward (Dustin Guy Defa) trying to make ends meet with their daughter Rainbow (Olivia Costello) as young French artist, Lilas (Lola Bessis) moves into their lives. The two form intertwining storylines for an emotional backdrop of art, reality, and relationships. The main catalyst lays in the main characters and through their relationships.
As Mary is working as nurse and trying to create a family and a home, Leeward is the definition of a starving artist. He is constantly chasing his ambitions and his art, spending what little money they have to record his music, but even he struggles with the pressures of trying to be a good father and husband. This crashes with Mary's more pragmatic temperament.
Lilas is a young twenty-something trying to chase her lofty dreams and find an artistic voice outside the shadow of her famous artist mother. This journey takes her out of France, to New York, across some New Age artistic characters, and the home of Mary, Leeward, and Rainbow. The laid back score in the film is a perfect mold for the story and underscores it's characters well. They are all out to trying to achieve what they want in the face of a sometimes crushing reality. This journey may not always lead to the perfect ending, but there is a certain beauty in the film's bittersweet and open conclusions and much heart imbued in its characters.
The film encapsulates a true depiction of struggling artists. They are people who have to deal with the constant pressures of reality and the lofty ambitions of their passion. It is a life that does not always end up working out. The film creates an honest picture with honest characters and an honest ending. Where they end up after the credits roll can completely depend on what the audience feels towards art, life, and practicality.