What makes films about religion so interesting is the way some manage to tread a line between support and criticism, while some are vehemently anti-religion or pro-religion. When all is said and done, it's up to the audience to decide whether or not the film (or the faith portrayed) is a respectful or perceptive study on faith and the dogmatic principles that may or may not surround it. Not every religious film is uplifting. In fact, there are plenty of non-religious films that do a better job of building viewers' faith. But that's another list for another time.
30. Beyond the Hills (2012)
Directed by Cristian Mingiu
Five years after his punishing 4 Months, 3 Weeks and 2 Days, Christian Mingiu delivered an interesting look at a lifelong friendship formed at an orphanage. Beyond the Hills tells the story of two women, based on non-fiction novels by Tatiana Niculescu Bran: Alina (Cristina Flutur) has fled to Germany, no longer able to take the poverty. When Voichita (Cosmina Stratan) refuses to join her, the two become separated,  and spend years apart. When Alina can no longer bear the absence, she goes to Romania to find Voichita, only to find she is in a convent, nearing the time to take her final vows. What results is a fascinating, sometimes scary discussion of romantic love (or lust) vs. faith. Alina and Voichita were lovers, separated by fundamental differences. But while love conquers all for Alina, Voichita's love of God has now replaced her love for Alina. Mingiu places this convent in an environment that feels almost like a horror film, where the fear and love of God is not exactly presented as a virtue. Eventually, the film's setting and story deliver a compelling look at the sacrifice it takes to devote your life to God and questions whether or not it is an inherent betrayal of human nature or a worthy calling.
29. The Decameron (1971)
Directed by Pier Paolo Pasolini
The first of Pasolini's Trilogy of Life (including The Canterbury Tales and Arabian Nights), The Decameron is based on the novel by Giovanni Boccaccio of the same name. The film is broken into nine chapters, each thread connected by a pupil (played by Pasolini) studying under the great Boccaccio, planning to paint a mural based on his work. Though some of the episodes seem out of place, many focus on the influence of God or the church. In one story, a man pretends to be deaf and mute to get accepted into a convent, only to find out that the nuns are insatiable and exasperate him by forcing him to have sexual relations every night. In another, a swindler and liar tricks a priest while on his deathbed, eventually being hailed as a saint and martyr. Many of the other stories involve sexual misgivings and betrayal, though each involves a twist that is either stomach-turning or surprisingly whimsical. In the end, we see the mural the pupil has painted – a happy depiction of the baby Jesus and his mother that inspires bells to be rung. As are many of Pasolini's other films, it's graphic and borderline sadistic at moments, but The Decameron ends up being one his more digestable works, managing to maintain a necessary touch of playfulness throughout.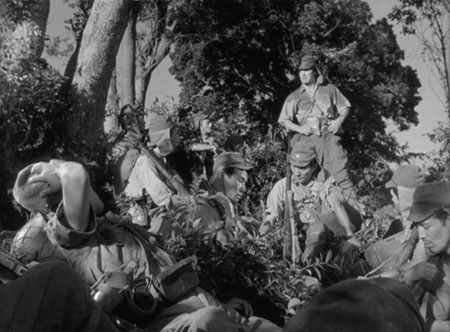 28. The Burmese Harp (1956)
Directed by Kon Ichikawa
Based of the children's novel of the same name by Michio Takeyama, The Burmese Harp is a Japanese film about a soldier – also a harp player – played by Shoji Yasui who fights in the World War II Burma campaign. When he finds out that the Japanese have already surrendered, he decides to personally surrender to the British troops who have been spying on him. Mizushima (Yasui) takes a group of soldiers down the mountain at a camp, only to find himself almost killed and found by a monk. During his recovery, he steals the monk's garb and poses among the monks to hide himself. While undercover, he finds himself fascinated by the peaceful nature of the monks he lives and studies with, vowing only to return to Japan when he has finished burying the bodies of the dead soldiers in the mountains. Mizushima's path is a fascinating one, choosing peace over war, finding he is more equipped to bring about love than death. The argument may settle closer to the reaction to defeat – has he surrendered his life after his country surrendered their fight, but nothing more? The Burmese Harp was nominated for the Best Foreign Language Film in the first year it was a category, but lost to Fellini's La Strada.
27. The Devils (1971)
Directed by Ken Russell
Based on a combination of Aldous Huxley's The Devils of Loudon and John Whiting's play The Devils, Ken Russell's 1971 film was met with a hailstorm of controversy, receiving an X rating in the United States and Great Britain (the same year as Stanley's Kubrick's A Clockwork Orange earned the same rating). In The Devils, Father Urbain Grandier (Oliver Reed) has taken control of the city of Loudun. An insane local nun named Sister Jeanne (Vanessa Redgrave) has become obsessed with him, completely losing her mind when she learns of his secret marriage. While Grandier has gone to speak to the King, men arrive in Loudun to destroy the town and the Protestant fortifications, only to meet Jeanne, who claims to have been bewitched by Grandier. Eventually, this erupts into an mass orgy in the middle of town, including the desecration of a Christ statue. Upon his return, Grandier is accused of causing the bewitching and finds himself sentenced to death. It's an uncomfortable experience, more a film about how easily influenced men can be when reasoning is overtaken by blind faith. At the center is a wickedly graphic performance from Vanessa Redgrave, where the memorable moments are actually those which found themselves banned and censored in various locations. It won Russell the Best Director-Foreign Film award at the Venice Film Festival, despite the film being banned in the country. It may not be a great film, but it sure is unforgettable.
26. Frailty (2001)
Directed by Bill Paxton
Bill Paxton's directorial debut proved long before our current Matthew McConaughey renaissance (McConaissance, if you will) that he had some quality acting chops. In Frailty, Felton Meiks (McConaughey) enters an FBI office in Texas to turn in his brother, who he claims is the "God's Hand" killer they have been looking for. What it becomes is a story told in flashback by Meiks (The Usual Suspects-style), detailing his and his brother's upbringing by their father (Paxton), who claimed to have been asked by God to find and destroy demons on Earth. When he captures people, he claims to see their sins, determining that they deserve to die. But what begins as a horror film about a crazy man and his father turns into a much more interesting thriller that takes on the concept of "God's soldiers" and killing in the name of God. It's a deeply revealing film with excellent performances at its core that turns its original story on its head, giving way to one of the more thoughtful, well-developed horror films of the last 20 years. Bill Paxton has only directed one other film (The Greatest Game Ever Played); perhaps he should step back behind the camera.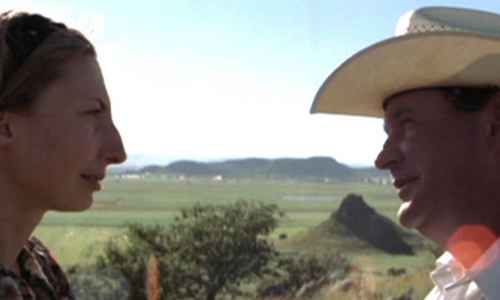 25. Silent Light (2007)
Directed by Carlos Reygadas
Taking place entirely within a Mennonite community in Mexico, Silent Light focuses on Johan (Cornelio Wall), a man stricken with grief because he has fallen in love with a another woman who is not his wife. Everyone – his wife, friends, and family – seem to know about the affair, but Johan's guilt has less to do with them and more to do with his belief that he has betrayed his faith. Despite those worries, the affair continues to the point that he has sex with his mistress in a motel room while his children wait in the car with a stranger, eventually leading to confrontation. What makes Silent Light so fascinating is its incredulousness. It's a very simple story, but it's littered with inexplicable miracles – the seasons seem to abruptly change, people return from the dead.  But within the context of the film, it all feels somewhat normal. The film's entire cast is made up of Mennonite people from Mexico, Germany, and Canada. Reygadas based the film partially on Carl Dreyer's Ordet, which takes a number of cues in terms of settings and the picturesque landscape of wide open farming country. It tied with Persepolis for the jury prize at Cannes in 2007 and landed in a number of top ten lists in the same year – a wholly original film from a talented director.
24. The Master (2012)
Directed by Paul Thomas Anderson
So, Scientology, right? Paul Thomas Anderson's psychological study of a struggling military veteran is less about religion than it is about trust and conquering internal demons. Freddie Quell (Joaquin Phoenix) has returned from the war, suffering from what can only be defined as post-traumatic stress disorder. He comes in contact with Lancaster Dodd (Philip Seymour Hoffman), a persuasive leader of a new movement titled "The Cause." Clearly modeled after L. Ron Hubbard's "church," Dodd's group of followers are dedicated to spreading their message – Dodd believes Quell can be one of his apostles. But, as Quell is drawn further into the movement, he finds himself at odds with Dodd, the only man who is intelligent enough to understand him, but observant enough to understand that he is a loose cannon. Alongside Amy Adams, playing his wife, Hoffman gives one of his finest, more nuanced performances, while Phoenix delivers one of his many divisive performances, proving his worth in terms of the physicality of the part more than most. Freddie Quell's face alone is so overtly emotional, it's easy to see why he can be drawn in by con men and charlatans. But, at the same time, he possesses the strength (or chaotic temperament) to buck the system when needed. Criticized by Scientologists across Hollywood upon its release, The Master still serves as the best big-screen look behind the curtain of this mysterious belief structure – even if it doesn't clearly say it is.
23. Song of Bernadette (1943)
Directed by Henry King
Saint Berandette Soubirous ' story was originally written by Franz Werfel, only to earn a motion picture treatment the following year, where she was portrayed by Jennifer Jones. Bernadette is a sub-standard, 14-year-old Catholic schoolgirl, criticized for her lack of hard work learning the catechism. But one day, in a cave, she comes across a woman bathed in light, who claims to be the Virgin Mary. Despite no one believing her story, she returns to the cave multiple times, each time seeing Mary again. The real conflict arises when, after finally proving her story has merit, she is pressured to join the church as a nun, despite the fact that she wants to continue her normal life. It makes no effort to be subtle. It's a clear adaptation of the story, making no bones about the story itself being aggressively pro-Christian. Bernadette finds herself the focus of many, viewed as a saint among commoners, despite her only real desire being to see and speak to Mary once again. She has no desire to be a martyr. She has no need to walk the Earth believing that she is special. What results is an interesting portrayal of a historic figure in the church and a parable about why true faith doesn't necessarily mean giving your life over  fully to the church. It also became a literal song, written by Jennifer Warnes, Leonard Cohen, and Bill Elliot; not exactly the same subject, but clearly inspired by the film and story.
22. Spring, Summer, Fall, Winter…and Spring (2003)
Directed by Kim Ki-duk
Set at a Buddhist monastery and broken into five parts, Kim Ki-duk's deliberately titled film is a look at the life of a novice monk as he goes through the seasons of his life, each roughly 10-20 years apart. It's a straight-forward story, but it's littered with Buddhist iconography and symbolism. In the first season, the apprentice's master teaches him a lesson after seeing him abuse multiple creatures with rocks in nature. In the second, the apprentice finds himself lusting after a teenage girl brought to his master's care, only to find himself overcome by his desires. In the third, the apprentice returns to the master, now an adult, only to have committed terrible atrocities, leading him to be taken to prison. The fourth sees the apprentice, now paroled, as he returns to the monastery, only to be visited by a woman, who leaves her baby and tries to run away. Finally, the last season sees the apprentice – now the master – teaching the abandoned baby, who is now his apprentice. Spring, Summer, Fall, Winter…and Spring is basically just a literal translation of every symbolic piece of the Buddhist faith, each demonstrated clearly through the apprentice's life cycle. It's a stunning, insightful story that's certainly a good intro film for anyone interesting in learning more about Buddhism.
21. The Wicker Man (1973)
Directed by Robin Hardy
Long before Hollywood tarnished it with a terrible Nicholas Cage remake, The Wicker Man was an eerie British horror film directed by Robin Hardy. Starring Edward Woodward as Sgt. Neil Howie, the film takes on the ancestral faiths of the generations before us, when widespread Christianity had yet to find itself. Howie arrives at Summerisle, investigating the disappearance of a young girl named Rowan. A devout Christian, Howie is horrified to find the people of Summerisle worshiping the pagan Gods of long ago. He discovers mysteries within the people, specifically Lord Summerisle (Christopher Lee), the island's leader. He learns of the upcoming harvest and the possibility of sacrifice if it is not bountiful. From there, the rigid faith Howie has held dear may very well become his undoing. It's a sharp depiction of the similarities and differences between modern faith and the world-focused faiths of the past, resulting in one of the most gut-wrenching endings in the history of the genre. Is it a criticism of non-Christians or a clear attack on the gullibility of the blind followers of Christianity (or any faith, for that matter)? Either way, it has birthed the aforementioned remake, a sequel in spirit (The Wicker Tree), and has a third piece of the trilogy in the works.
— Joshua Gaul