Part 2 of this list gets a bit more foreign. In fact, this may be the first full list that has more foreign-language films than English-language ones. Maybe English-speaking audiences aren't as willing to watch religious films. Maybe films associated with religion come off as preachy or accusatory. Or maybe (most of) the films on this list have done it so well already that it doesn't need to be done again.
40. Marketa Lazarová (1967)
Directed by František Vláčil
The film often credited as being the best to come out of the Czech Republic, Marketa Lazarová was based on the novel by Vladislav Vančura and is an early, biting narrative about the chasm of difference between paganism and its shift into Christianity in the Middle Ages, as the daughter of a lord is kidnapped and becomes the mistress of one of her kidnappers, a robber knight. It becomes a textured and stylistic historical film, using creative cinematography to present a beautiful, almost introspective view of the era. It's a revelatory discussion of religious dissension, while also serving as a parable about violence and love. It really boils down to an action film in the end, but stands as one of the most artistically significant art films of its generation, despite the action and violence.
39. Agnes of God (1985)
Directed by Norman Jewison
A varied look at the psychology of faith from the director of Rollerball, Agnes of God is a surprisingly graphic depiction of a nun's mental breakdown or, she argues, her visit from God himself. Based on a play (and screenplay) by John Pielmeier, the film is the story of a young nun named Agnes (Meg Tilly) who is found in her room covered in blood with a dead baby. From there, it's a relatively sloppy police procedural, centering on Dr. Martha Livingston (Jane Fonda) as she investigates Agnes' past by interviewing the head mother Miriam (Anne Bancroft) and researching the convent. Agnes claims the baby was a virgin birth after meeting a man in the adjoining barn while under hypnosis. It's a misguided attempt to be incendiary, though it doesn't do a great job hiding its agenda. Fonda and Tilly are good, but they can't save a movie that tries too hard. All that said, the film is a rare attack on a very difficult subject.
38. Dogma (1999)
Directed by Kevin Smith
After breaking in with Clerks, Kevin Smith took it easy with Mallrats, grew up with Chasing Amy, then went to a full-fledged religious satire with the raunchiest criticism of organized religion in the history of cinema. Dogma stars Matt Damon and Ben Affleck as two angels who find a loophole to get back into heaven after being exiled to Wisconsin. The catch: their doing so would unmake existence (it's explained in the movie). To stop them, the voice of God (Alan Rickman) recruits Bethany (Linda Fiorentino), who gets help from two "prophets" (Jason Mewes and Smith), the 13th apostle (Chris Rock), and a muse (Salma Hayek). What results is a film rife with Catholic humor and take-downs of the most archaic principles still upheld, all within nothing more than a dirty road trip movie. In between all the typical Kevin Smith-style jokes are some relatively interesting insights into how Catholicism works and why the rules and bylaws (not just in Catholicism) are beside the point. Smith's point is clear – "faith" isn't bad; "religion" may be.
37. Boys Town (1938)
Directed by Norman Taurog
A biographical drama based on a house for underprivileged boys in Omaha, Nebraska, Boys Town won Spencer Tracy a much-deserved Oscar for portraying Father Edward J. Flanagan, a priest who is convinced to begin a mission to save impoverished children from a life on streets after witnessing a convicted murderer's confession to police about his upbringing. He believes every boy can be saved, even the most difficult. Enter Whitey Marsh (Mickey Rooney), who is staying at Boys Town while his older brother sits in jail for murder. The film heavily focuses on Whitey's plight – a young man who is viewed as a criminal even before he has committed any serious crimes and his association with Boys Town, which paints the home in a negative light. Flanagan finds himself helping Whitey and his brother find the people who committed the crimes they have been accused of, eventually finding a way to prove that his place of safety is a gift to the community. Just like plenty of other 1930s and 1940s feel-good studio films, Boys Town lays it on pretty thick. But, also like many of those films, it finds a way to reach deep down into even the cruelest of hearts and find a glimmer of sunshine and hope.
36. The Da Vinci Code (2006)
Directed by Ron Howard
It began as a worldwide bestseller by Dan Brown, which means it needed to be a film. And who better to direct than the guy who did Apollo 13? The controversial book dove deep into a supposed cover-up by the Catholic church about the Holy Grail and the idea that Jesus and Mary Magdalene were, in fact, married and had a daughter. The Da Vinci Code was met with great religious spite upon its release in 2006, the same way the book was. Didn't hurt the box office pull, though, as it took in $224 million on its opening weekend worldwide. All this, despite not even being a good movie. Starring Tom Hanks and Audrey Tautou as a professor of religious iconography and a police cryptologist, respectively, the film shifts in and out of secret hiding places in Italy, searching for the secret code within Da Vinci's Last Supper, the results of which would surely destroy the Christian faith. Also starring Ian McKellen, Paul Bettany and Alfred Molina, Howard's film didn't reach near the heights of some of his better work, getting lost in the mysteries and not helped at all by some substandard performances. But, despite all that, it was the second highest-grossing film of 2006 and spawned a sequel, also based on Dan Brown's novel.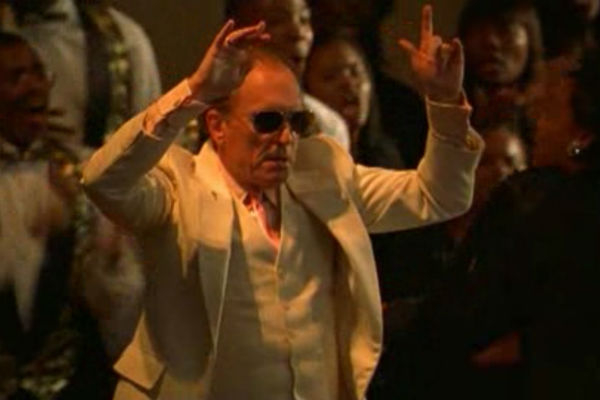 35. The Apostle (1997)
Directed by Robert Duvall
Written by, directed by, and starring Robert Duvall, The Apostle is the story of Sonny Dewey (Duvall), a Pentecostal preacher who, due to his infidelity, finds himself separated from his wife Jessie (Farrah Fawcett), who begins a relationship with a youth minister named Horace. One day, in a fit of rage, Sonny attacks Horace, leading to a coma and, eventually, his death. He flees, destroying all connections to his past and changes his name to "The Apostle E.F." He does his best to remake himself and begin a new church, only to find his calling has become more difficult, as he can't seem to escape his demons. Duvall earned an Oscar nomination for his role, though most of the thanks goes to the screenplay and Duvall's work behind the camera. It's a religious movie that, despite being about a preacher, is not necessarily about God or faith. It's more about human nature and redemption, as Duvall's journey feels like a desperate one. Made over 20 years after Duvall originally wrote the script, he eventually decided the only way it would get made is if he financed and directed it. What results is a touching parable about a man who, despite his flaws, is a clear representation of what you would expect from a good faith leader: a real person who finds that, after all the pain he causes and suffers, there's nothing left but to turn to something you can't control.
34. Nazarín (1959)
Directed by Luis Buñuel
Buñuel is famous for his surrealist takedowns of the aristocracy, the upper class, and the Catholic church, but none of his films were more literally about Catholicism than Nazarín, a 1959 Mexican film about a Catholic priest whose life parallels that of Jesus Christ. Father Nazario (Francisco Rabal) travels the world, performing miracles. He tends not to let himself be dragged into the dogmatic principles of the church he chooses to follow. He befriends prostitutes, two of whom agree to follow him. He befriends a woman living below him named Beatriz (Margo Lopez), a suicidal woman prone to psychotic episodes, demonstrating the patience and compassion that is integral to the Christ story. In a lifetime full of critical looks at the Catholic church, Buñuel's most straightforward effort is more or less serving as an example, more than anything. His criticism here focuses on his belief of the church being hypocritical, falling back into the same law-focused practices that captured and eventually crucified the man that they so fervently follow. Nazario's episodic travelogue may be another re-telling of the Christ story, but it's worth mention, due to the director's typical prowess. Instead of a two-hour riddle, he chose to be as direct as he could, providing some inspiring results.
33. The Flowers of St. Francis (1950)
Directed by Roberto Rossellini
Co-written by Rossellini and Federico Fellini, The Flowers of St. Francis (technically, the Italian title is Francesco, giullare di Dio, which translates in English to "Francis, God's Jester") is an anthology of chapters, each showing a different point in the life of St. Francis of Assisi. The film begins with Franciscan friars, meant to introduce the people who eventually would become the devout followers of St. Francis. The majority of the chapters are unconnected – some have a specific moral reason behind them, some feel like they don't. The film is based on two books – Fioretti Di San Francisco and La Vita di Frate Ginepro. Fioretti, is broken down into 78 chapters, less about historical anecdotes from St. Francis' life and more about his fantastical feats and those of his followers. The film follows that theme, splitting into nine chapters. More importantly, the film marked an interesting reflection of Rossellini's ideals; not a Catholic, he still had a deep-seeded interest in Christian values, specifically the ethical teachings of the Catholic church. Priests were used as consultants during the production of the film, meant to instill a type of respectfulness among the filmmakers. The film is still viewed by the Roman Catholic church as an honest, deferential depiction of the saint's life.
32. Jesus Christ Superstar (1973)
Directed by Norman Jewison
Based on Andrew Lloyd Webber and Tim Rice's popular rock opera of the same name, Jesus Christ Superstar focuses on the final week of Jesus' life and the conflict between him and Judas. Jesus (Ted Neely) is hailed as the Son of God, but Judas (Carl Anderson) does not believe he is such. He is more concerned about Jesus' popularity than anything. From there, it's the regular gospel story, but with quite a bit more flair. Both Neely and Anderson received Golden Globe nominations for their work and, while the film received minor controversy upon its release, it still garnered relatively positive reviews and response from the audience. Some of the words in certain numbers were changed to make the film even more appealing to a Christian audience, but it still managed to get protests from Christian churches, claiming the film was blasphemous in its stance that Jesus was an actual man and that he may have had a sex drive. In addition, accusations of anti-Semitism arose, as well as criticisms of the film being too Catholic or too Protestant. The same protests were made when the stage show premiered, too, so old habits die hard. Regardless, Jesus Christ Superstar was one of the first attempts to fully humanize Jesus Christ and, though it lays it on thick, it's a reasonable success.
31. Kundun (1997)
Directed by Martin Scorsese
Two years after Casino and two years before Bringing Out the Dead, Martin Scorsese took one of his major detours into Tibet with a biographical account of the fourteenth Dalai Lama and how he dealt with Chinese oppression, among other problems. Released only a few months after Seven Years in Tibet and boasting the same setting, Kundun has a much larger scope, covering the years 1939 to 1959, using a relatively simple chronology to tell the story of the young boy's rise to become the religious leader. In 1937, a 2-year old has been recognized as the reincarnation of the Dalai Lama, the compassionate Buddha. He is educated at age 4, and at 14, is witness to the Chinese invasion of Tibet. The film follows him into adulthood, eventually to his escape to India in 1959. Nominated for four Oscars, Kundun is not one of Scorsese's more memorable offerings, despite its majestic cinematography (from Roger Deakins) and a score by Philip Glass. Somewhere in between his gangster films and Oscar bait, this little gem fell through the cracks. It takes an impassioned look at a man not many in the Western world understand and does an inspired job following a child who has been told he is basically God from day one…not an easy thing to hear.
— Joshua Gaul